What should you include on your website when starting your organizing business?
Your Professional Organizer's website should set you apart from your competition, be easy to find, and evoke a sense of order and calm.
Recently I sat down with Clancy O'Connor, a certified KonMari Consultant who also designs websites for professional organizers on Squarespace. 
Below are his top five "must-haves" for your website.
Your Unique Service Proposition
Easy Navigation
A Friendly, Smiling Photo of Yourself
Have a Call to Action
Optimize your site for search engines (SEO)
#1 Your Unique Service Proposition
There are a lot of organizers out there and probably in your area, even if it's a small area, there's some competition. So what's the best way to get a leg up?
Is it to try to do everything that they do and more? Is it trying to undercut them on price?
Nope!
It's determining what makes your business unique.
If you look at the best ad campaigns in the world, they have a target audience.

Clancy O'Connor
Determine what is it that you do really well.
What makes my business special? What other aspects of your experience can you draw on, even if you don't think that they're relevant. Maybe you taught a fitness class and you might say, what does that have to do with organizing?
It shows that you know how to take a person who has a goal in mind who wants to change their body or the way that it's moving or how they feel about their body. And you're able to nurture them and take them through these classes and lead them through a progression and a process, which is what organizing a home is like. So whatever your experience is, don't count it out. That might actually be what sets you apart from your competition.
#2 Easy Navigation
When we are selling organizational services, what we are really selling is serenity, peace of mind, calm and order. Clients are coming to us in a chaotic state, so let's not give them a website that looks chaotic.
We want to be the solution to that chaos. That begins with our visual online presence.

Clancy O'Connor
Your website is your digital storefront. It's your digital background check. If someone heard about you from a friend or they saw you on social media, they go to your website just to verify, is this business legit? Is this person what I'm looking for?
You'll want a clean layout with not too many words that is easy to navigate.
When I was starting out my website was super simple. It still is pretty simple. It had four pages: a homepage, about page, service page, and a contact page. We want to make sure that it's simple so that people don't feel overwhelmed.
Convey what you do with a calm color scheme. You can do that with an open layout that has negative space and not too much text. You can do that with the right fonts. You just don't want to have anything that's too chaotic, too overly colorful, or a lot of stuff crammed in there.
Your website should give the visitor the same feeling of when you've completed an organizing job.  You've got all the labels on everything and everything's put away.
How does that feel? That's what you want to strive for with your website layout.
#3 A friendly, Smiling Photo of Yourself
It seems like a no brainer, right?
But sometimes I'll see photos on websites that look a bit austere.
We have to remember we are in the service business. People want to know: "who is this person?"
It doesn't have to be a professional photo. You can take it with a great phone. The cameras on phones are excellent these days. Just try to get the best quality photo you can that looks friendly.
People want to see who will be picking up the phone or replying to their email and see if that's a person that they could trust. Because this is kind of vulnerable work! You'll be looking inside people's sock and underwear drawers. You'll see stuff that's been in the pantry for years and is expired.
Potential clients want to feel like they are connecting with someone nice.
# 4 Have a Call to Action
That's just what it sounds like. You're trying to get your potential clients to take an action. Viewing your site isn't just a passive experience. What kind of action do you want them to take?
This tends to be the thing that everybody leaves out of their websites because they get focused on making the site look beautiful.
They forget that this is a business and that we ultimately want to be booking clients. So we need a call to action. And what is that? That could be different for different people. It could be different for you at different times of the year. Near the holiday season, maybe you're going to offer 20% off of a 10-hour package.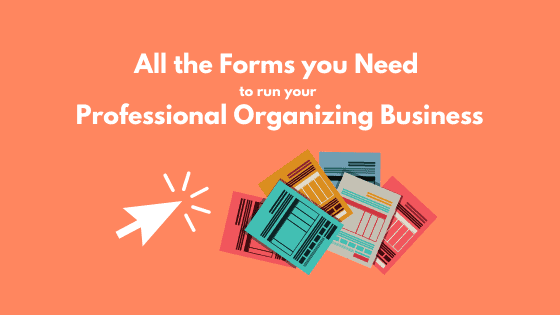 I would suggest offering a 15 – 30 minute free phone consultation. That's not a big sacrifice and it could ultimately secure business for you.
My website is geared around trying to set up that free phone consultation. So if you go to tidyconcierge.com you could probably count the number of buttons and times I say "click here for a free consultation."
Your client, too, is giving up time in their day. Time they could be spending with their families, making dinner, running errands, or doing work.
I suggest when you try to get people to book this free consultation is to let them know a little bit about what they're going to be getting.
an empathetic ear to hear about your organizational struggles
tips that you can implement immediately to provide relief today
a game plan, and a strategy for going forward to get you organized in half the time you might expect
somebody to stay in touch with as you continue to organize and tidy your home
a cheerleader
There are so many different things that you can offer! You're not giving away hours for free. You're saying: "this is the value in speaking with me." And that could be the difference between somebody not taking action or clicking a button to book a call.
#5 Optimize your site for search engines (SEO)
SEO stands for Search Engine Optimization. It's the algorithm that Google, Yahoo, and other search engines use to determine the results that you're going to see when you search for something.
Obviously when we run a business, we want to appear in search results, and we want to appear as close to the top of the list as possible. Now, there are things you can do with your site to increase your Google search rank in the short term, but ultimately this isn't something that can't be done overnight. This is something that has to be built over time.
I use this SEO checklist, which I incorporate into my web design.
▶ SEO Checklist from Squarespace
It's a list of things you can do so that your site will appear in search results. You can add your location to your website or rename pages. For example, using the phrase "professional organizer, Philadelphia, Pennsylvania." That way, when people are searching those keywords, your site might pop up.
When you understand SEO better, you see how doing things like adding a blog to your site, using backlinks, and writing copy that includes your keywords can improve your ranking.   
Having a blog helps because one thing Google is looking is an active site. They don't want to return a site that hasn't been updated in five years and the number that you call is no longer in service. So to avoid that, Google scans all of the sites in a search result and if the site's been updated a month ago, then they say, oh, this is a site that's currently active.
Another boost comes from other people linking to your site or "backlinking." Let's say your site appears in someone else's blog and people clicked on it. That would increase your Google search rank.
As you are writing the text of your website, you want to also be thinking about the keywords that people could be searching for because when they searched professional organizer + your area, you want to have those words on your site so that your site gets returned in search results.
-Clancy O'Connor, the Tidy Concierge
---
To launch your Professional Organizer's website faster using Squarespace, reach out to Clancy at The Tidy Concierge.
Ready to start your own home organizing business?
There are many things to consider when starting an organizing business like:
What will I name my business?
Where will I find clients?
How do I become an organizer?
Do I need to be certified?
How will I structure my business?
You have come to the right place! Check out my other blogs on starting a decluttering business:
Get a copy of my free guide "Professional Organizer's Launch Guide" HERE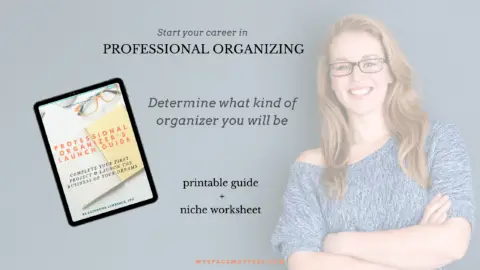 When you are ready to start your own decluttering business, check out all my courses on working as a professional organizer in my course bundle for the best price on courses to create and market your organizing business and design a system of organization that will work with all your clients no matter how small or large their volume of clutter!
Happy Organizing!