How to Choose the Right Organizing Product
[video_player type="youtube" style="1″ dimensions="560×315″ width="560″ height="315″ align="center" margin_top="0″ margin_bottom="20″ ipad_color="black"]aHR0cHM6Ly93d3cueW91dHViZS5jb20vd2F0Y2g/dj1kaEt4WTVzWHdTMA==[/video_player]
Congratulations! You have made it to the step that many consider the most fun part of this process,  shopping for organizing products.  This step is about putting items away in permanent places that make sense.
Most of us "get this" with socks (dresser drawer), forks (kitchen drawer), coats (closet), etc. Let's apply this logic to everything else and create a "home" for all the things you own.
Tips for putting things away nice and tidy:
Decide Where Categories will "Live"

Store parts and Pieces in Manageable Sized Containers

Get More Storage

Shop Smart

Label
[button_2 color="blue" align="center" href="https://www.youtube.com/watch?v=dhKxY5sXwS0″]Watch the Video[/button_2]
***Bonus Tip***
Here's a secret. Minimalist spend less time organizing things.
If you are struggling with any of these steps I give you permission to just get rid of the crap. The fewer things you have the less you have to organize! It is very difficult to "organize" things that you don't really like, never use, and do not fit into your living space. So keep donate, recycle, and trash bags handy and fill them up with enthusiasm.
Congratulations, you just eliminate one more thing you will never have to organize!!!
Shopping Guide
Here are a few tips to keep you sane when shopping for that perfect container.
Make a list of the categories you need to contain (i.e. shoes, greeting cards, spices)

Make measurement notes, like the dimensions of a drawer, or height and depth of a shelf

Take a count (# of shoes, #of spices)

Take a photo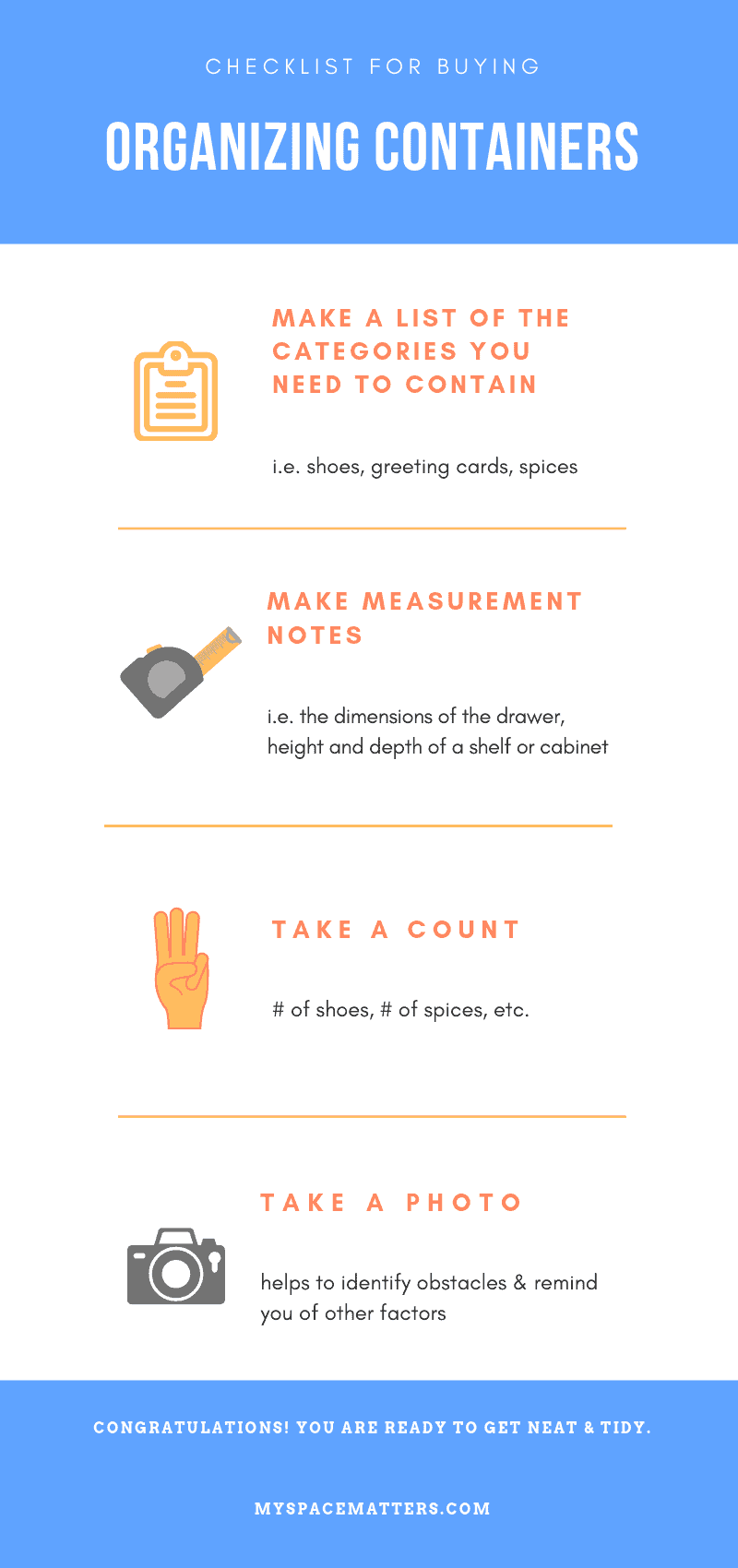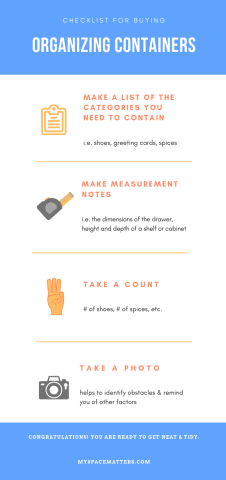 Take photos of the space and the items and keep them handy when picking out containers or storage furniture. It is hard to remember every little detail of the room or space without some visual queue.  Referring back to a photo helps remind you that you can't hang that shelf where you thought you wanted to because of a window, or not putting a dresser over an air vent, or that the wall inside the closet is angled and you can only put a 14-inch tall bin on the left side.
If you drool over perfectly organized rooms in magazines I'll tell you a secret. They use matching containers within a similar color palette and style. It may not be cheap to get this look but if aesthetics are a high priority to you, keep this in mind when purchasing product. In visible, high traffic areas like kitchens, mudrooms, and playrooms, matching containers in white can go along way to quiet visual clutter. 
Here is a list of my top "go to" organizing products for your home:
Shoe boxes (Plastic bins with lids)

Open bins and baskets

Space Bags / Ziploc bags

Paper trays

Command hooks

Matching Hangers

Photo Boxes

Cube Furniture

Rolling Carts
Visit my Pinterest board "Helpful Organizing Products" to see these products in action.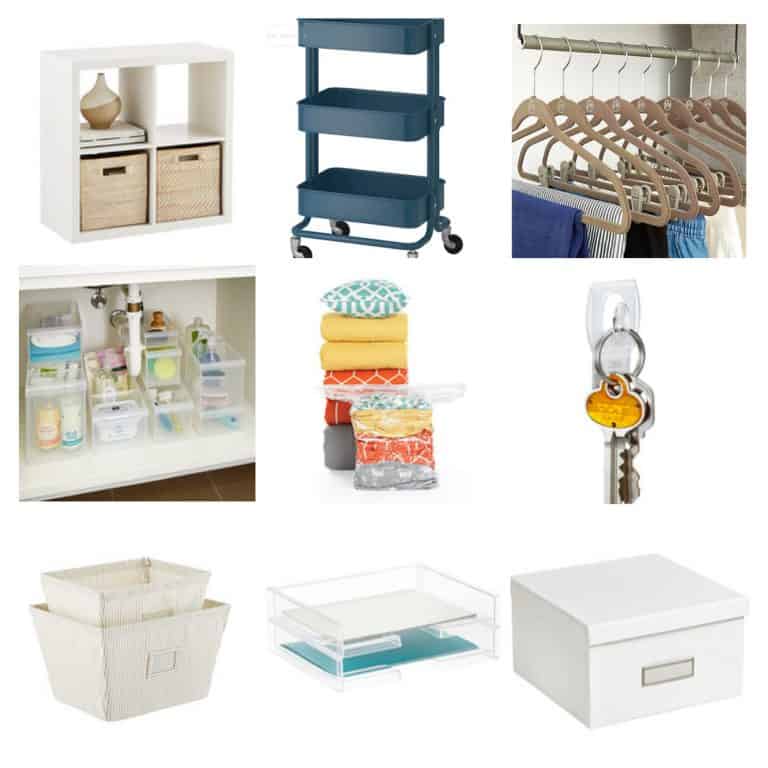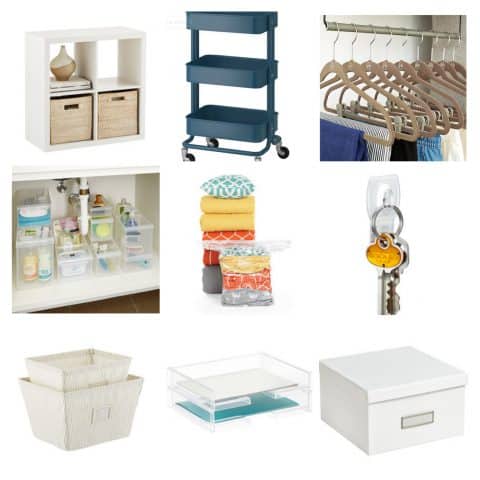 Remember: DO NOT BUY ORGANIZING PRODUCTS UNTIL YOU HAVE REMOVED ALL CLUTTER FROM YOUR HOME.
Watch my video How to Declutter your Home | 5 Questions to Ask when Clearing Clutter for a guide to watch to keep and what to toss.