Do you want to declutter but aren't quite sure how to organize your home? As a professional organizer, I love using containers to help get my client's homes organized and I believe it will help you big time. This post will talk about the perfect containers to use for organizing your home like a professional.
Being organized means having all your things put away in permanent places that make sense so that you can find them when you need them.
Sounds simple, right?
Most of us get this concept. For example, we put our socks in a dresser drawer, forks go into a kitchen drawer, coats go in the closet, and so on.
It's time to apply this logic to everything else in the house to create a "home" for all the things you own. Believe it or not, every single item in your home should have a permanent place.
For many people, this is considered the most fun part of this process because you get to shop for organizing products. 
When you get the perfect organizing containers, all you're left to do is put items away in permanent places that make sense for you and your family.
BUT FIRST! Do not start buying organizing containers until you've fully decluttered your home.
If you need help with the decluttering process, I recommend that you check out How to Downsize a Home in 5 Days.
If you prefer to watch my YouTube video on how to organize your home with the perfect containers, click the video below. Otherwise, keep scrolling to read on!
5 tips for how to to organize your home like a professional
Here are the 5 ways to organize your home. Below we will go into detail about each category.
Decide where categories will "live"

Store things in manageable-sized containers

Get more storage

Shop smart

Label
1. Decide where categories will "live"
The first thing to do is to decide on what room or area where a category of items will live.
To do think, think about how often you need something. For example, if you are putting a crockpot away in the kitchen that you don't use more than 3 or 4 times a year, you won't need to put it very close to you. You can put that into a pantry or a storage area.
You'll also want to decide how frequently you use something. Frequency determines how close you want that item to be to the main activity areas in your home.
Also, ask yourself, "if I needed this thing, where would I look?" That can usually point you in the right direction as to where you should store it.
Lastly, store things with similar functions. This is why we store coats in a coat closet, dresses in a clothing closet, or spoons in a kitchen drawer. You want to store things where you're going to use them and with like items so that you're not searching all over your house to find something.
Recommended: The Best Way to Organize Clothes in a Small Closet
2. Store things in manageable-sized containers
Once you decide where something is going to "live", you need a container to put in it so that you can keep all the parts and pieces organized.
For example, a sewing kit keeps everything together and all your knitting supplies should stay together.
The WRONG thing to do is get giant plastic tubs and put in LOTS of different items from different categories into the tub. That is just putting off the process of getting organized.
You want to get a container for each category of things. Smaller containers let you stack things on shelves and maximizes your space.
Usually, I recommend that you stay with the mindset that less is more, but in this situation, I recommend that you organize your home by getting smaller containers that are clearly organized rather than stuffing everything into a big tub.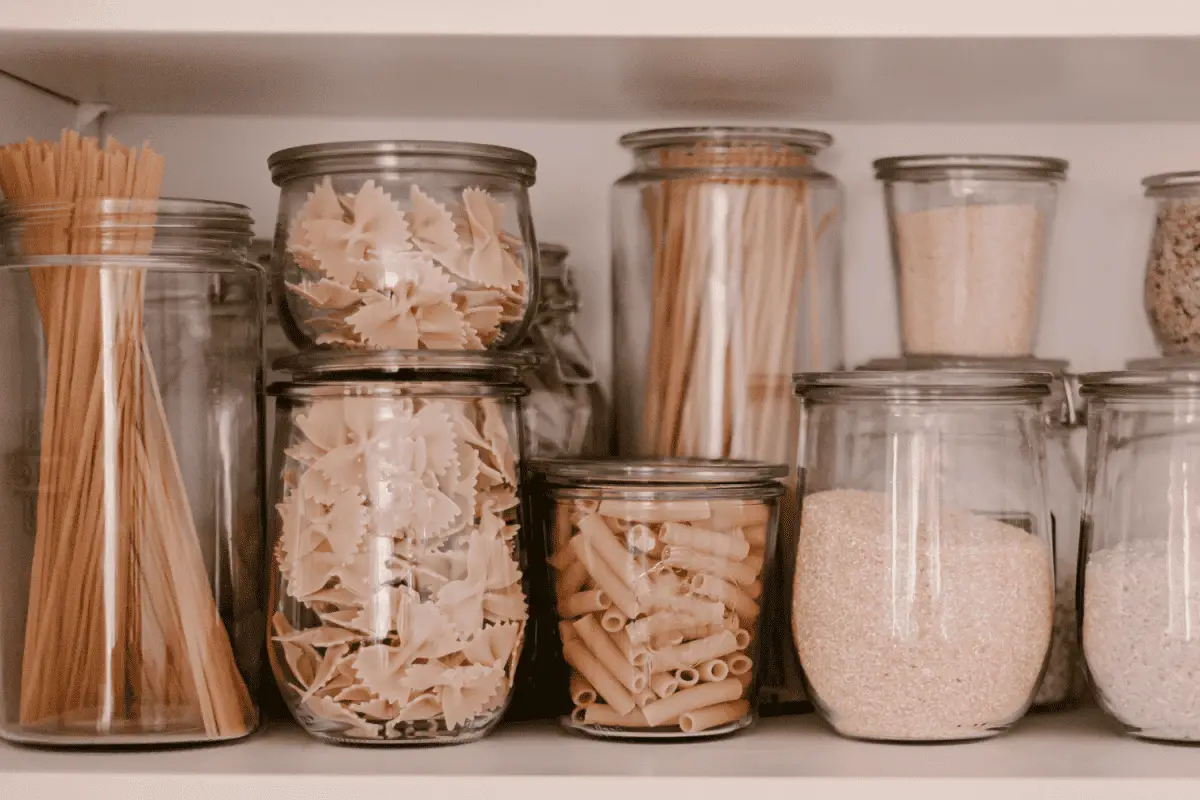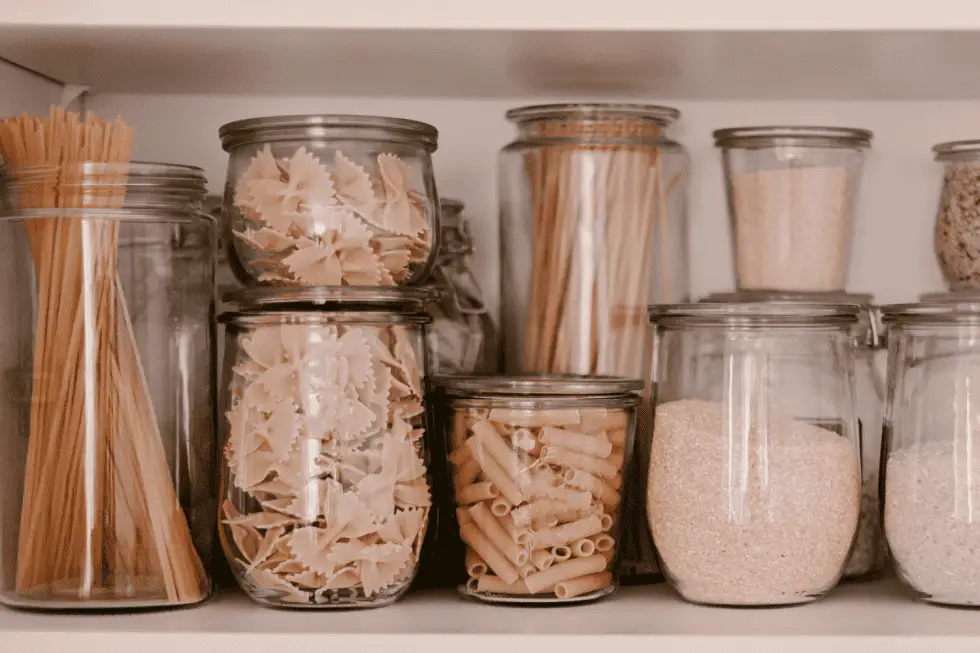 3. Get more storage
My go-to storage solutions are listed below:
shoe boxes
command hooks (for wall storage to maximize vertical space)
All of these products will help you maximize vertical space in your home and will also keep your things organized into manageable-sized containers.
Recommended: How to Maximize Space in a Small Kitchen
4. Shop smart
Shopping for containers is the final thing you want to do in your organizing journey. If you start by buying containers first, you will likely keep more clutter than you need to. You will also probably get the wrong container.
Below is my list of shopping tips. Make sure you have this with you when you're shopping for organizing products.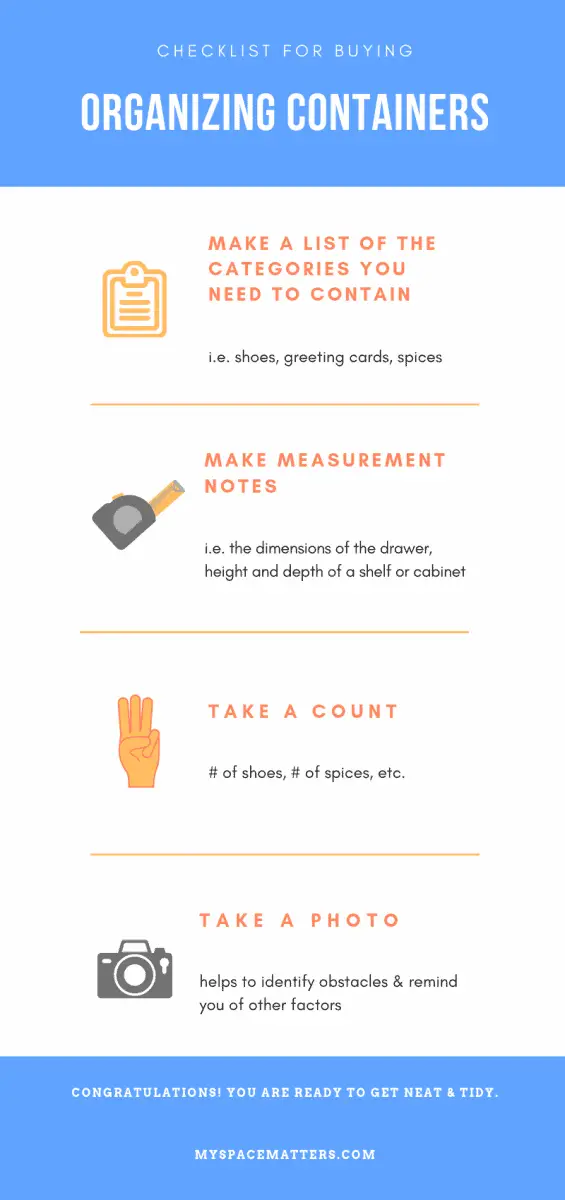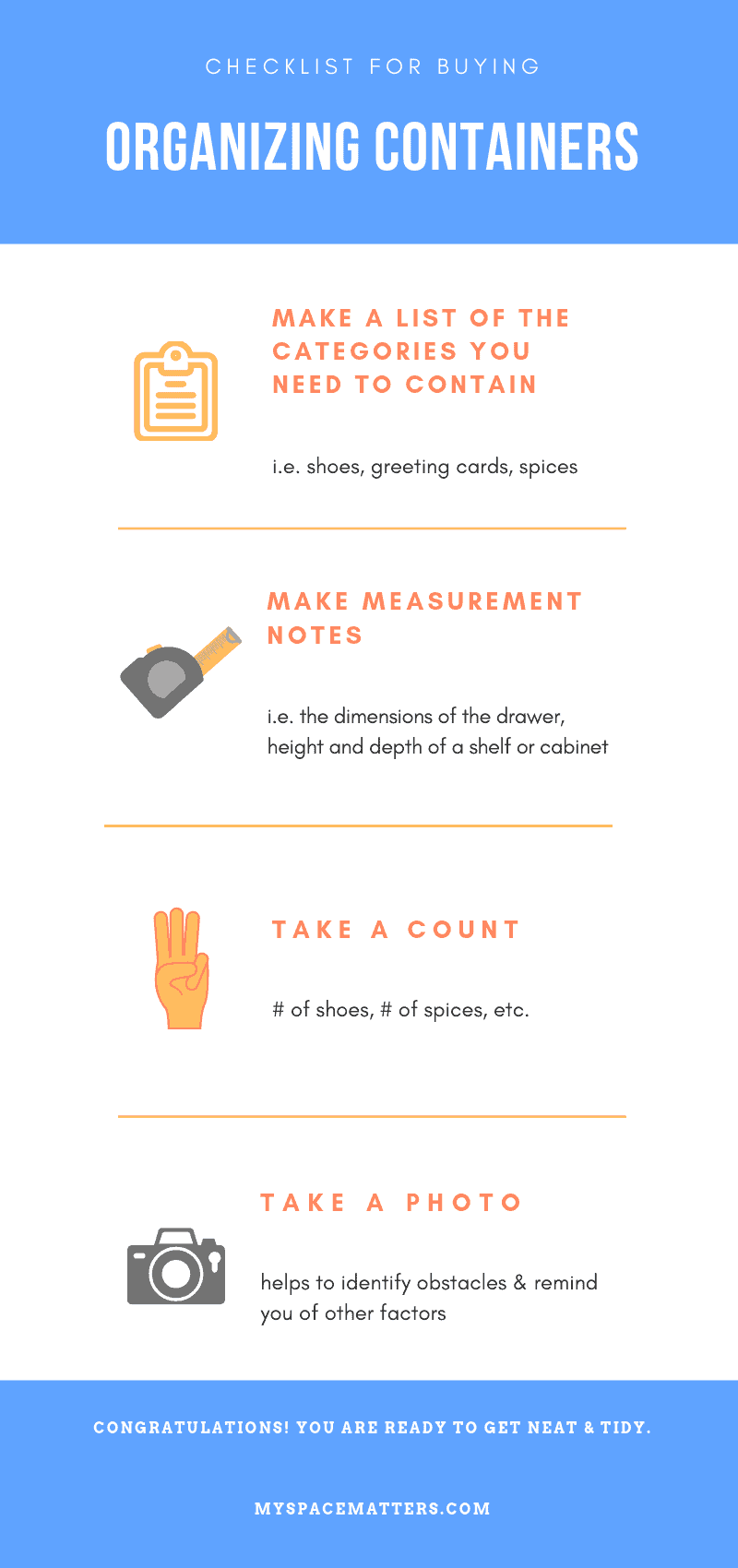 Make a list of the categories you need to contain (i.e. shoes, greeting cards, spices)

Make measurement notes, like the dimensions of a drawer, or height and depth of a shelf

Take a count (# of shoes, #of spices)

Take a photo
Take photos of the space and the items and keep them handy when picking out containers or storage furniture. It is hard to remember every little detail of the room or space without some visual queue.  
Referring back to a photo helps remind you that you can't hang that shelf where you thought you wanted to because of a window, or not putting a dresser over an air vent, or that the wall inside the closet is angled and you can only put a 14-inch tall bin on the left side.
If you drool over perfectly organized rooms in magazines I'll tell you a secret. They use matching containers within a similar color palette and style.
It may not be cheap to get this look but if aesthetics are a high priority to you, keep this in mind when purchasing the product. In visible, high-traffic areas like kitchens, mudrooms, and playrooms, matching containers in white can go a long way to quiet visual clutter. 
5. Label
I really like the Brother P-Touch line of label makers. Of course, you want to label all of your containers so that you know what is in them and you can find them more quickly.
It's also helpful to label the actual shelf. If a container gets pulled out, you will easily know where to put the container back because the shelf is labeled. This is very helpful with families who use the same supplies because it's a reminder of where to put the containers back.
Bonus Tip
Here's a secret. Minimalists spend less time organizing things.
If you are struggling with any of these steps I give you permission to just get rid of the crap. The fewer things you have the less you have to organize! It is very difficult to "organize" things that you don't really like, never use, and do not fit into your living space. So keep donate, recycle, and trash bags handy and fill them up with enthusiasm.
Congratulations, you just eliminate one more thing you will never have to organize!
I hope this information will help you with how to organize your home using the perfect containers.
Here is a list of my top "go-to" organizing products for your home: Visit my Pinterest board "Helpful Organizing Products" to see these products in action.
Remember: Do not buy organizing products until you have removed all clutter from your home.
ARE YOU INTERESTED IN BECOMING A PROFESSIONAL ORGANIZER?
If you're someone who LOVES organizing, consider starting your own organizing business.
Get a copy of my free guide "Professional Organizer's Launch Guide" HERE.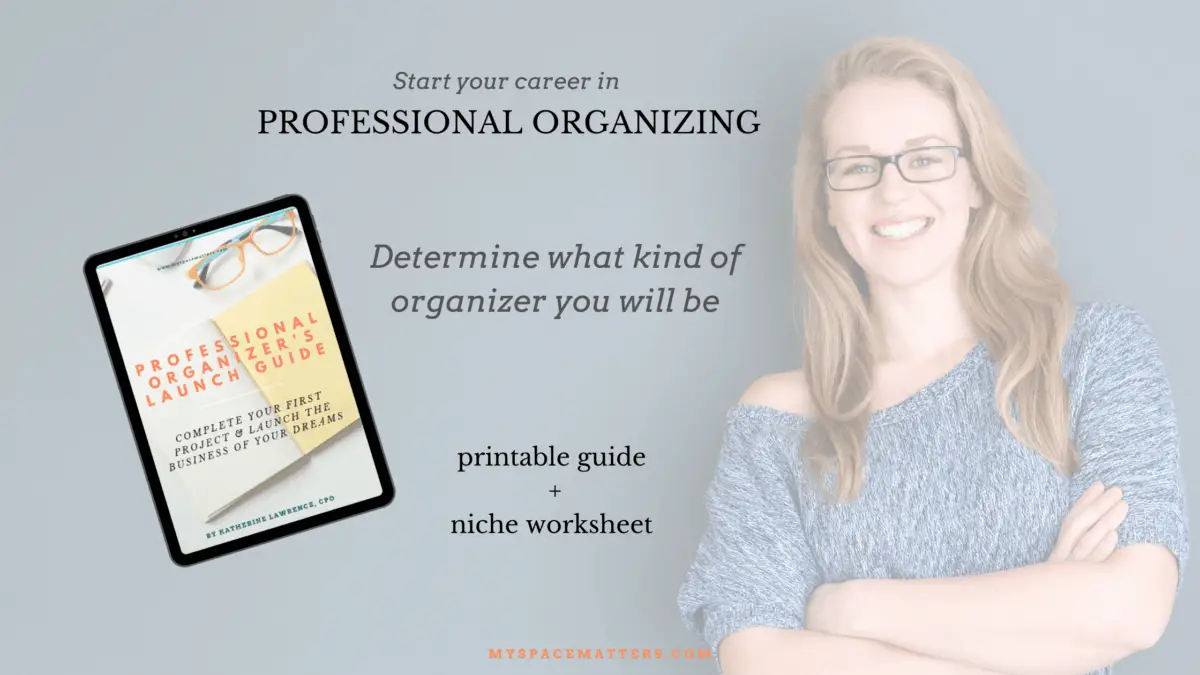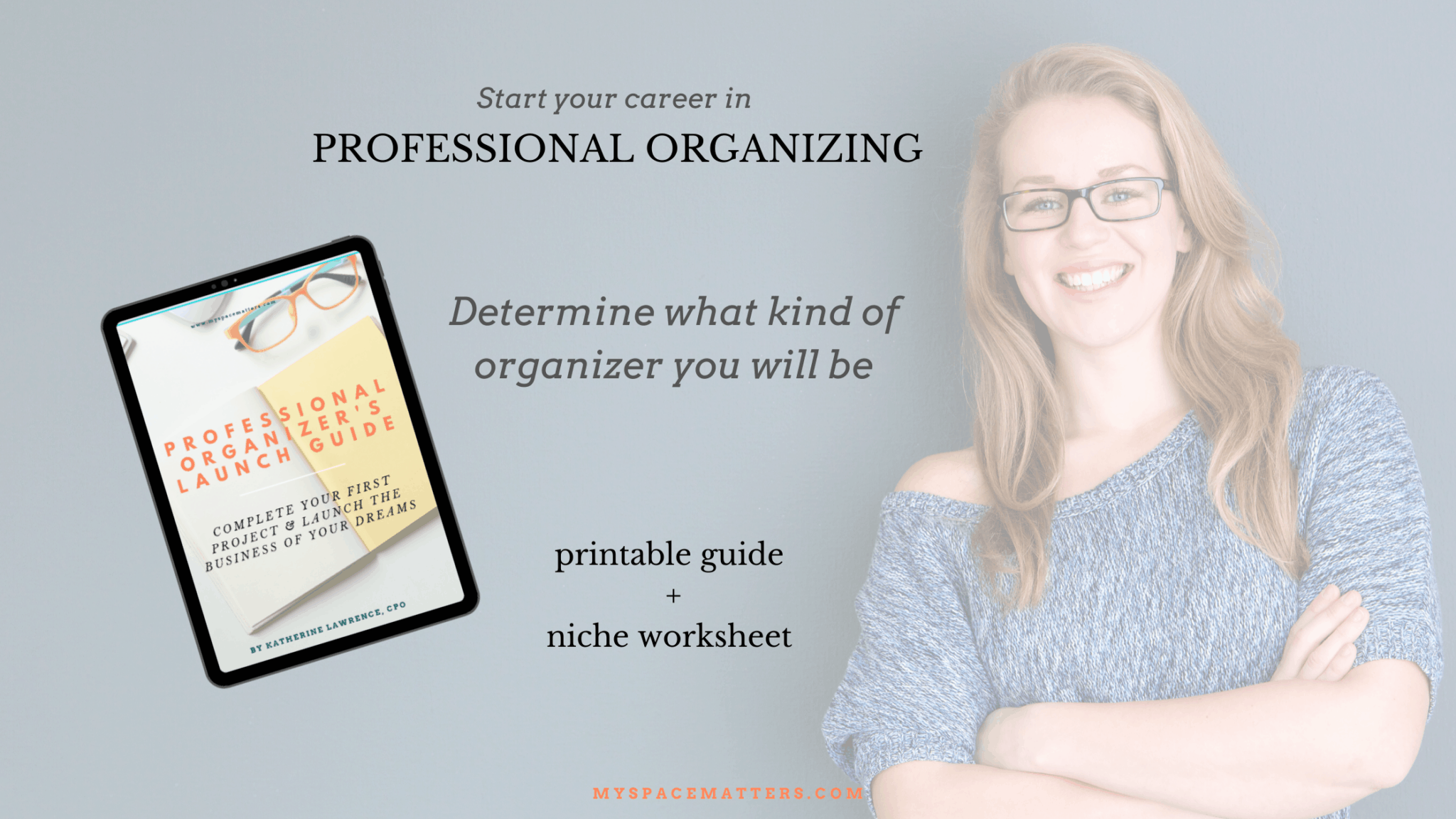 There are many things to consider when starting an organizing business including:
When will I name my business?
Where will I find clients?
How do I become an organizer?
Do I need to be certified to get started?
How will I structure my business?
You have come to the right place!
When you are ready to start your own professional organizing business, check out all my courses on working as a home organizer. My course bundle has the best prices on courses so that you can create and market your organizing business and design a system of organization that will work with all your clients no matter how small or large their volume of clutter is! Check out the course bundle here: Online Boot-Camp for Organizing Bosses
You can also check out my other blogs on how to start a home organizing business:
Happy Organizing!