I am often asked how one goes about starting a professional organizing business. You must admit it's an unusual profession, but one that is growing all over the globe. 
Thanks to popular Netflix shows such as Marie Kondo's Tidying Up with Marie Kondo and Get Organized with The Home Edit, more and more people are thinking about leaving their office jobs and becoming professional organizers.
As someone who has worked in the organizing industry for 20 years, I'm able to help people start a home organizing business and gain clients without making some of the mistakes I previously made.
That's why in this article I'm sharing three things to consider when starting a professional organizing business by determining what kind of organizer you will be, testing your skills as a home organizer, and creating time to run your business. 
If you prefer to watch my YouTube video on things to consider when starting a professional organizing business, click the video below. Otherwise, keep scrolling to read on!
1. Determine what kind of organizer you will be
The first step when starting a professional organizing business is to determine what kind of organizer you will be.
I often refer to this as creating your niche. Finding your niche means simply leveraging existing skills from previous work experience or designing the type of environment and people you want to work with.
There are so many different types of professional organizers. People are not going to know how to refer business to you or if they should hire you if they are not sure what it is that you do. 
You can start by simply writing down existing skills you have that you can springboard off to create your business. 
Some professional organizing niche questions to consider include:
Do you have a knack for interior design or staging?
Do you have project management experience?
Have you worked in busy environments and like the hustle and bustle of working with a team?
Are you particularly patient and enjoy getting to know people and working with them one-on-one?
If you are a stay-at-home mom, nanny, housekeeper, or senior caretaker, you probably have a lot of home management skills that you can share with families to make them more organized and productive.
Use the questions above to brainstorm ideas about what type of organizer you will be.
You can also ask someone close to you or a former coworker or boss to tell you about your special skill set. 
2. Test your skills as a home organizer 
The next step when starting a professional organizing business is to practice a proven method on some willing participants.
I'm assuming you already have a pretty organized home or you probably would not be attracted to this type of career, however, you can experiment in your own home by installing organizing products, or improving the workflow in your kitchen or home office. You can also organize for family members if they are comfortable being a guinea pig for you.
However, I think the best way to practice is to work with friends or acquaintances who will allow you to do small projects in their homes.
If you're doing a pro bono job, I would not volunteer to organize someone's entire home, or you may be working just with that one person for the next several months.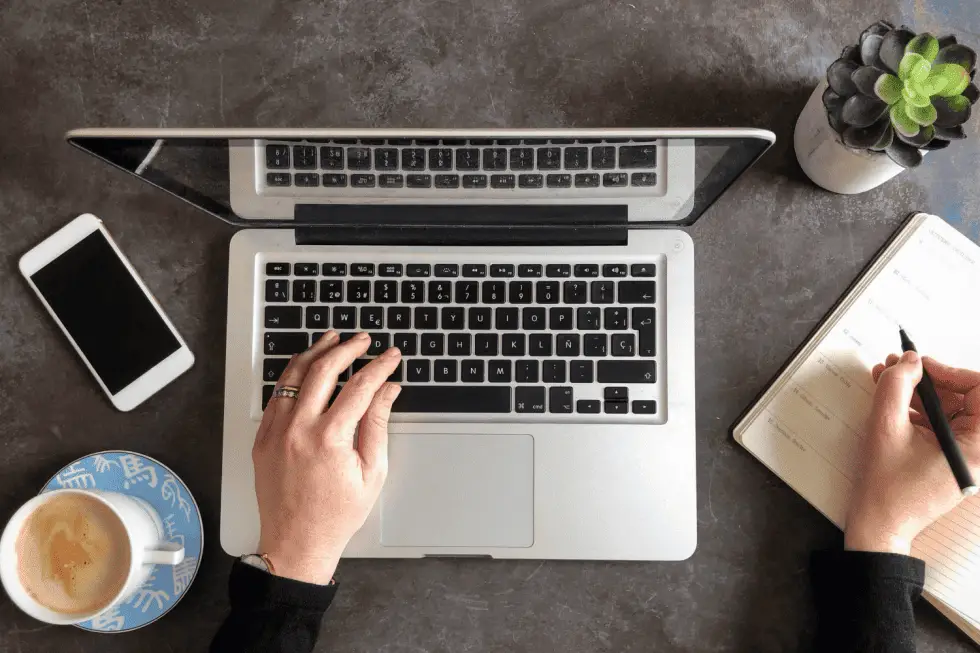 But you can ask a friend if you can organize one space in their homes such as a closet, garage, or kitchen. Maybe choose a space that's a little different from the way your own home is set up just to give you a little bit of variety.
For example, I've always been a bit of a minimalist with my clothing, so when I was starting out I did several of my friends' closets knowing that they had a much larger and diverse wardrobe than I would ever have the opportunity to work on if I only organized my own closet. 
Since it will be different organizing for others, I recommend you use a 3-step process I call GDP.
GDP stands for:
G = gather and sort like items
D = ask your client to decide what to keep
P = put things away in an orderly fashion
I have found that following this proven method allows professional organizers to work efficiently. It also reduces decision fatigue and provides forward momentum even when you are working in extreme clutter situations. 
Recommended: The One Thing your Organizing Business Needs to be Successful
3. Carve out time to run your business
The third step I want you to take in starting your professional organizing business is not an obvious one. However, I think it's a huge mistake that new and aspiring organizers make.
That mistake is not carving out enough time to run your business. As a rule, you want to spend as much time working on your business as in your business.
Working in your business are the paid hours that you have working with your client. Working on your business is the other half of things and it is just as important.
Taking time to run your business means you are spending time networking, following up with leads, and doing all the administrative tasks that come with running a business like budgeting, branding, and marketing. 
You want to also make time for training. I've been in business for almost 20 years and I still make time in my week for learning new skills. 
The mistake I see people make is that they think they can run their organizing business on the weekend and work a few hours with clients in their spare time.
The problem is that if you're not working on your branding and lead generation, you're not going to have those clients for weekend work. Make sure that you are taking time to both work on your business and in your business by carving out office hours throughout the week. 
I have a tool for you to help you brainstorm what type of professional organizer you could become. That is my niche worksheet. And I also want to give you a game plan for practicing your organizing skills. You'll find them both in my Professional Organizer's Launch Guide. Get your copy HERE.
ARE YOU INTERESTED IN BECOMING A PROFESSIONAL ORGANIZER?
If you're someone who LOVES organizing, consider starting your own organizing business.
Get a copy of my free guide "Professional Organizer's Launch Guide" HERE.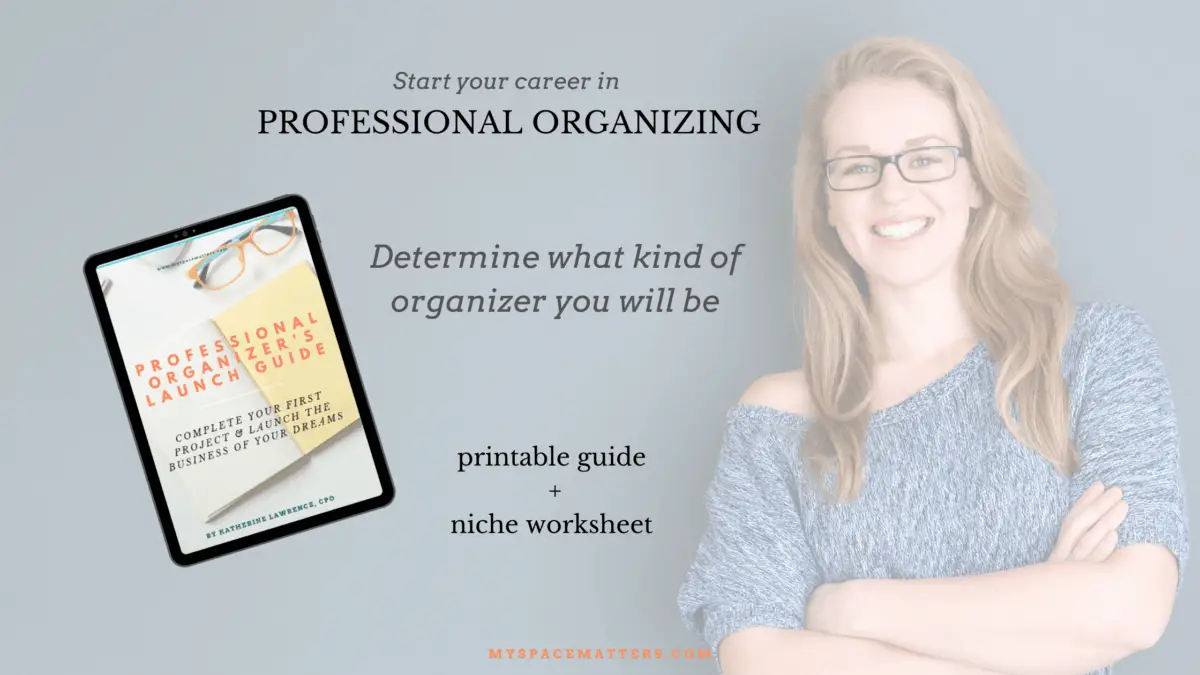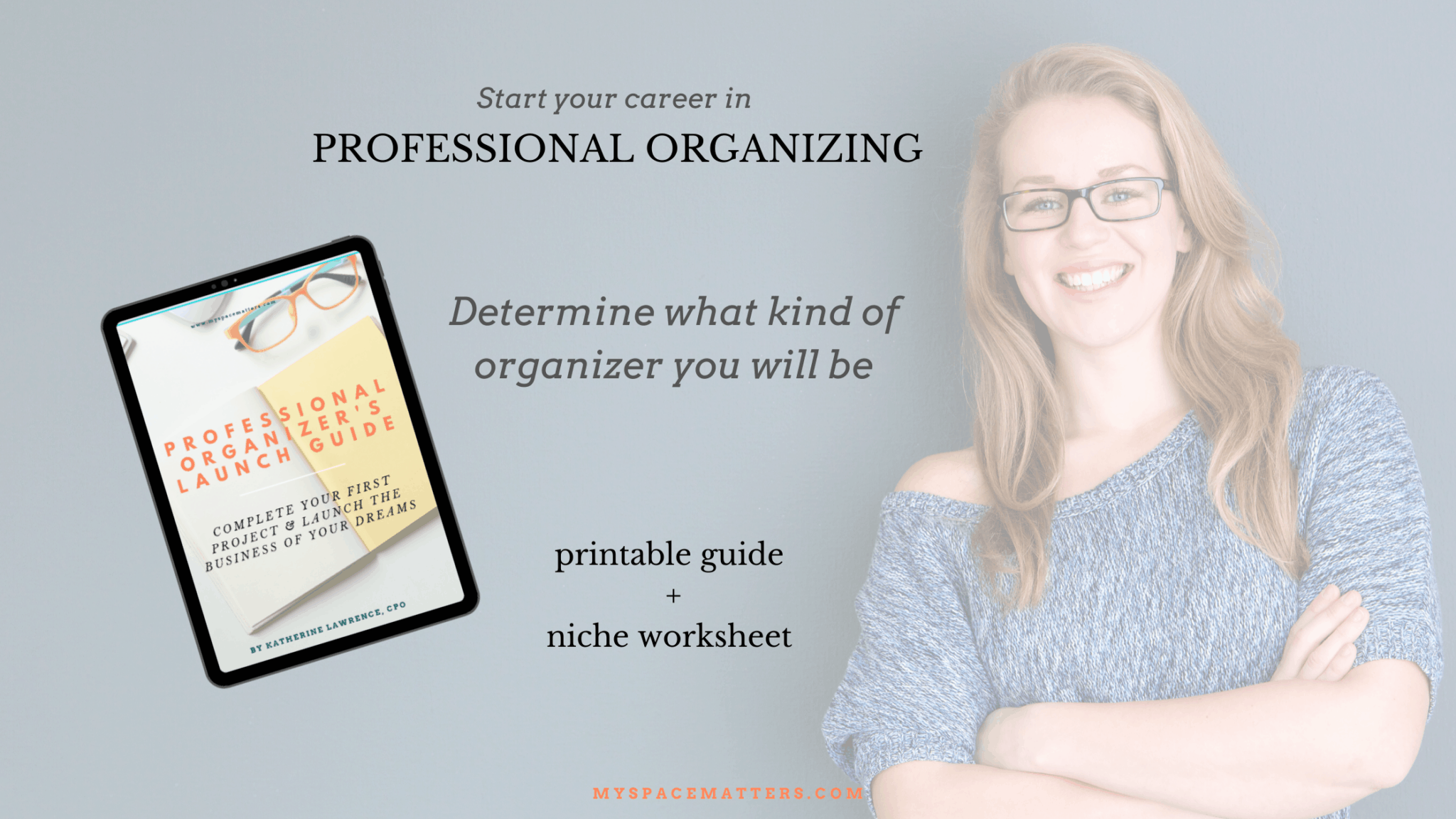 There are many things to consider when starting an organizing business including:
When will I name my business?
Where will I find clients?
How do I become an organizer?
Do I need to be certified to get started?
How will I structure my business?
You have come to the right place!
When you are ready to start your own professional organizing business, check out all my courses on working as a home organizer. My course bundle has the best prices on courses so that you can create and market your organizing business and design a system of organization that will work with all your clients no matter how small or large their volume of clutter is! Check out the course bundle here: Online Boot-Camp for Organizing Bosses
You can also check out my other blogs on how to start a home organizing business:
Happy Organizing!