It is so important to organize your closet efficiently if you have a small closet, especially if you need to organize a small closet with lots of clothes. Here you will learn techniques to maximize every inch of usable space in a small clothing closet.
My 5 Small Closet Hacks are:
Make a Fresh Start
Fold as Much as Possible
Sort by Type and Length
Increase Hanging Space
Maximize Shelf Space
Step 1 – Make a Fresh
Start
Move everything out of your closet for a fresh start. This will be an important step later as you will want to review the design of your closet.
Review each item of clothing using a decluttering method like the KonMari Method by Marie Kondo or following my decluttering strategy HERE. Do not use your main clothing closet to store anything you are not wearing on a regular basis like clothes that do not fit or non-clothing items.  
Step 2 – Fold as Much as Possible
Folding your clothes into drawers vertically takes up less space than hanging your clothes on a hanger in the closet. You can usually find space for a tall dresser, and this is more economical than building another closet.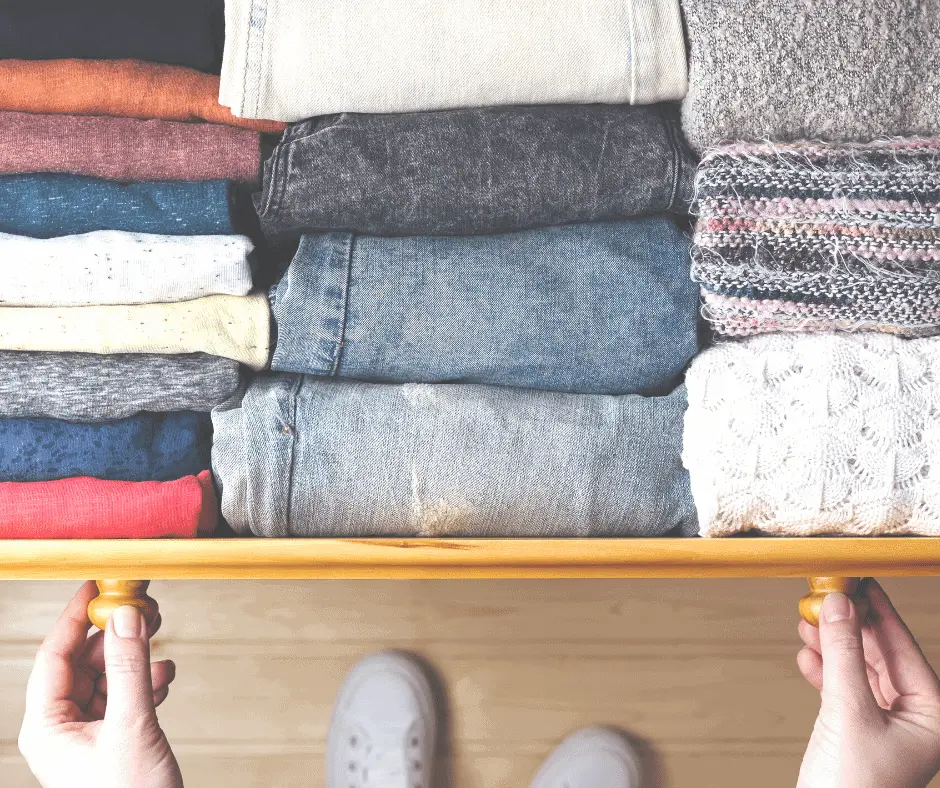 When selecting a dresser or chest of drawers, get a tall piece with several drawers. A 3-drawer dresser uses as much floor space as a 6 drawer chest of drawers. Again, the plan is to maximize your vertical space.
[optin_box style="12″ alignment="center" email_field="email" email_default="Enter your email address" email_order="0″ integration_type="aweber" double_optin="Y" gdpr_consent="disabled" consent_1_enabled="no" consent_2_enabled="no" consent_notes_field="missing_integration_type" thank_you_page=" https://myspacematters.com/thank-you/" list="5245303″ name_field="name" name_default="Enter your first name" name_order="0″ name_required="Y" opm_packages=""][optin_box_field name="headline"]Get your Free KonMari Method Clothing Checklist[/optin_box_field][optin_box_field name="paragraph"]PHA+R2V0IG15IG5leHQgYmxvZyBkZWxpdmVyZWQgdG8geW91ciBlLW1haWwgYW5kIHJlY2VpdmUgdGhpcyBLb25NYXJpIE1ldGhvZCBwcmludGFibGUgdG8gc3RhcnQgeW91IG9uIHlvdXIgb3JnYW5pemluZyBqb3VybmV5IcKgPC9wPgo=[/optin_box_field][optin_box_field name="privacy"]We value your privacy and would never share your information[/optin_box_field][optin_box_field name="consent_1_label"][/optin_box_field][optin_box_field name="consent_2_label"][/optin_box_field][optin_box_field name="top_color"]undefined[/optin_box_field][optin_box_button type="0″ button_below="Y"]Sign up Now[/optin_box_button] [/optin_box]
Step 3 – Sort by Type and Length
When you sort your clothes by type, you achieve two goals. First, it is more efficient to see what to eliminate when decluttering your clothes. You will make better decisions when you look at categories of clothing because you can see where you have too many of one type of thing in your closet. If you have more than one wash cycles worth of jeans or tee shirts, it is less likely that you will get around to wearing the extras.
An even bigger benefit to hanging your clothes by type and length is that it creates space in your closet for additional hanging and shelf space. By hanging short clothing together, you create space at the bottom of your closet for a shoe rack, dresser, second clothing rod, or cube furniture.
Step 4 – Increase Hanging Space
A typical clothing closet comes with one rod and one shelf. You can increase your hanging space without using any tools by adding a double hang clothing rod. This handy gadget hangs a second rod below your existing clothing rod to provide additional hanging space
You can also increase your hanging space by selecting a thin hanger versus a thick one.
This is how hangers rank from thinnest to thickest –
Wire

Velvet

Plastic

Wood

Lingerie (padded)
I use clear acrylic hangers in my closet because they do not tangle as easily and they have a swivel head which makes it a no-brainer to hang all my clothes in the same direction.  I have approximately 60 items on 9 feet of hanging rod, so I can use a thicker hanger without worrying about wasting too much space. When I'm organizing for clients with small closets or a lot of clothing, I recommend velvet hangers as they maximize space and do not tangle as much as wire hangers. 
[button_2 color="blue" align="center" href="https://www.youtube.com/watch?v=E5Dcm1agI9o"]Watch the Video[/button_2]
Step 5 – Maximize Shelf Space
Use the space at the top of your closet for maximum storage. Using plastic bins with lids that are able to stack can double or triple the storage space on your shelves.
You can add more shelving by adding a Rubbermaid, Elfa, or Closet Factory closet system. Choose a system based on your budget and your level of handiness.  
Ready to start your own Home Organizing business?
There are many things to consider when starting an organizing business like:
What will I name my business?
Where will I find clients?
How do I become an organizer?
Do I need to be certified?
How will I structure my business?
You have come to the right place! Check out my other blogs on starting a decluttering business:
Get a copy of my free guide "Professional Organizer's Launch Guide" HERE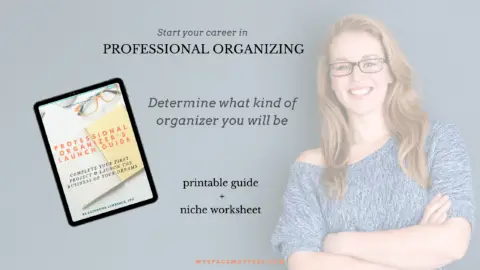 When you are ready to start your own decluttering business, check out all my courses on working as a professional organizer in my course bundle for the best price on courses to create and market your organizing business and design a system of organization that will work with all your clients no matter how small or large their volume of clutter!
Happy Organizing!
[optin_box style="12″ alignment="center" email_field="email" email_default="Enter your email address" email_order="0″ integration_type="aweber" double_optin="Y" gdpr_consent="disabled" consent_1_enabled="no" consent_2_enabled="no" consent_notes_field="missing_integration_type" thank_you_page=" https://myspacematters.com/thank-you/" list="5245303″ name_field="name" name_default="Enter your first name" name_order="0″ name_required="Y" opm_packages=""][optin_box_field name="headline"]Get your Free KonMari Method Clothing Checklist[/optin_box_field][optin_box_field name="paragraph"]PHA+R2V0IG15IG5leHQgYmxvZyBkZWxpdmVyZWQgdG8geW91ciBlLW1haWwgYW5kIHJlY2VpdmUgdGhpcyBLb25NYXJpIE1ldGhvZCBwcmludGFibGUgdG8gc3RhcnQgeW91IG9uIHlvdXIgb3JnYW5pemluZyBqb3VybmV5IcKgPC9wPgo=[/optin_box_field][optin_box_field name="privacy"]We value your privacy and would never share your information[/optin_box_field][optin_box_field name="consent_1_label"][/optin_box_field][optin_box_field name="consent_2_label"][/optin_box_field][optin_box_field name="top_color"]undefined[/optin_box_field][optin_box_button type="0″ button_below="Y"]Sign up Now[/optin_box_button] [/optin_box]