Have you ever wondered where to put things in kitchen cabinets? Maybe you're not sure how to keep your kitchen organized or where all the stuff should go. This post goes into detail about how exactly to organize your kitchen cabinets.
As a professional organizer, I love organizing kitchens!
A kitchen should be one of the most structured spaces in a home because it serves the specific purpose of providing meals for a family. It is also the center of household activities for most families so it's important that you organize your kitchen for success before it's inundated with other household clutter.
Keep on reading to learn how to map out every zone in your kitchen and where to put things in kitchen cabinets to maximize organization and efficiency.
If you prefer to watch my YouTube video on how to map out every zone in your kitchen and learn where to put things in your kitchen cabinets, click the video below. Otherwise, keep scrolling to read on!
First Things First: Identify Your Kitchen Work Triangle
The most frequently used space in your kitchen will be within the work triangle. According to the definition, a kitchen work triangle is a concept used to determine efficient kitchen layouts that are both aesthetically pleasing and functional.
The 3 points of the triangle are made up of the sink, stove, and refrigerator.
Start by identifying those three areas (sink, stove, and refrigerator) and draw imaginary lines connecting them to make a triangle. See the image below.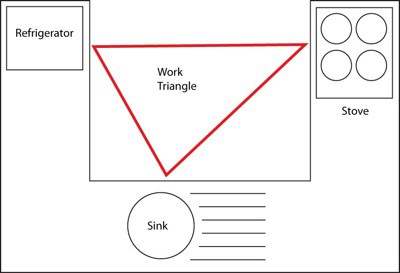 If you have a galley kitchen or if your stove/sink/fridge are next to each other, you will need to rely heavily on modifications like adding extra wall storage and working surfaces.
If you have a small kitchen, I recommend watching my YouTube video on how to maximize space in a kitchen or reading the blog post on the same topic.
Identify the 7 Most Common Zones in Your Kitchen
Once you know what your workspace is like based on the kitchen triangle, the next step is to divide your kitchen into 7 zones. These zones include:
Everyday Dishes and Utensils
Tools for Preparing Meals
Baking Supplies (non-food)
Tools for Cooking
Serving and Entertaining items
Food Storage
Cleaning Supplies
I recommend that you mark these zones with sticky notes while you are putting things in your kitchen cabinets. This will help you start organized and it will create a nice flow.
Now that we have the foundation established, let's dive into where to put things in kitchen cabinets.
Check out my other posts on kitchen organization: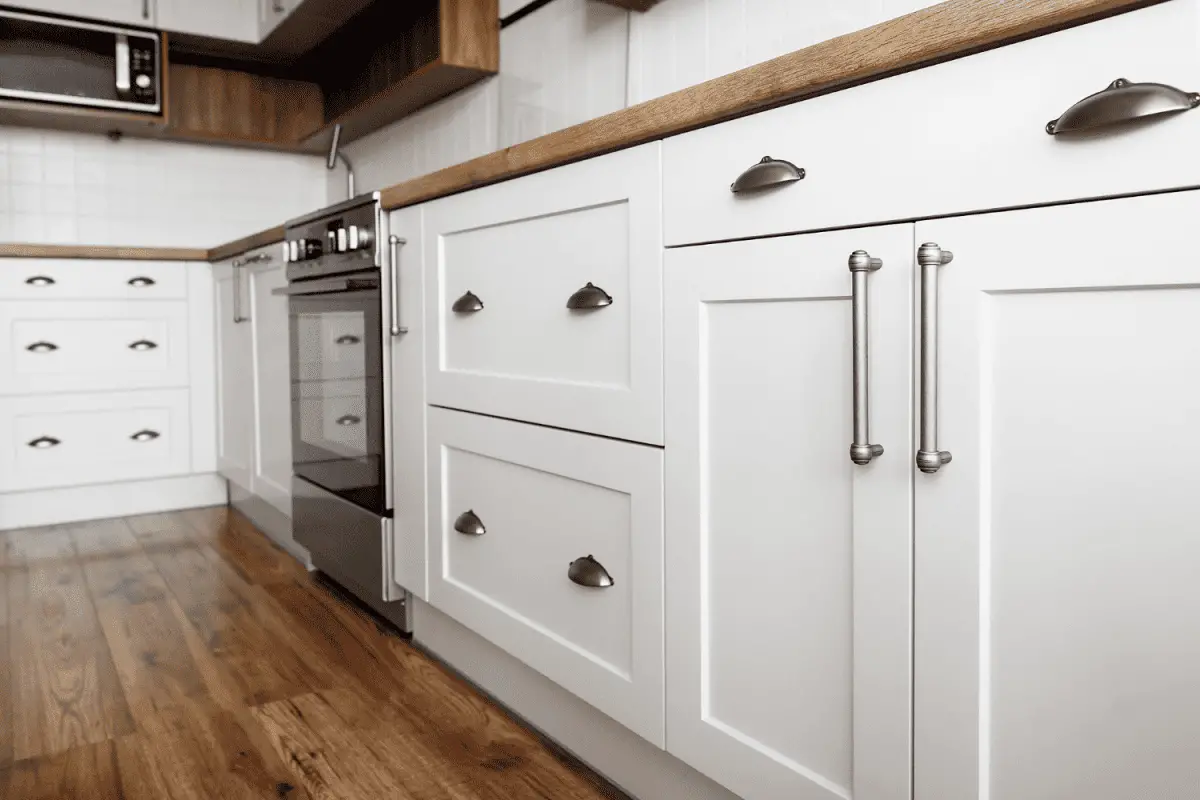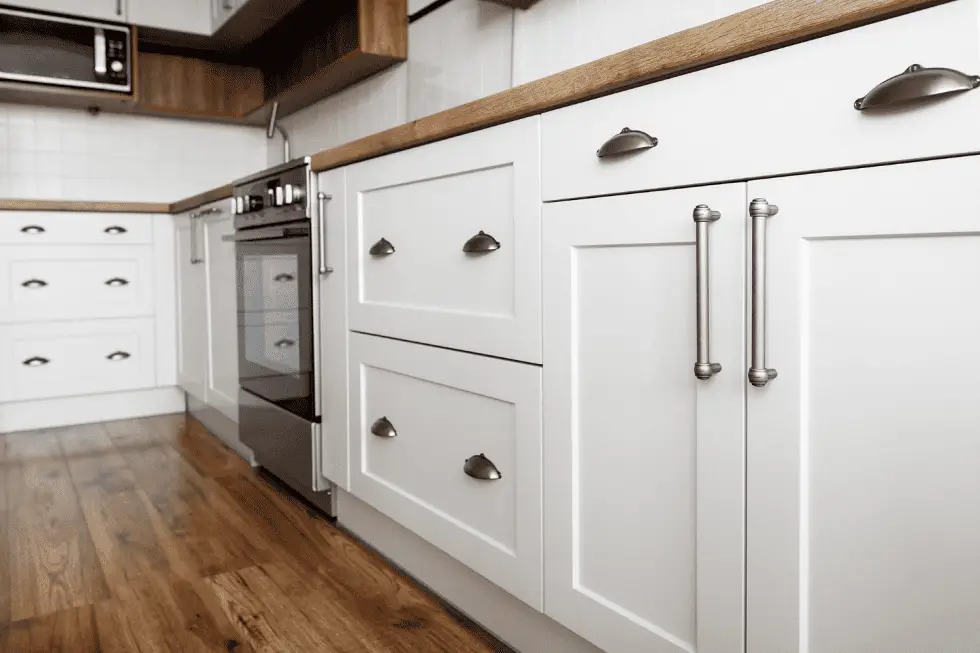 Zone 1: Everyday Dishes and Utensils
You will want to put the everyday dishes and utensils to the right of the dishwasher or above the dishwasher. If you don't have a dishwasher, use the sink instead.
The reason you do this is because it makes unloading the dishwasher or sink easy and practical.
Where to put everyday dishes and utensils:
Where: near or to the right of the dishwasher or sink
What: plates, bowls, silverware, glasses, and mugs
mDesign Small Raised Metal Kitchen Pantry Stacking Plate Organizer Storage Shelves, Cabinet Shelf Rack for Cupboard, or Cabinet - Store Food, Dishes, Bowls, Mugs, Concerto Collection, 2 Pack, Graphite
MAXIMIZE SPACE: Customize to fit your needs; These shelving units provide you with a raised surface to allow you to stack cups, glassware and coffee cups on the shelf while storing dinner dishes and serving bowls underneath; Use as a drying rack when baking; Prop up cookbooks; Raise pots/plants near the window; Maximize pantry shelves by going vertical with your storage space - these are perfect for organizing boxed and canned goods; Also great for maximizing space under sinks; Set of 2
CUSTOMIZE YOUR STORAGE: Use these handy shelving units side by side for longer shelving spaces, or use individually to make the most of your storage and shelves; Organize like a pro and instantly creates additional storage in crowded work areas, shelves, closets, cabinets and more; Use in kitchens as well as throughout the house, great for bathroom, craft room, garages, laundry/utility rooms, office and other shelving and closets in your home; Ideal for the home or professional organizer
FUNCTIONAL & VERSATILE: Create extra storage space virtually anywhere; Ideal for areas with limited shelving; Provides flexibility to frequently rearrange and organize dishes, mugs, bowls, plates, platters, cookware, mixing bowls, serving pieces, foods, herbs and spices; Ideal for under the sink storage, organize your cleaning products, and dishwashing supplies; Perfect for small space living as well as apartments, condos, campers, RVs, cabins and tiny homes
QUALITY CONSTRUCTION: Made of sturdy perforated steel top and steel wire legs with a durable finish; Features non-slip plastic feet; Easy Care - wipe clean with a damp cloth
THOUGHTFULLY SIZED: Each Measures 11.5" x 7.95" x 5.57" high
Zone 2: Tools for Cooking
I recommend that you put tools for cooking very close to the stove. This can be in a drawer that is right next to the stove. If you are right-handed, place them in a drawer on the right and if you are left-handed, place them in a drawer to the left.
If you have a small kitchen without a lot of drawer space, consider getting a pot rack (like the one below).
Where to put tools for cooking:
Where: near or to the right of the stove
What: Pots, pans, and tools used during cooking, like stirring spoons and spatulas  
Sale
SODUKU Pot Pan Rack with Solid Wood Shelf, Wall Mounted Multifunctional Kitchen Hanging Organizer with 8 Hooks for Pots Pans Lids Utensils Cookware Natural
Multifunctional Pan Rack: The wall-mounted rack features with a shelf made of wooden tracks and 8 swivel hooks, which not only could hang pots and pans, but also give additional storage space that can be used for cookbooks and other accessories
Sturdy & Well-Constructed: the pot hanger comes with solid wood tracks and two heavy duty metal braces. The braces screw into the wall at two points to distribute the weight evenly. Apart from that, metal braces are coated with black painting, which make them stylish and rust-free
Easy To install: no need assembly,just anchoring the screw into the wall is okay, Extra hooks available, purchase separately.
Moveable Swivel Hooks: the total length of this wooden track is 25.20 inch and there are 2 rails for swivel hooks. You are able to customize the hanging pattern of your cookware due to the hooks are movable along with the rail
Stylish Design: aside from its obvious space saving capacity, the look of a hanging pot rack in the kitchen adds style and ambience to an otherwise bland room. Besides, you can put your lids in the slots in the top and your pots/pans adjacent
Zone 3: Baking Supplies (non-food)
Baking supplies should be close to the oven. Since the oven is the main source for those who bake, it works best to store those supplies as close to the oven as possible.
Baking Supplies (non-food):
Where: near the oven
What: baking sheets, muffin tins, pie plates, cooling racks
If you like organizing, you'll love this article: The Best Way to Organize Clothes in a Small Closet
YouCopia StoreMore Adjustable Bakeware Rack, Cookie Sheet Baking Pan and Tray Organizer for Kitchen Cabinet and Pantry Storage, Standard, White
FLEXIBLE STORAGE: Includes seven adjustable dividers to organize your bakeware, cutting boards, and pans in a lower cabinet or pantry. Dividers keep bakeware upright and separated, so you can quickly see and grab what you need.
DOESN'T SCRATCH PANS: Avoid the stacking! Coated steel dividers never pop out or scratch, so bakeware is always protected. The strong base is stable enough to ensure even your nonstick muffin tins and cake pans stay damage-free and ready to use.
NO SLIPS, NO SURPRISES: Pull out any pan, board, or sheet! Soft, non-slip feet hold the bakeware rack in place. The open base keeps round pans centered, too.
SET UP IN MINUTES: Just pull out of the box, add wires and load your items. A quick set-up means your bakeware will be organized before you know it.
MADE TO FIT: Measures 11.5" W x 7.3" D x 6.3" H (with dividers inserted). Fits standard-sized cabinets and pantries. Made from high-quality plastic and steel.
Zone 4: Tools for Preparing Meals
There are three stages in the food preparing process:
Preparing the meal
Cooking the meal
Serving the meal
Your prep area is going to have all the tools you need when preparing the meal. You will want the prep tools in the largest area within your kitchen work triangle.
Tools for preparing meals:
Where: near the largest work surface within the work triangle
What: Mixing bowls, measuring cups, whisks, and tools used to prepare meals
Zone 5: Serving and Entertaining Items
The next step for where to put things in the kitchen is establishing a place for serving items and entertaining items. This could be special trays or dishes for holidays or parties. Basically, you don't use items these frequently and therefore they should not be in the main work triangle.
Serving and Entertaining Items:
Where: close to the dining area
What: serving platters, pitchers, cake stands, holiday-themed items, chip & dip trays
Zone 6: Food Storage
This area is for anything you use to store leftovers or to prepare lunches. Store those items near the refrigerator. Having it close to the fridge makes it easy to grab a container for leftovers and stick it directly in the fridge.
This stuff should not be in the main working zone.
Food Storage:
Where: near the refrigerator but away from household cleaners
What: Tupperware, ziplock bags, aluminum foils, plastic wrap
Recommended reading: What supplies are in my Professional Organizer's Toolbag?
Zone 7: Cleaning Supplies
The last zone for where to put things in kitchen cabinets is cleaning supplies. Typically, this type of stuff goes underneath the sink. This is easy because it's close to the water source.
Also, under the sink is not an area where you want to store dishes for cooking supplies because it is typically dirty down there with potential water leaks.
Cleaning Supplies:
Where

: Typically under the sink and additional cabinets around the sink

What

: Towels, rags, sponges, cleaning solutions
Sale
iDesign Axis Over the Cabinet 2-Tier Kitchen Storage Basket Organizer for Aluminum Foil, Sandwich Bags, Cleaning Supplies, Garbage Bags, Bath Supplies, Chrome
OVER THE CABINET STORAGE: Wire over the cabinet storage basket is perfect to store all your cleaning supplies, plastic bags, garbage bags, spices, bathing supplies, dry foods, and more! Ideal for your kitchen, pantry, bathroom, office, dorm room
SAFE BACKING: Non absorbing foam backing to protect cabinets from scratching
OPTIMIZE STORAGE: Maximize bottom swing-open cabinet space with extra storage
EASY INSTALLATION: No hardware included. Fits over all standard kitchen cabinet doors
IDEAL SIZE: Measures 5.1" x 11.1" x 16.3", perfect for small cabinets
Do you need to maximize space in your SMALL KITCHEN? Check out the video below that talks about 10 ways to increase space in your kitchen. Trust me, you won't want to miss this.
ARE YOU INTERESTED IN BECOMING A PROFESSIONAL ORGANIZER?
If you're someone who LOVES organizing, consider starting your own organizing business.
Get a copy of my free guide "Professional Organizer's Launch Guide" HERE.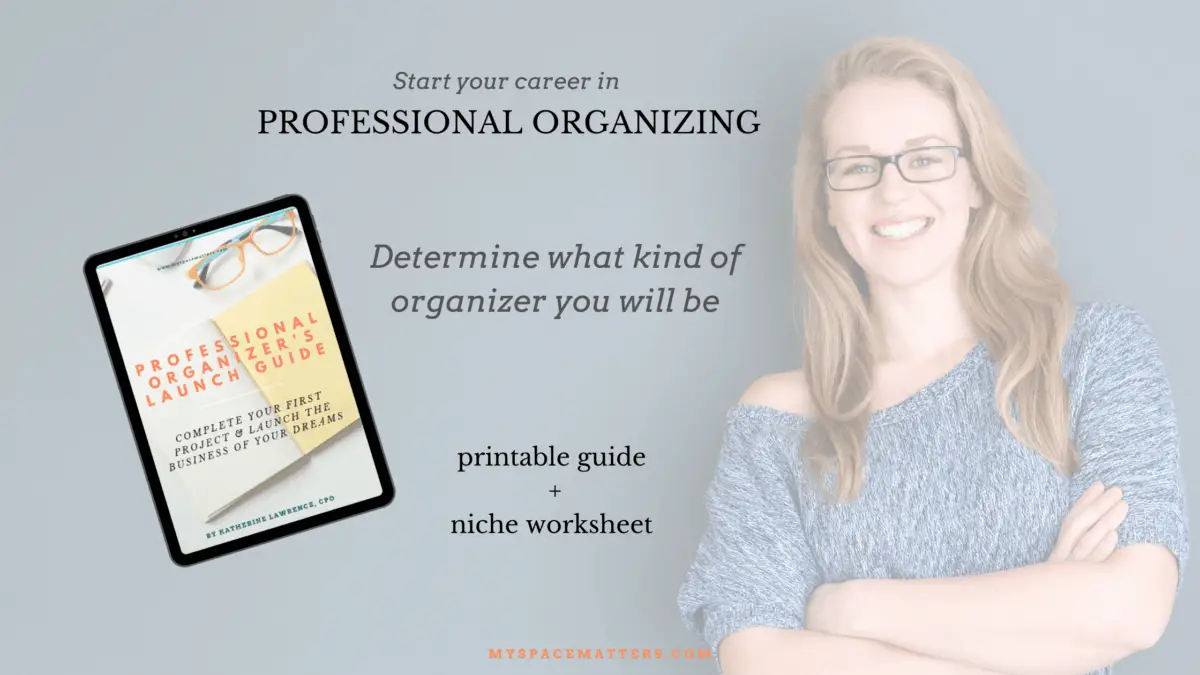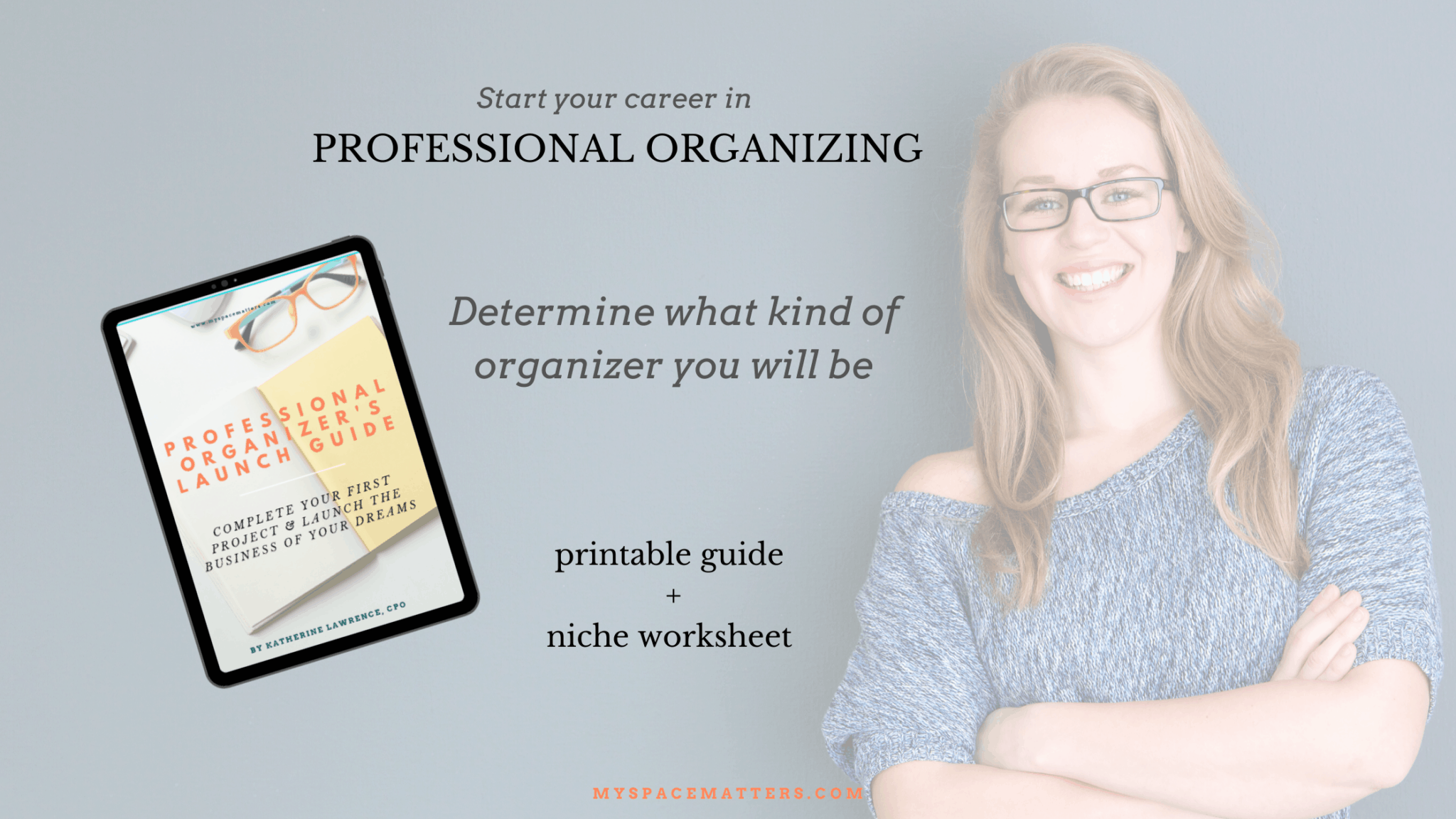 There are many things to consider when starting an organizing business including:
When will I name my business?
Where will I find clients?
How do I become an organizer?
Do I need to be certified to get started?
How will I structure my business?
You have come to the right place!
When you are ready to start your own professional organizing business, check out all my courses on working as a home organizer. My course bundle has the best prices on courses so that you can create and market your organizing business and design a system of organization that will work with all your clients no matter how small or large their volume of clutter is! Check out the course bundle here: Online Boot-Camp for Organizing Bosses
You can also check out my other blogs on how to start a home organizing business:
Happy Organizing!