Are you looking to become a certified professional organizer? If you want to make home organizing a legitimate business, there are a handful of professional organizing forms that are essential to getting your business off the ground and recognized as legitimate. This article talks about 5 of those important forms.
As a certified professional organizer with 20 years of experience, it can be easy to focus on the work and forget about the business side of things. Unfortunately, it's not all fun and games with organizing. To make this career work, it also has to function as a business.
When I first started organizing for clients, I quickly discovered that I needed forms that would help me keep my clients, tasks, and business organized.
The professional organizing forms I use most often in my home organizing business are:
Client Intake Form & Questionnaire
Client Agreement
Action Plan (on paper or in

Trello

)
Contractor Agreements
Testimonial Request Form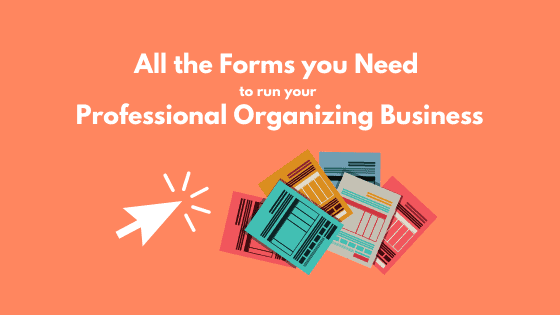 Over the years, I've used a wide variety of professional organizer documents to help me keep track of my work and effectively run my business. Now, almost 20 years into my career, I've settled on five forms that are essential to any professional organizing business.
I've done the trial and error to get these forms to perfection. I don't want you to go through what I did, so I made the forms available to you so that you can simply download the forms and customize them for your own business. You can get customizable copies of these forms HERE.
If you prefer to watch my YouTube video on essential professional organizing forms, click the video below. Otherwise, keep scrolling to read on!
1. Organize jobs with the Client Intake Forms
Client Intake forms allow you to gather basic information about your clients, their goals, and the logistics of the organizing project.
This form can also serve as a checklist for each job, making sure you cover all of your questions and get the information you need. I also like to use the Client Intake form to ask clients how they learned about my professional organizer services which helps me measure how well my marketing efforts are working.
2. Protect your business with Client Agreements
Client Agreement forms are basically contracts between you and your clients.
With this form, you can easily cover the important technical details such as fees, the types of payment you accept, what your services cover, and what clients will have to pay for. You can also include important information for your business such as photo release agreements to make sure everyone's on the same page.
Amazon Basics Rectangular Plastic Desk Organizer, Letter Tray, White, 2-Pack
Letter tray (2-pack) for keeping documents, folders, and more neatly organized
Made of durable hard plastic for long-lasting reliable strength; available in black or white (each sold separately)
Modular design; stackable with the Amazon Basics Plastic Organizer letter tray, accessory tray, and half accessory tray (additional items not included)
For use inside a drawer or cabinet or on a desk or shelf
Measures 13 by 9.7 by 2.2 inches; backed by an Amazon Basics 1-year limited warranty
3. Use Action Plans to prepare
Action Plans serve as your professional organizer checklists. You can map out the targeted areas to organize, determine what needs to be done in each space, jot down client goals, and make a list of the supplies you'll need for the job.
Though I originally used paper forms when I first started with this career, I now create digital action plans in Trello. I've found that Trello works amazing for me and my clients. I've tested a lot of platforms and can confidently say that Trello is the best.
I recommend that you try and few things and decide what works best for your action plan.
4. Manage your team with Contractor/Employer Agreements
Like Client Agreements, this form operates as a contract. However, this is a contract between you and any help that you bring to a job. This help could be additional professional organizers or volunteers.
As you add new team members, this will help you maintain consistent standards and operating procedures. I also recommend including anti-solicitation and confidentiality clauses to protect your organizing business from unethical employees.
A form like this is great at establishing a team that works well with you and understands your organizing principles.
Brother P-touch, PTD210, Easy-to-Use Label Maker, One-Touch Keys, Multiple Font Styles, 27 User-Friendly Templates, White, Gray/White
Quick access to fonts, frames, symbols and more
Back-lighting: No, Built-In Handle: No
One-touch keys -- Quick access to fonts, frames, symbols and more
Graphical display ? See how your label will look before you print
5. Improve your work with Testimonial Request Forms
The last professional organizing form that I highly recommend is a Testimonial Request Form.
Testimonials from clients are a necessary step in building your reputation. It also helps you get more clients. If you have a professional organizer's website, you can put the testimonials on your site to attract more clients and to prove that you have satisfied customers. For marketing purposes, it's great to have real quotes from real people.
The testimonial request form also gives your clients a way to offer you feedback on your services so that you can use their feedback to improve your services and customer satisfaction.
Do I absolutely need these forms?
Well, yes. The reason why you need to have these forms is because you are not organizing as a hobby. Rather, you are organizing as a professional who is establishing a career. It's important that as a business owner, you have all your I's dotted and your T's crossed.
Organizing as a professional is a lot different than simply entering a friend's house and cleaning their closet. Since you are taking an income from actual clients (who are often strangers), you need to make sure you have contracts in place and permission for things like photos and quotes (which are necessary to help establish and grow your business).
If you're thinking about starting your own professional organizering career, save yourself some time and use the proper forms right from the start. Get the forms HERE + lots of bonuses to get your business up and running. You definitely won't regret it and your time will be free to focus on getting clients and building your amazing home organizing business! You totally go this!
ARE YOU INTERESTED IN BECOMING A PROFESSIONAL ORGANIZER?
If you're someone who LOVES organizing, consider starting your own organizing business.
Get a copy of my free guide "Professional Organizer's Launch Guide" HERE.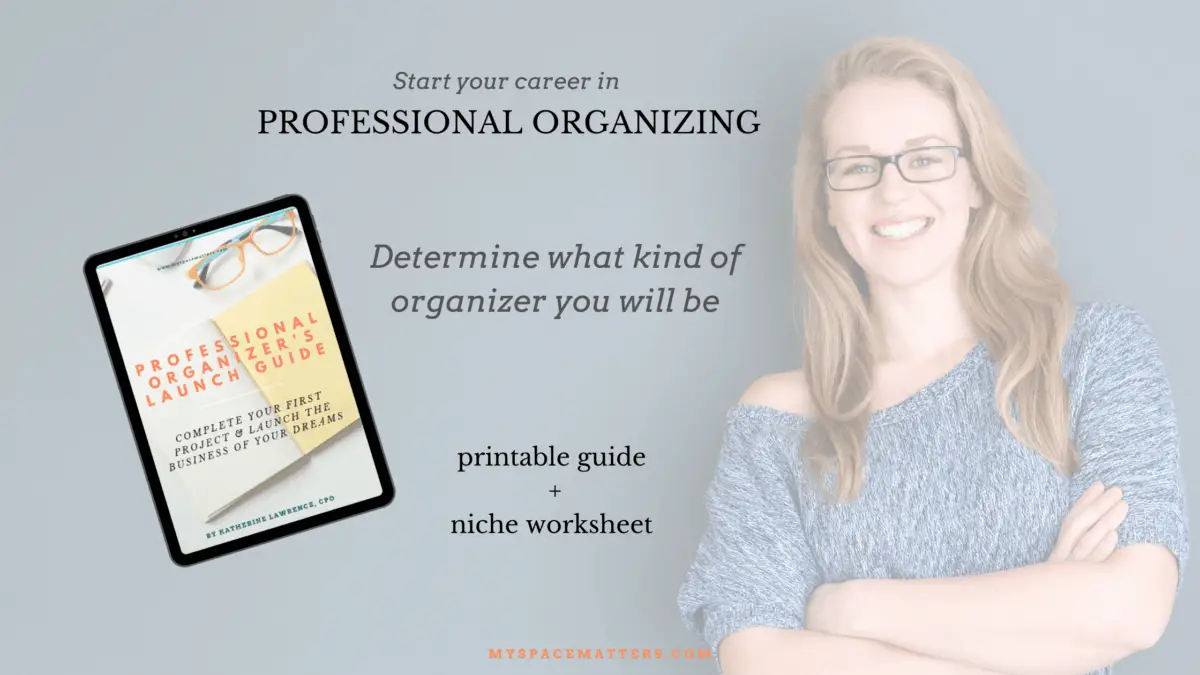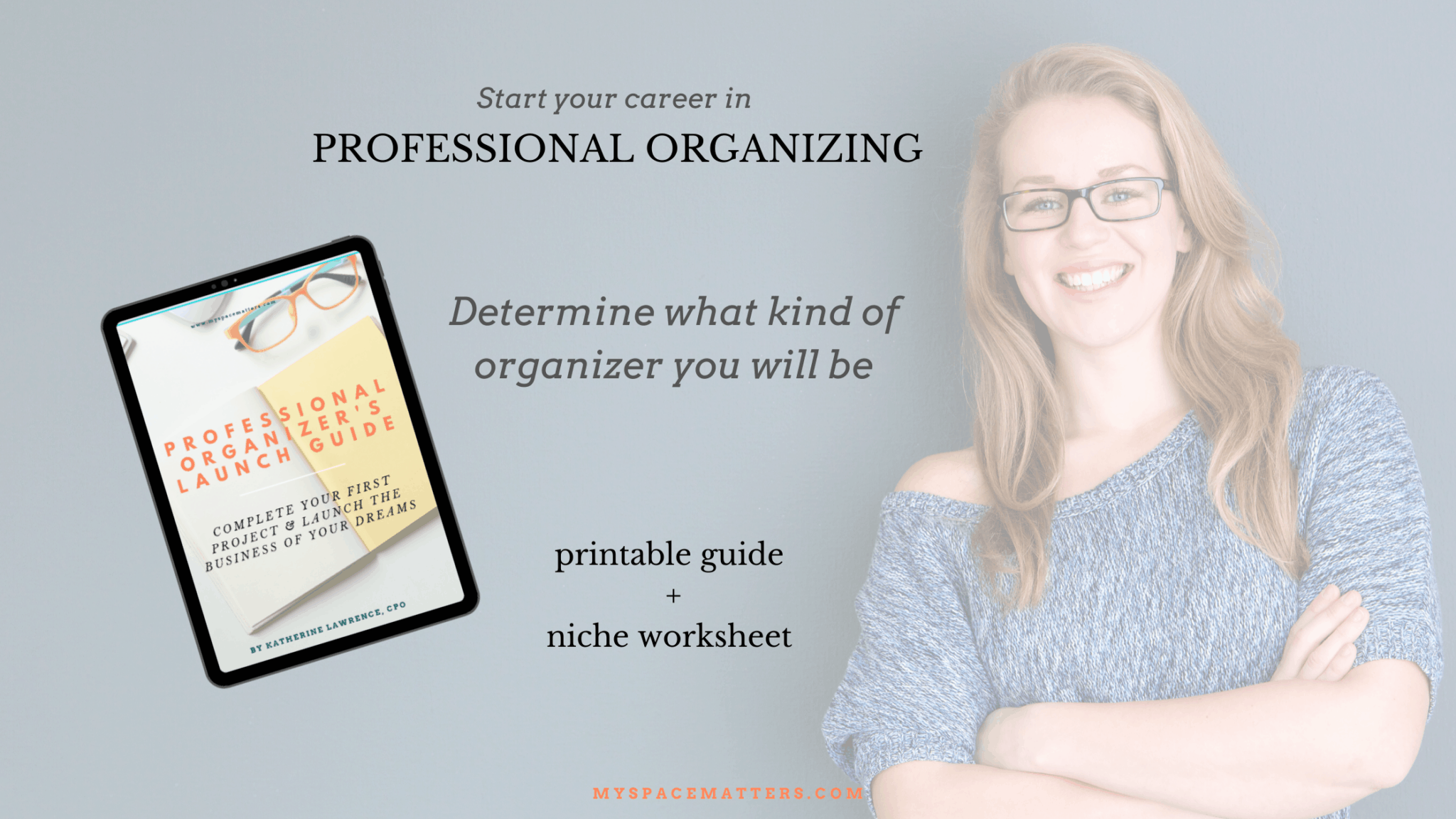 There are many things to consider when starting an organizing business including:
When will I name my business?
Where will I find clients?
How do I become an organizer?
Do I need to be certified to get started?
How will I structure my business?
You have come to the right place!
When you are ready to start your own professional organizing business, check out all my courses on working as a home organizer. My course bundle has the best prices on courses so that you can create and market your organizing business and design a system of organization that will work with all your clients no matter how small or large their volume of clutter is! Check out the course bundle here: Online Boot-Camp for Organizing Bosses
You can also check out my other blogs on how to start a home organizing business:
Happy Organizing!