Do you need to downsize a home fast? Maybe you have less than a month to move a loved one out of their home where they have lived for decades. Somethings things like a sudden illness or death can force siblings, partners, or family friends to take on the role of decluttering expert. Or, maybe you just want to make quick work of decluttering for your own home. These home downsizing tips will help you clear out your home in just 5 days.
Folks hire professional organizers to downsize homes in a few days.
But is it possible for the everyday person to downsize that fast without the help of a professional? And if so, how can you help expedite this process?
The answer is YES! It is possible to downsize very fast. This post is all about home downsizing when you are under an extreme time crunch.
You got this!
If you prefer to watch my YouTube video on home downsizing 101, click the video below. Otherwise, keep scrolling to read on!
Day 1: Inspect the Space and Secure Resources 
When downsizing your own home, you are likely to be very familiar with the space. However, if you're entering a space for the first time, you need to do a full inspection.
To do this, do a complete walkthrough including sheds, basements, crawl spaces, attic, and garage. Then, ask yourself the following questions:
What do you see?
Are there large collections and bulky items like cars or antiques that will need special handling?
Are there cabinets filled with papers, photos, and small items that will be tedious to sort?
Look for categories like linens, clothing, and kitchen items that may not have monetary value, but that filled a few rooms?  
Once you have a sense of the space and its contents, it is time to secure some resources.
You might not have specific details yet, but the resources you may need to enlist include:
Haulers
Movers
Auctioneers
Appraisers
Charities
Consignment Shops
Cleaning Services
Storage Units
and all the free labor you can secure
Secure the supplies you may need: 
Trash bags
Miscellaneous bags and boxes for recycling and donations
Moving boxes
Packing tape
Tape measure
You may not need to purchase all this on the first day. In fact, it could take you several trips over the week. It's good to just get a plan in place. 
it's also smart to keep your tablet, smartphone, or notebook handy to keep track of the services you can call and the supplies you need to secure.
Day 2: Clear out the "4 Ps"
One of the most valuable things I learned from working with estate sellers is that other than the 4 Ps everything else in a home could be sold. So what are the 4 Ps?
Photos, Paperwork, Perishables, and Prescriptions.
This changed the way I looked at downsizing homes. With enough hired help, even the largest estates could be downsized quickly.
Now, this does not mean you have to sell everything in the home via an estate auction service, but it gives you that option and a starting point. 
Two of the 4 Ps, photos and paperwork, contain things of such great value but are so tedious to sort. If time is short I recommend packing these items up into photo boxes and bankers boxes and moving them to another location or a climate-controlled storage unit.
When packed properly, a small 5 x 7 storage unit will hold tens of thousands of these documents. You may need to locate certain legal and financial documents in the home downsizing process. Provide a list of these items to all your helpers so everyone can search for these items as you pack away papers to sort when you have more time.
Clearing of the other Ps, perishables, and prescriptions, do not typically take as long and can be easily discarded. 
Day 3: Pick Your Favorites
Day three is about picking favorites.
If you or your loved one is doing the home downsizing because of a move, now is the time to pick the furniture and other large items that will accompany them into the new space. If the downsizing is due to a passing, this is the time to choose valuable or sentimental items to keep and relocate.
I recommend that you use painter's tape to mark these special items.
If things are going to multiple people or locations, purchase painter's tape in multiple colors, like blue, green, and yellow.
I do not recommend using stickers or regular tape to mark items as the residue can damage your valuables.
For large, complicated estates I recommend creating a spreadsheet to list all the items and collections including where the item will go eventually and the means by which it will get to its new home. If you are downsizing to a smaller home, it's helpful to have a floor plan handy and take measurements to assure that everything fits. 
Day 4: Pack it Up
Day four for home downsizing is about packing.
Bag up the remaining trash and recyclables. Pack additional items to move to another home or to storage. By the end of the day, the only items left in the home should be items to sell or donate.
Label boxes clearly like "storage unit" or "Bob's house" in addition to notes about the contents. Do not pack liquids or chemicals as they could spill and damage other items. Also, don't pack in large boxes unless hiring professional movers. It is easier to store and safer to move small boxes.
If you want it—box it, seal it, label it and stack it up. Be selective! Only pack things you will love and use. Do not create clutter and overwhelm another location. Now is the time to be very selective. 
Day 5: Move it Out
The final day is about moving.
Secure charities, haulers, and auction houses to eliminate the remaining items. Ideally, move out all the items you are keeping first.
This ensures there is no confusion, and that a treasured item does not get sold or end up at Goodwill. Some charities even offer to pick up.
In my experience, they are very selective and have narrow schedules. Hiring a hauling service ensures that all items are removed on time. You can request that haulers take items to a specific charity or make multiple stops. Or you can hire a  moving company to take one load of boxes to storage and another load to charity.
If you are working with an online auction house like Max Sold, you can leave items out for the agents to photograph.
You may wish to do some sorting and inventorying for your own records. But do not worry if you run out of time, just confirm that everything in the house is for sale and let the estate agents help with the final sorting, and organizing.
In researching an estate agent be sure they have an exit strategy for unsold items and final clean up. You may wish to also have a professional cleaning crew come in after the auction so the house is ready to go on the market if you are selling the property. The important thing is that by this day, you've made all decisions about the things you wish to keep.  
Best of luck in your home downsizing efforts. If you are working with a longer timeframe, check out my other downsizing blog, How to Downsize your home in 10 Simple Steps.
ARE YOU INTERESTED IN BECOMING A PROFESSIONAL ORGANIZER?
If you're someone who LOVES organizing, consider starting your own organizing business.
Get a copy of my free guide "Professional Organizer's Launch Guide" HERE.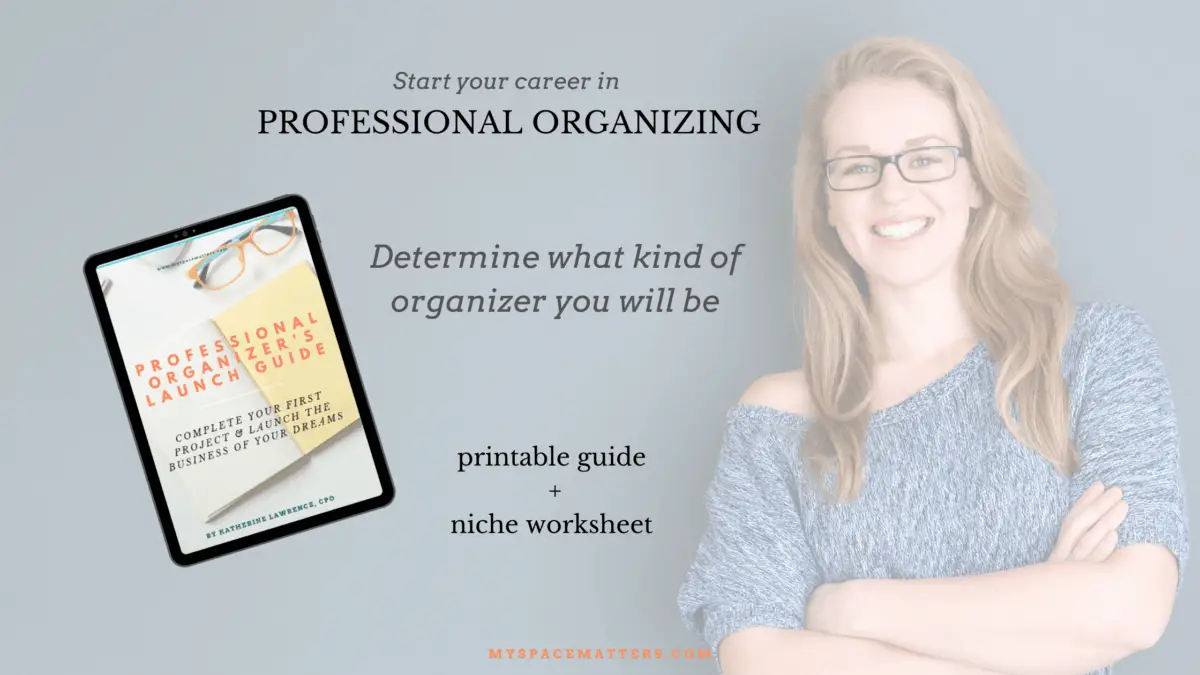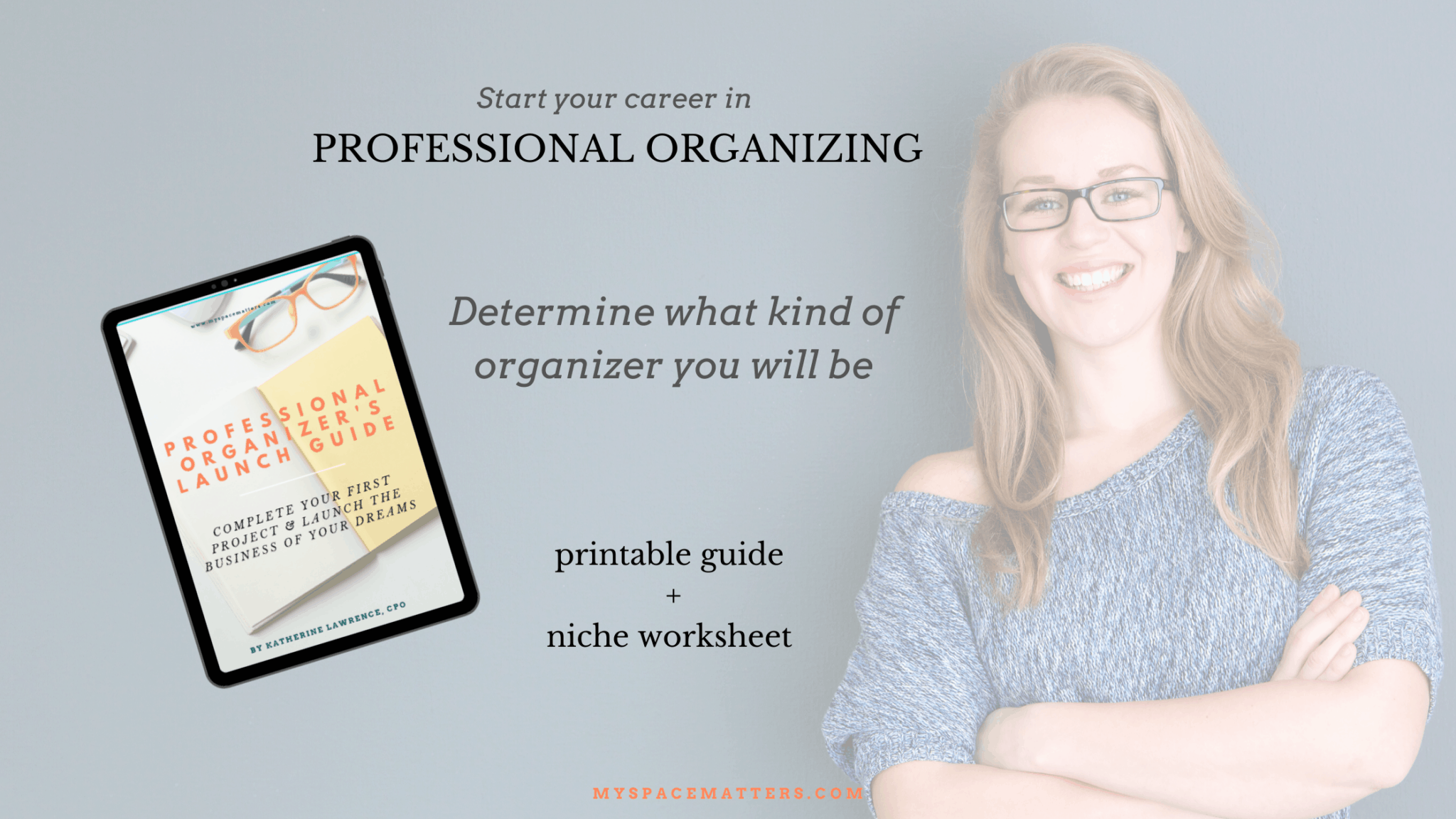 There are many things to consider when starting an organizing business including:
When will I name my business?
Where will I find clients?
How do I become an organizer?
Do I need to be certified to get started?
How will I structure my business?
You have come to the right place!
When you are ready to start your own professional organizing business, check out all my courses on working as a home organizer. My course bundle has the best prices on courses so that you can create and market your organizing business and design a system of organization that will work with all your clients no matter how small or large their volume of clutter is! Check out the course bundle here: Online Boot-Camp for Organizing Bosses
You can also check out my other blogs on how to start a home organizing business:
Happy Organizing!