Are you working as a professional organizer or a home organizer? Showing up to organize for a client is a rewarding project that requires skill, passion, and the appropriate supplies. This post talks about the professional organizer supplies you must have for a successful organizing business.
Working as a Professional Organizer is an adventure. Each new project brings its own unique challenges since every client is different.
I've discovered that it helps to keep a tool bag packed with my favorite supplies, ready at a moment's notice for any crisis of clutter. I never travel to any job without my tool bag of professional organizer supplies and it's made my job a lot easier and smoother.
Professional Organizer's Supplies by Category
Below are the tools that I always have with me at every organizing job I go to. Since each experience is different and unpredictable, I've found that it's best to always be prepared.
Here are the different categories of supplies I carry with me:
Bags & Storage
Markers & Labels
Tools
Personal Protective Equipment
Other handy things
If you prefer to watch my YouTube video on what professional organizer supplies are in my tool bag, click the video below. Otherwise, keep scrolling to read on!
1. Bags & Storage
Of course, the most important tools are the bags that carry all your supplies! I love having everything I need to tackle an organizing project pre-packed and ready to go.
These are some of the bags I recommend using. They range from large bags to carry all the supplies, and smaller back to help keep supplies organized.
I use the clear lawn and leaf bags to contain donations so they don't get mixed up with the trash. My clients usually have a supply of trash bags, paper bags, and cardboard boxes on hand, so they are not part of my typical supply kit.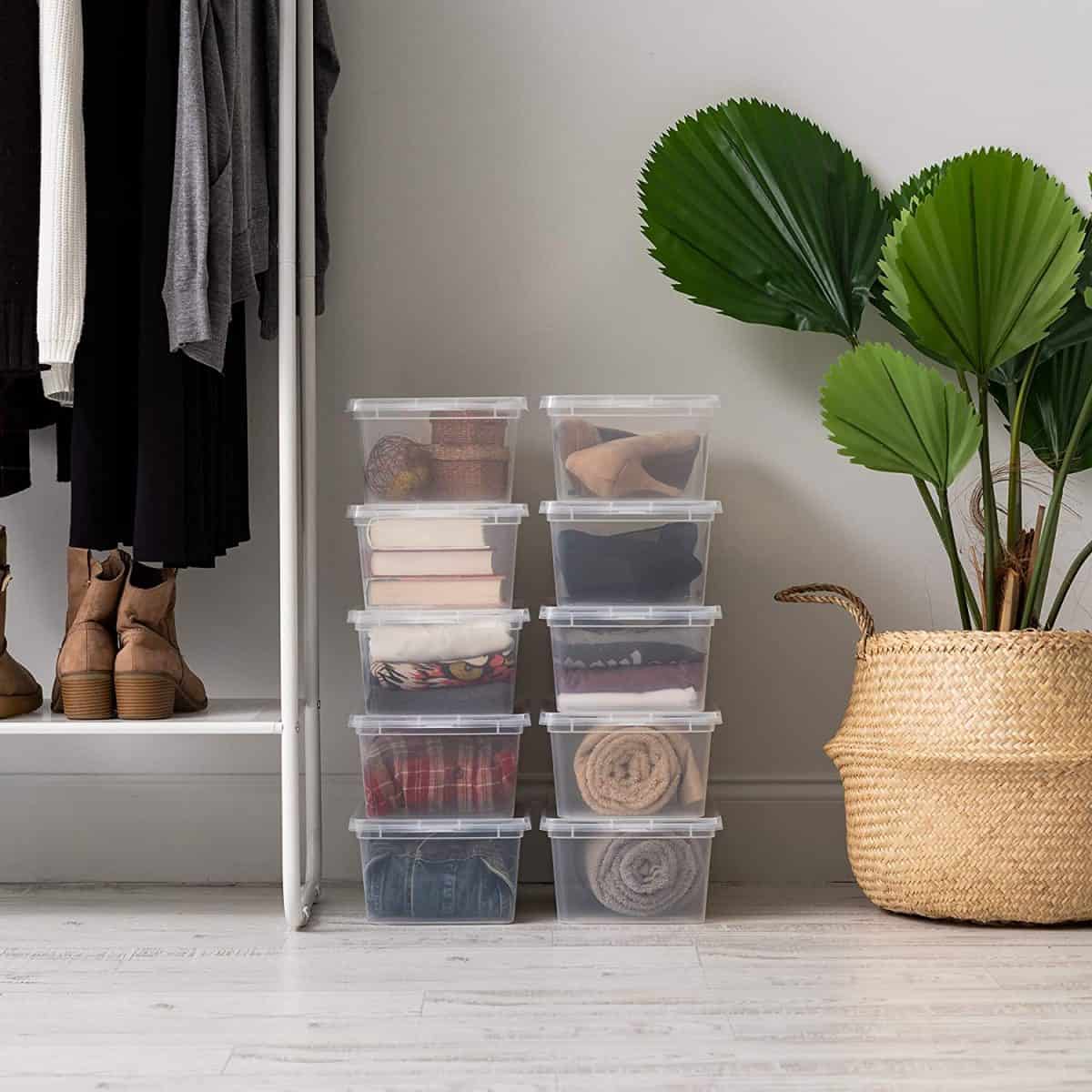 2. Markers & Labels
Every Professional Organizer should own a label maker. In fact, I think that a label maker was one of the first things I bought when I started my business.
Often I ask my clients to buy their own labeler and tape so that they can keep up with the system I create for them when I'm gone. Low adhesive painter's tape and full adhesive sticky notes make for quick labels during the decluttering process. And of course, I never leave home without a few Sharpies!
Here are my recommendations for markers and labels.
3. Tools
Your clients may have tools at their house you could use, but until the house is organized, it's unlikely they know where they are. When you're in the middle of decluttering, the last thing you want to do is search an already unorganized space for tools.
These are a few small tools I like to carry with me so I don't have to stop the decluttering and organizing process to locate these handy items. Chances are you might already own these items for your own home, but I recommend that you get some specifically for your professional organizer tool bag so that you never risk leaving them home.
I also keep the small scissors and box cutters in my fanny pack because I use them so often. These are the tools that I reach for the most, so having them on your body at all times is extremely helpful.
4. Personal Protective Equipment (PPE)
Even before 2020 when masks became an item no one leaves home without, I always carried masks and gloves on organizing jobs. If you have allergies like me, wearing a mask is a real lifesaver.
Masks and other protective equipment like gloves are also important to protect you from harmful substances such as mold, mildew, dust, odors, waste, and much more. It's also helpful to have a first aid kit on hand just in case you suffer from bumps or bruises while on the job.
Here are my personally recommendations of the professional organize supplies I use to protect myself.
First Aid Kit (can be kept separate or make your own using a mesh bag)
I love, love, love Atlas Nitrile Tough Gloves because they are washable and come in large, medium, and small sizes. I wear the small size and they "fit like a glove" when other gloves are so bulky I can hardly grab on to anything! An added bonus is that there are more paper cuts when wearing gloves on the job. This is great if you're organizing a lot of paper clutter or dealing with cardboard boxes.
5. Other Handy Things…
Supplies and tools aren't the only things I take with me on an organizing gig. Carrying my own drinks and snacks helps me keep up my energy during long and tedious work sessions.
I also use my tablet to share organizing ideas with the client to create and update their action plan. This is much more effective than using pen and paper. However, I do have a clipboard ready just in case there are papers that need to be reviewed.
Those are the professional organizer supplies I always keep in my tool bag. As you grow your home organizing business and discover various scenarios, you'll be able to keep adding to your tool bag for ultimate success.
ARE YOU INTERESTED IN BECOMING A PROFESSIONAL ORGANIZER?
If you're someone who LOVES organizing, consider starting your own organizing business.
Get a copy of my free guide "Professional Organizer's Launch Guide" HERE.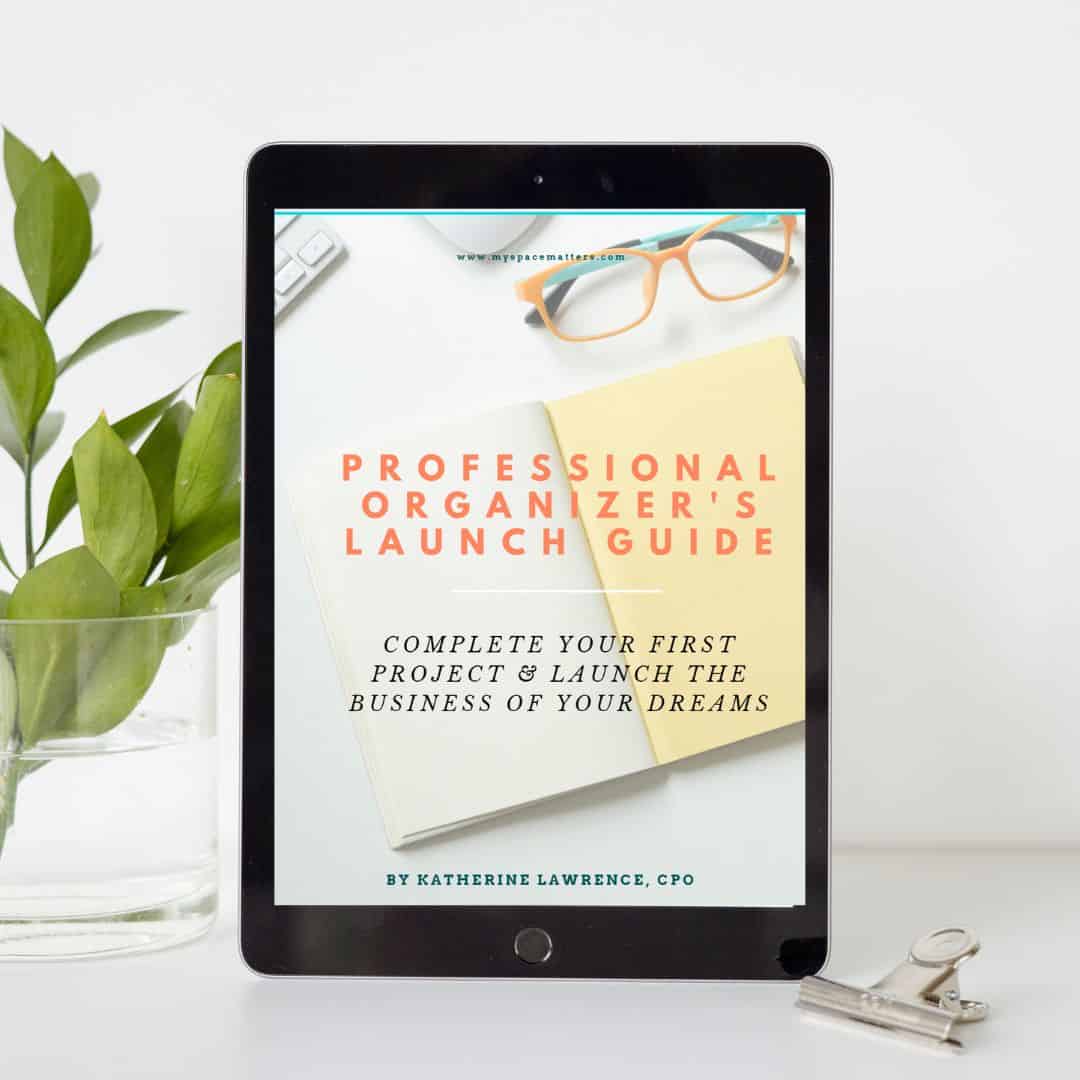 There are many things to consider when starting an organizing business including:
When will I name my business?
Where will I find clients?
How do I become an organizer?
Do I need to be certified to get started?
How will I structure my business?
You have come to the right place!
When you are ready to start your own professional organizing business, enroll in Selling Organization, a comprehensive course for building your organizing career including working with clients, setting up your business, and marketing your services.
You can also check out my other blogs on how to start a home-organizing business:
Happy Organizing!