Are you passionate about organizing and are on the cusp of turning that passion into a thriving business? Before you take the leap, let's talk about branding. It's not just about having a pretty logo or a catchy tagline. It's about creating a memorable impression that resonates with your target audience and positions you as the go-to expert in the organizing world.
Branding is the essence of your business. It's the image you project to the world and the promise you make to your clients. When done right, branding can elevate your business, distinguishing you from the competition and building trust with your audience. Think of it as the foundation upon which you'll build your professional organizer empire.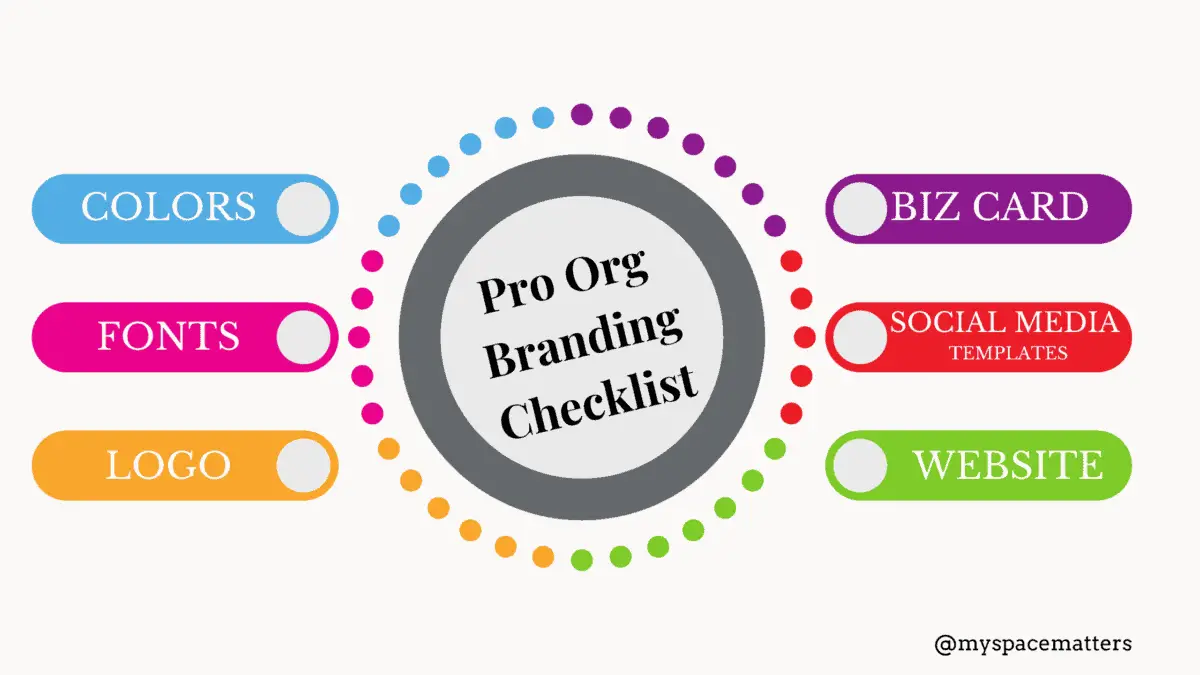 The Ultimate Checklist for Pro Organizers
1. Brand Colors:
Colors are more than just visual elements; they evoke emotions and set the tone for your brand. For instance, my primary color is a vibrant orange, symbolizing energy, enthusiasm, and happiness. When selecting your brand colors, consider the emotions and values you want to convey. This color palette tool on Canva can help you find the perfect shades that resonate with your brand's essence.
2. Fonts:
Fonts play a pivotal role in conveying your brand's personality. Whether you're going for a modern, classic, or playful vibe, consistency is key. Regularly switching fonts can make your materials look disjointed. Here's a font guide on Canva that I found incredibly helpful when choosing my brand fonts.
3. Custom Logo: 
Your logo is part of your brand image. It should be memorable, scalable, and reflective of your organizing expertise. If you're not design-savvy, consider using online platforms like Canva or hiring a professional. Remember, your logo will appear on your business cards, website, and promotional materials, so it's worth investing time and resources into getting it right.
4. Business Card:
In today's digital age, a tangible business card can leave a lasting impression. It's a physical representation of your brand that you can hand out at networking events, trade shows, or even casual meetups. I've turned my business card into a handy magnet, making it easy for clients to keep my contact details at their fingertips. I'll teach you how to use the customizable business card designs in Canva in my Selling Organization course.
5. Social Media Templates:
Consistency is crucial, especially on social media. Branded templates ensure your posts have a cohesive look, reinforcing brand recognition. I personally love using Canva for this. If you're new to Canva, I've got lots of tutorials in my Selling Organization course that you might find beneficial.
6. Website: 
Your website is your online storefront. It's where potential clients get to know you and your services. Ensure it's user-friendly, mobile-optimized, and reflective of your brand. Include a clear call to action, guiding visitors on the next steps to take. If you're looking for website design tips and best practices, this blog post covers it in detail.
Now that you have your branding checklist, it's time to put it into action. But if you're feeling overwhelmed or unsure where to start, I've got you covered. My Selling Organization course is packed with over 10 hours of video tutorials and 30+ worksheets to guide you every step of the way. From running professional sessions to creating a marketing plan, this course is your comprehensive guide to turning your organizing hobby into a lucrative business.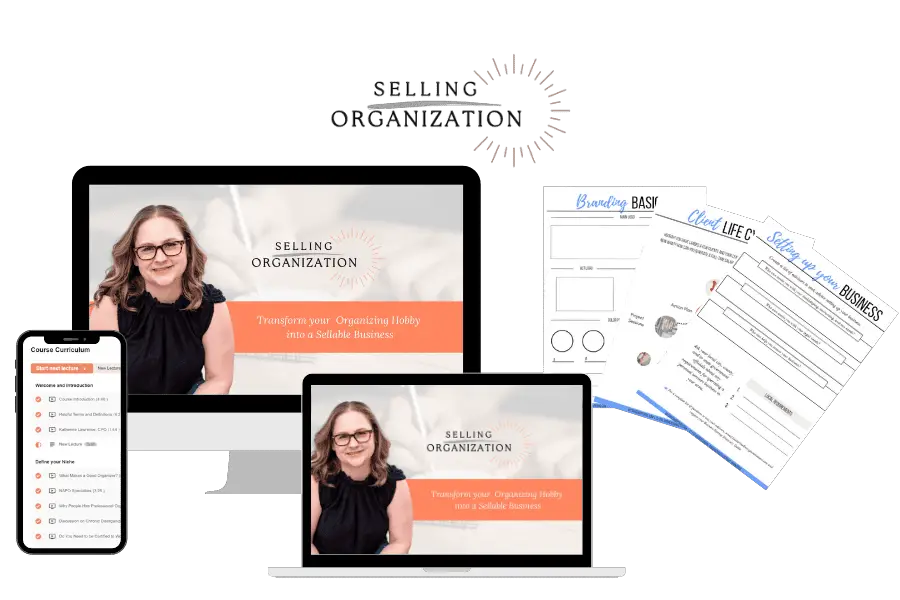 Branding is an ongoing journey, not a one-time task. As your business evolves, so will your branding needs. But with the right foundation, you'll be well-equipped to navigate the challenges and celebrate the successes that come your way. Remember, your brand is a reflection of you and the incredible value you bring to the world of organizing. Embrace it, nurture it, and watch your business flourish.