Do you have a tiny kitchen? Getting things set up in such a small space can be difficult. This post offers simple storage tricks on how to organize a small kitchen. This post contains affiliate links. This means at no additional cost to you I may receive a small commission if you click through and make a purchase.
Are you having trouble organizing your small kitchen because there just is not enough space?
The main struggle with tiny kitchens is the constant struggle with finding places to store everything.
As a professional organizer with 20 years of experience, I like to consider kitchens to be one of my specialties.
Since there isn't a way to expand a small kitchen without doing major construction, the tips I have in this article provide realistic products that will help to make your small kitchen feel organized and larger.
If you prefer to watch my YouTube video how to organize a small kitchen, click the video below. Otherwise, keep scrolling to read on!
10 Organizing Products that Create Space in Small Kitchens
When organizing a small kitchen, nothing creates space like products specific for the kitchen.
Over the years, I've come to the conclusion that there are 10 10 space maximizing products that transform even the smallest kitchen. Most of these organizing products cost under $20.
Here is a list of my favorite kitchen space maximizing products:
Below I'll talk about how to use each product, and which specific product I recommend.
1. Cabinet Door Organizer
Cabinet door organizers instantly create space in small kitchens. Simply install or hook these baskets inside your kitchen cabinets. They provide extra storage for cleaning products, spices, bags, wraps, and just any items you need handy.
Cabinet door organizers can be hooked over cabinet doors with no installation required. Or, they can be screwed in for permanent installation.
2. Command Hooks
Command hooks are a space-saving live saver! All you need to do is place these handy hooks inside kitchen cabinets, outside kitchen cabinets, or on walls near workspaces to keep kitchen tools close at hand.
Command hooks come in a variety of finishes, sizes, and weight capacities. They can be installed inside cabinets and on walls for extra storage anywhere.
3. Shelf Stackers
Shelf Stackers can easily double the space you have in your kitchen cabinets. Getting a shelf stacker is like adding another shelf to your existing cabinet. Use shelf stackers to organize plates, bowls, and canned goods.
Before you purchase, always measure first. Stackers come in adjustable, wide, and narrow sizes and there is an assortment of finishes.
4. Undershelf Baskets
Like Shelf Stackers, undershelf baskets double the storage inside your cabinet or pantry. Organize kitchen linens and food items with these handy hanging baskets.
Shelf stackers come in wide or narrow sizes. Measure your space first to see which option fits best.
5. Mug Hooks
Adding Mug Hooks (or cup hooks) inside or underneath your kitchen cabinets is one of the cheapest organizing products you can buy. If you have a lot of mugs, you know these can be bulky and take up a lot of space. By hanging them on cup hooks, you increase your storage space in a small kitchen.
You can purchase inexpensive single mug hooks to screw into cabinet shelves or get a slide-in rack. There is no installation required for these products.
6. Stemware Rack
Stemware racks add additional space to organize the barware in your kitchen. Easily store wine, martini, and champagne glasses under your kitchen cabinet to free up space inside the cabinet for your dishes.
Stemware racks come in a variety of finishes: clear, wooden, and chrome. Pick one based on the color scheme of your kitchen.
7. Pot Rack
Pots and pans take up a ton of space. To help you organize a small kitchen, you'll need to get your pots, pans, and lids in order by using a pot rack. Pot racks can be hung from the ceiling or wall. Hanging them on the wall frees up a lot of space inside your kitchen cabinets.
Select a finish that matches your kitchen decor. Some hanging pot racks come with lid storage as well.
8. Shoe Organizer
Believe it or not, shoe organizers are not just for shoes. If you hang a 24 pocket organizer behind your kitchen or pantry door, you instantly create additional storage for kitchen items such as food, spices, cleaning products, or kitchen tools.
Choose a mesh or clear shoe organizer. Always measure the width of your door before purchasing door hangers. Some hanging shoe organizers may inhibit the door's ability to completely close.
9. Rolling Cart
Adding a rolling cart to your kitchen is a small investment that yields big space maximizing rewards. These carts add one to two kitchen cabinets worth of storage. Carts with butcher board tops add additional workspace to a small kitchen. It's a win-win for kitchen organization. There is no better way to add flexible storage to your kitchen or any room in your house.
Rolling kitchen carts come in a variety of styles. Decide where you want your rolling cart to stay in the kitchen before ordering so that you can measure first.
10. Pegboard
Pegboards are classic organizing products often used in garages and workspaces. But, a pegboard is also an inexpensive way to add storage to your kitchen. A pegboard turns a blank wall into a massive storage opportunity for all your kitchen tools and gadgets.
A basic pegboard can be painted to match any wall color. You can also get a metal or a plastic pegboard that is easier to clean.
ARE YOU INTERESTED IN BECOMING A PROFESSIONAL ORGANIZER?
If you're someone who LOVES organizing, consider starting your own organizing business.
Get a copy of my free guide "Professional Organizer's Launch Guide" HERE.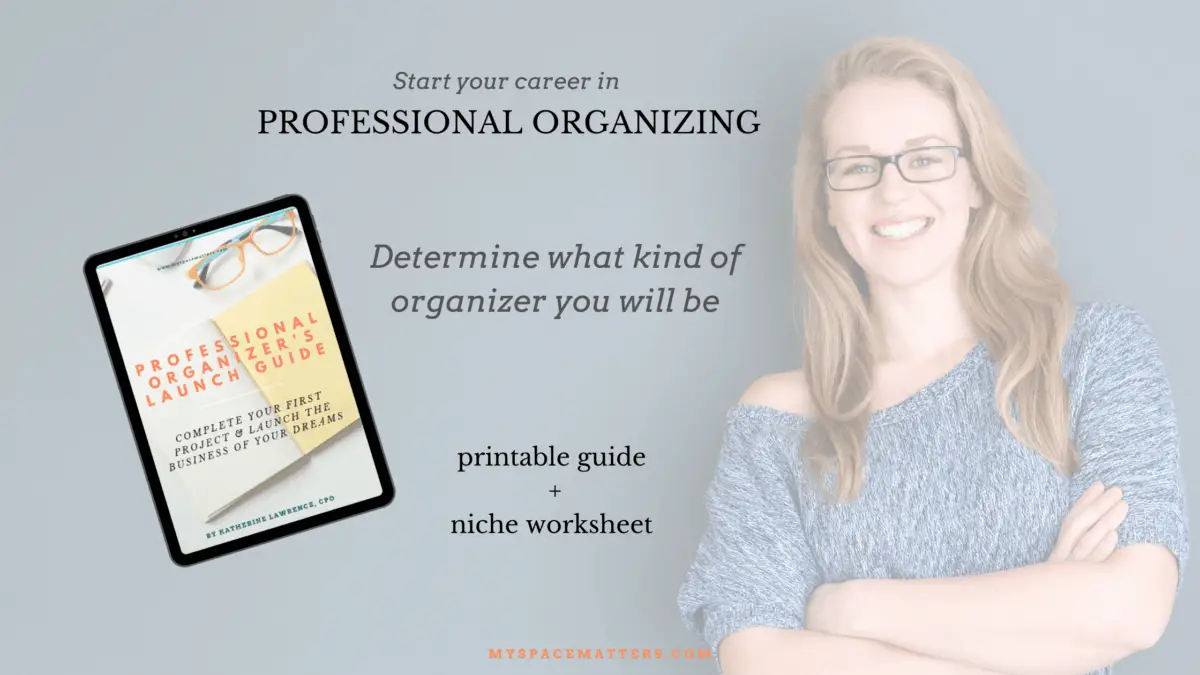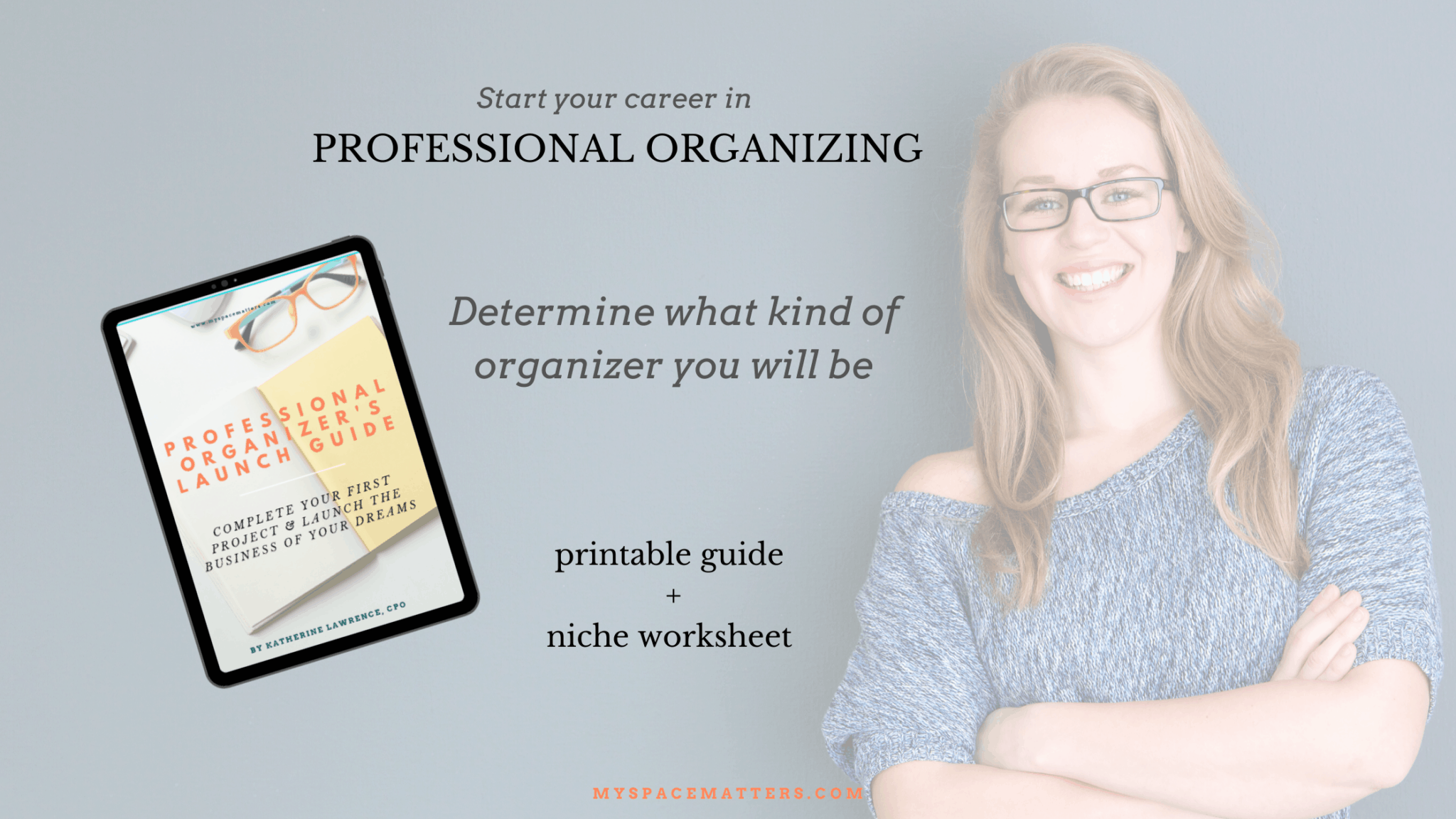 There are many things to consider when starting an organizing business including:
When will I name my business?
Where will I find clients?
How do I become an organizer?
Do I need to be certified to get started?
How will I structure my business?
You have come to the right place!
When you are ready to start your own professional organizing business, check out all my courses on working as a home organizer. My course bundle has the best prices on courses so that you can create and market your organizing business and design a system of organization that will work with all your clients no matter how small or large their volume of clutter is! Check out the course bundle here: Online Boot-Camp for Organizing Bosses
You can also check out my other blogs on how to start a home organizing business:
Happy Organizing!