In today's digital age, the power of social media is undeniable. As professional organizers, we're in the business of transforming spaces, and what better platform to showcase these transformations than Instagram? I'm Katherine Lawrence, your go-to guide for all things related to professional organizing and business coaching.
Why Instagram for Organizers?
Instagram stands out in the crowded world of social media platforms due to its visual-centric nature. For professional organizers, this is a goldmine. A single image can convey the magic of a decluttered space, the elegance of a well-organized room, or the serenity of a minimalist living area.
Consider the Instagram feeds of my friend, student, and colleague Kristen Ziegler of Minima a recent guest of the Minimalists Podcast, and the Netflix stars and authors from The Home Edit. One glance at their profiles, and you immediately sense the vibe and ethos of their brand. Ziegler's muted, earthy tones convey a sense of calm and simplicity, while The Home Edit's vibrant, colorful images scream fun, mom life, and creativity.
But it's not just about aesthetics. According to a survey commissioned by Facebook, a staggering 81% of people use Instagram to research services, according to recent statistics. This means that potential clients are likely to check out your profile before deciding to hire you. If your Instagram doesn't resonate with them, you might be losing out on business.
Telling Your Unique Brand Story
Every professional organizer has a unique story, a distinct style, and a personal touch that they bring to their projects. Instagram is your canvas to paint this story.
You might wonder, "Do I need to post every day? Do I need to have thousands of posts?" The answer is no. Just 30 well-crafted posts can effectively tell your brand's story. It's about quality over quantity.
For instance, on my profile, I have fewer than 100 posts at the time of publishing this blog post. Yet, each image, each caption, and each story is a reflection of my brand's essence. My feed is a blend of motivation, skill-building, and unique insights that you might not find on a typical organizer's profile. It's what sets me apart.
Building Credibility and Trust
Instagram isn't just about pretty pictures. It's a platform to build credibility, establish trust, and position yourself as an industry expert.
How do you do this? By providing value!
Share tips on decluttering, post before-and-after images of your projects, offer advice on storage solutions, and give insights into the organizing process. When potential clients see the value you provide, they're more likely to trust you with their spaces.
Separating Business from Personal
While it's essential to infuse personality into your business profile, it's equally crucial to draw a line between personal and professional.
Your friends and family might love to see pictures from your weekend getaway or your child's first day at school. But potential clients? They're on your profile to see your work, your expertise, and what you can offer them.
That's why I recommend setting up a separate business account on Instagram. This allows you to curate content specifically for your target audience, without mixing in personal posts. However, an occasional personal post can humanize your brand and help build deeper connections with your audience.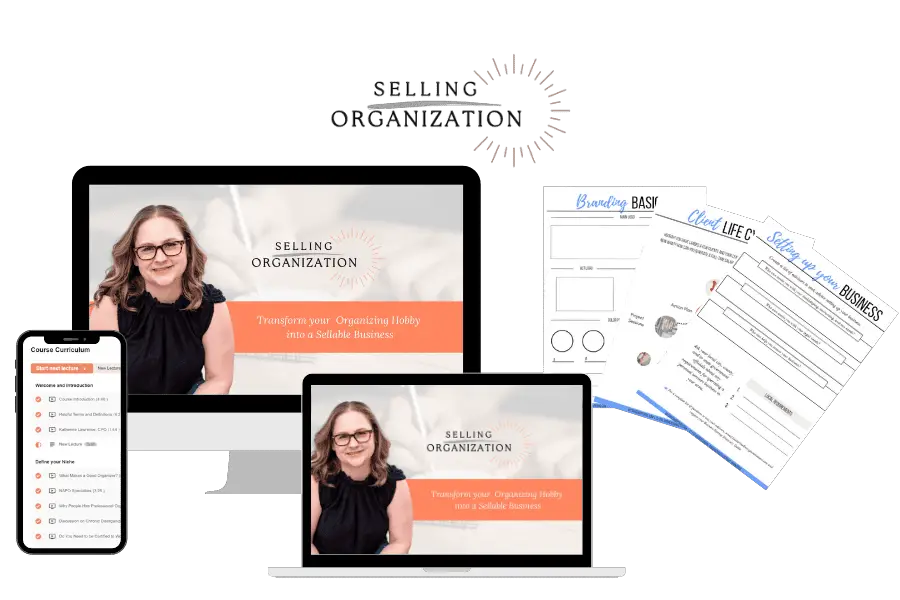 If all this sounds overwhelming, don't worry. I've got you covered. My course, 'Selling Organization,' is designed to guide you through the intricacies of Instagram marketing for professional organizers. From creating branded posts and templates to mastering the art of storytelling on Instagram, this course has it all.
So, are you ready to harness the power of Instagram and elevate your organizing business? Dive in, start posting, and watch your brand soar!