If you've ever thoughts about starting a professional organizing business, there is one important factor you NEED to be successful. What is it? Clients. If you don't know how to get clients, this post is all about finding and maintaining clients.
In my video tutorials, training courses, and coaching programs, my goal is to give new and aspiring organizers all the skills and confidence they need in order to have a successful business.
I know sometimes folks get overwhelmed by all the parts and pieces that go into having a home organizing business. Getting started isn't easy, but it's not impossible.
If you're just starting out, I want to make things really simple by talking about the one thing that your business needs to be successful … happy clients!
At the end of the day, the one thing that your business is going to need to be successful is clients. It's impossible to have a successful organizing business without clients.
If you have happy clients that are either going to hire you again and again or refer you to their friends and families, then you will have a successful business. 
To that end, there are 3 things I want you to focus on to have a successful professional organizing business.
If you prefer to watch my YouTube video on starting a professional organizing business, click the video below. Otherwise, keep scrolling to read on!
1. Attract the right client
In order to attract the right type of client, you'll first want to know what type of jobs you will enjoy working on.
There are many types of professional organizing specialties from staging and moving, to working in closets and kitchens, or working with digital clutter and financial paperwork. 
I call this developing your niche. Choosing an organizing niche simply means evaluating your existing skillset and experience to determine what you are already good at. Then, you can use that as a launching point to develop your home services business. 
Many people come to professional organizing as a second career. 
For example, if you have worked as a housekeeper or a nanny it may be an easy transition for you to now organize closets or kitchens while developing maintenance strategies for your clients.
If you have been a stay-at-home mom or if you worked as a teacher, it may make sense for you to work with families and moms of school-age kids and develop productivity tools for better household management.
Perhaps you're familiar with the corporate world and have worked in the legal or investment world. It may make sense for you to help your clients manage estate and financial paperwork or develop file systems.
Even if you're previously worked in retail or design, you could use those skills to stage your client's home to create a more beautiful environment. 
It's possible you are already an expert in something and can use that expertise as a foundation for attracting the perfect client. 
If you need more help figuring out what kind of professional organizer you should be, check out What Type of Professional Organizer Should You Be?
2. Help potential clients find you
The next thing you want to do is ask yourself, how will this perfect client find me? 
There are lots of options to market your business, more than ever imaginable. I want you to think about where your perfect client may hang out.
Maybe you'll find them on a Facebook group that supports active moms. You may find them at a face-to-face support group. Or, you could find caretakers of aging parents who need assistance in legal or financial struggles when dealing with someone else's estate. 
One of my favorite ways to draw attraction to my business is to network with related businesses that are already working with my perfect client. I can educate them on the type of services I offer and then ask for them to refer me to their clients when they think it'll be a good fit for us to work together. 
If you can't find an existing group where your ideal client is already hanging out, you can attract a group of those clients by offering a workshop or seminar. I've given workshops through my public library, church groups, moms groups, garden clubs, and even at my local charity thrift store.
You can do these in person or virtually using Facebook, Zoom, or another video conferencing tool. 
Get creative and think of ways that you can speak to an audience of your ideal client. 
Recommended: 7 Ways to Find Clients for your Professional Organizing Business
3. Keep in touch with your ideal audience + ask for more business
It is easier to follow up and work additional jobs with your ideal client than it is to find a new client.
After your hard work has paid off, be sure to keep in touch with your client so they know where to find you when they have future work for you or a friend who also needs your services.
You can keep in touch with your clients digitally like on social media or by creating an email list. It's also possible to use good old-fashioned methods of communication like mailing handwritten notes or checking in with them by phone.
There are plenty of effective ways to communicate with clients. Regardless of the way you choose to communicate, the most important thing is to make sure you follow up with your customers.
Be sure to also ask for referrals or even incentivize your clients to share your information with their friends and family members who could also benefit from your services. To do this, you can offer discounts or coupons for them if they refer a friend.
With all that said, let's stay in touch! Join my professional organizing school for newbies and never run out of ideas on how to develop and market your business. I can then email you with updates on upcoming tutorials and livestream events. 
ARE YOU INTERESTED IN BECOMING A PROFESSIONAL ORGANIZER?
If you're someone who LOVES organizing, consider starting your own organizing business.
Get a copy of my free guide "Professional Organizer's Launch Guide" HERE.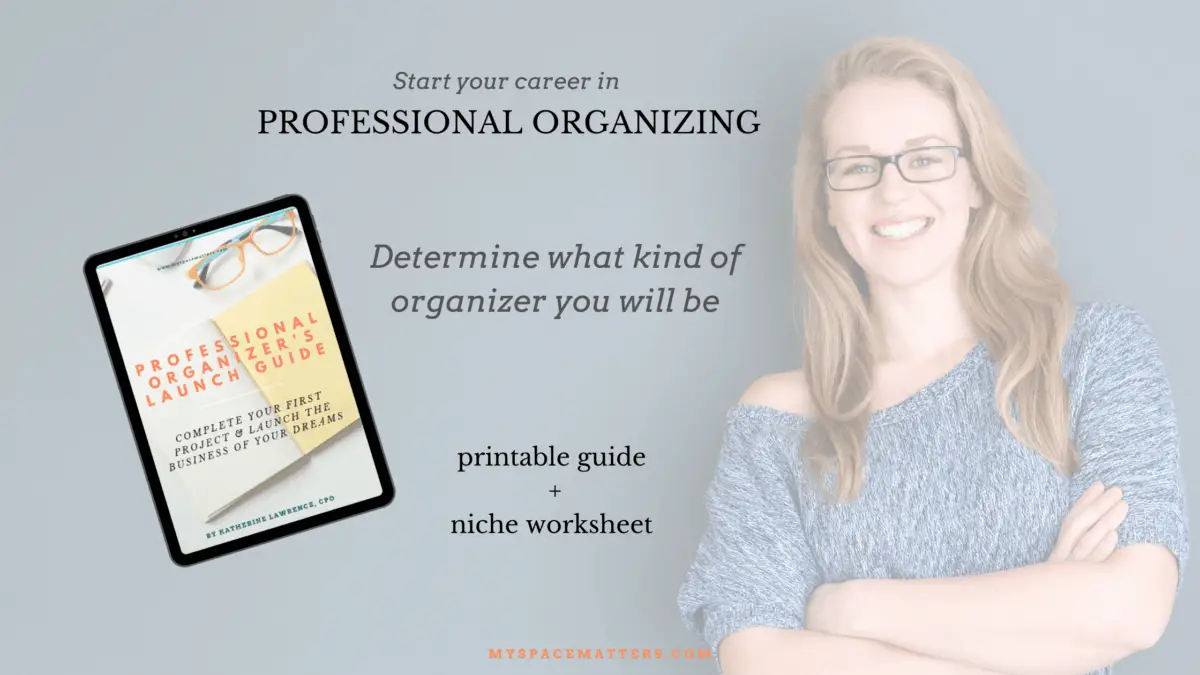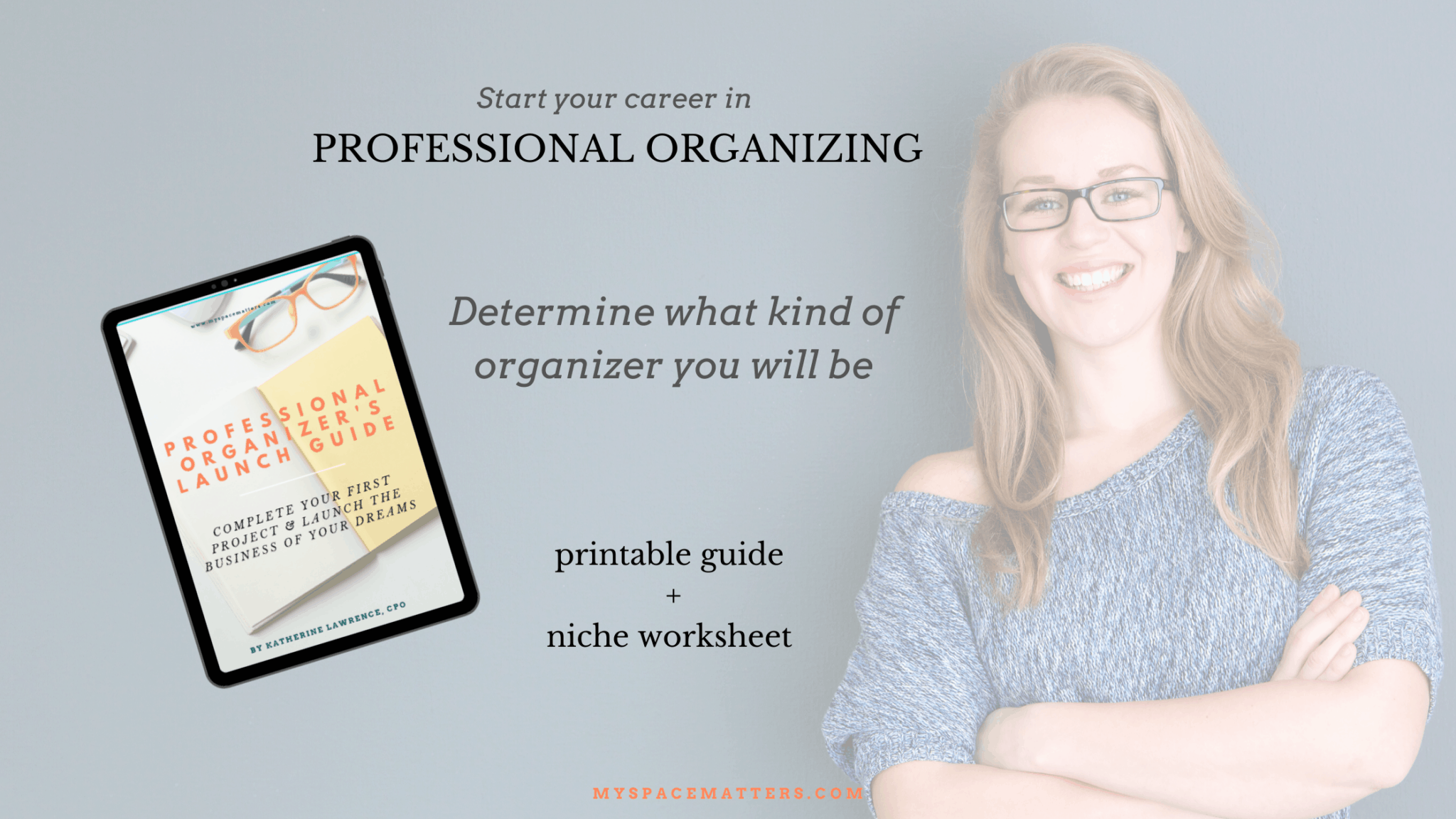 There are many things to consider when starting an organizing business including:
When will I name my business?
Where will I find clients?
How do I become an organizer?
Do I need to be certified to get started?
How will I structure my business?
You have come to the right place!
When you are ready to start your own professional organizing business, check out all my courses on working as a home organizer. My course bundle has the best prices on courses so that you can create and market your organizing business and design a system of organization that will work with all your clients no matter how small or large their volume of clutter is! Check out the course bundle here: Online Boot-Camp for Organizing Bosses
You can also check out my other blogs on how to start a home organizing business:
Happy Organizing!