I've gotten a lot of questions from new and aspiring Professional Organizers about what role containers play in organizing jobs and what the best organizing containers are.
Questions I often hear include:
Do you buy organizing containers ahead of time?
When do you shop for containers?
How do you charge for that time?
How much knowledge do Professional Organizers need to have about different storage containers?
I've heard that some organizers pre-shop for containers so they may show up for a job with organizing containers on hand. As a Professional Organizer with more than 20 years of experience, I don't typically do that as I've found a better system for getting containers.
This post is all about why pre-purchasing storage containers are not part of my business model and how and when to purchase products for your clients. 
If you prefer to watch my YouTube video on hiring a professional organizer, click the video below. Otherwise, keep scrolling to read on!
When should a Professional Organizer shop for containers?
First, let's do a quick refresh of the professional organizing process. I call this method GDP. GDP simply means you're going to follow the order of Gather and sort, make Decisions, and then Put away the items that your client decides to keep.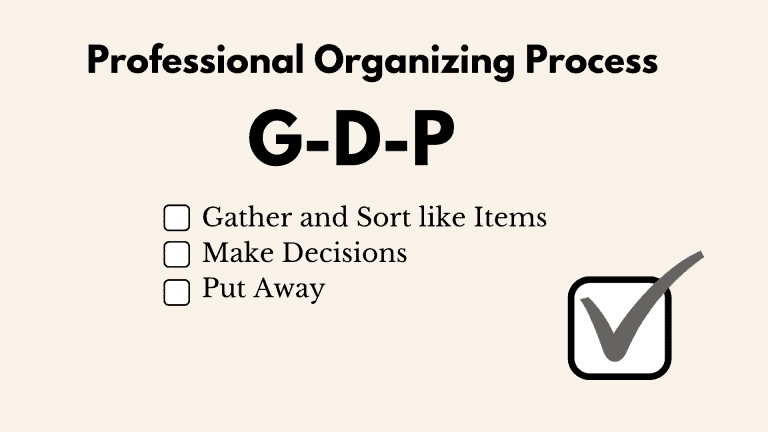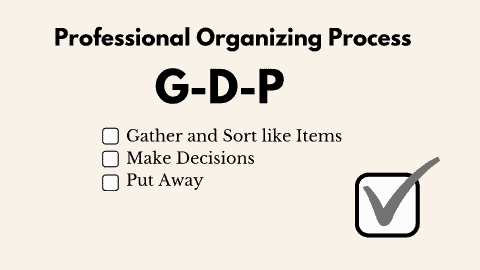 Using GDP, purchasing storage containers is a final step, not a first step. The reason for that is you want the client to only keep what they love and use.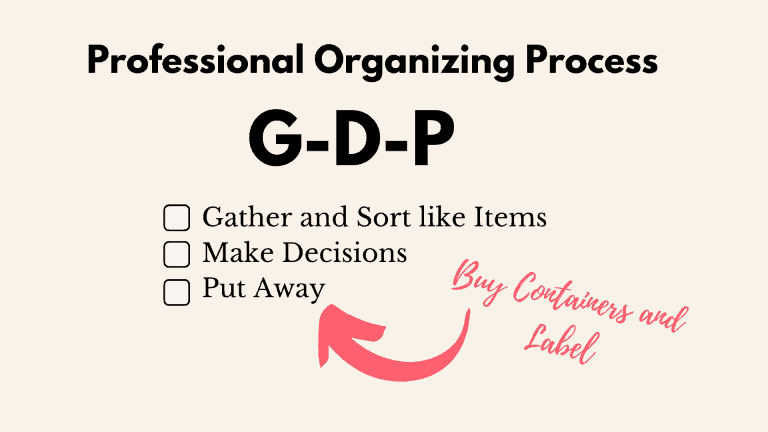 Part of your job as a Professional Organizer is to facilitate good decision-making with your client. Working as a Professional Organizer is so much more than just packaging items into storage bins.
Often during the decluttering process, I'm emptying and setting aside empty storage bins because in an attempt to "get organized" people purchase lots of containers. There is a huge misconception that buying storage containers is a first step to getting organized, when really, it's the last, or possibly unnecessary if you decide not to store clutter.
So stockpile those empty containers your client already has and you may not need to buy more. 
Do you need to be a storage expert to be a Professional Organizer?
It is helpful to have a basic knowledge of where to purchase common organizing storage containers like shoe boxes, turntables, weather-tight storage totes, and drawer dividers. I can usually find everything I need at The Container Store, Ikea, or Amazon.
If I'm working with someone in a hobby space and they need a specific type of container for organizing sewing equipment, I can do a few minutes of research on-site and find something that maximizes an existing space and makes items more accessible.
But at the end of the day, I spend less than 5% of my time purchasing storage containers.
I would love to hear from you if you are working as a Professional Organizer and you use containers as a much larger part of your business.  
In my Introduction to Professional Organizing training course, I discuss creating a niche for your organizing business. It is definitely possible to create a niche that involves more storage solutions or even building storage solutions like installing closet systems.
How do you charge for your shopping time?
I have found that one of the easiest methods for securing the proper storage containers is to spend time shopping online while I am at my client's house during an organizing session. Then I'm able to have the best organizing containers delivered directly to the client. That way I ensure that they're getting exactly the containers and products they need, because I'm there to do the measurements and get the right number of items, and I don't have to store or deliver products to their house.
Depending on the complexity of how many storage products we are putting into place, I can book another session in about a week to help them organize their items into the storage bins and create labels. 
Another approach is to shop for the client and charge a shopping fee.  To do this, you as the organizer would spend an hour or so at a local retailer purchasing the products, charge the client for that time, and then bring the products to your next scheduled appointment.
Personally, I do not do this very often, but that really has to do with the type of organizing that I practice, which is more of a focus on downsizing and decluttering. I also found it a little difficult to do the shopping because I'm an advocate of non-consumerism, so I spend very little time at retail stores. It is really out of my way to go to a retail store because it's not part of my weekly routine.
However, this is absolutely a service you could offer to your clients as part of your organizing services, and the important thing is that you do charge for that time because shopping and returning products can be extremely time-consuming and that's not something that you want to do off the clock.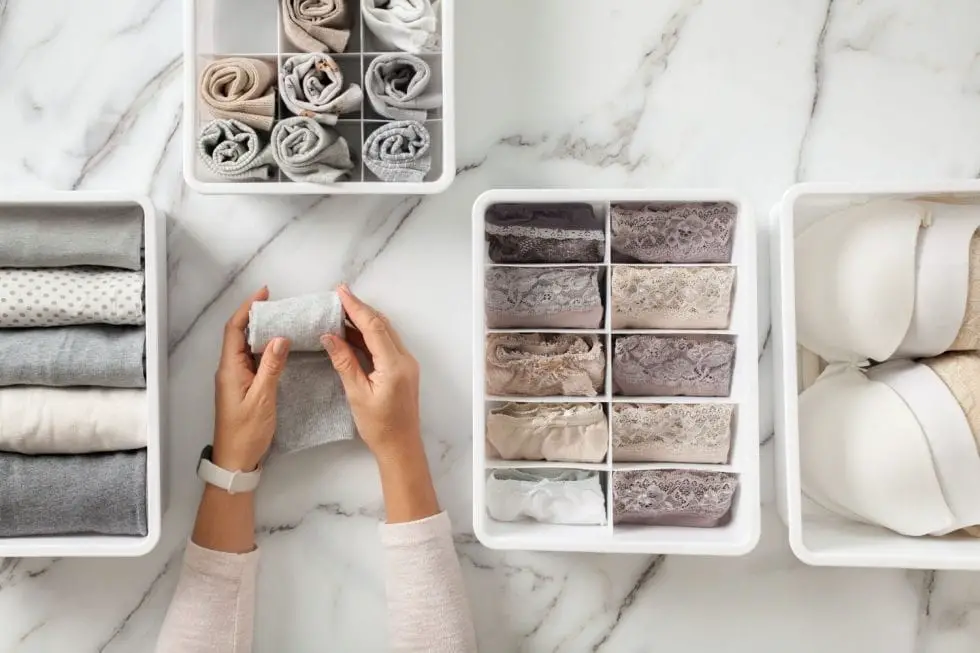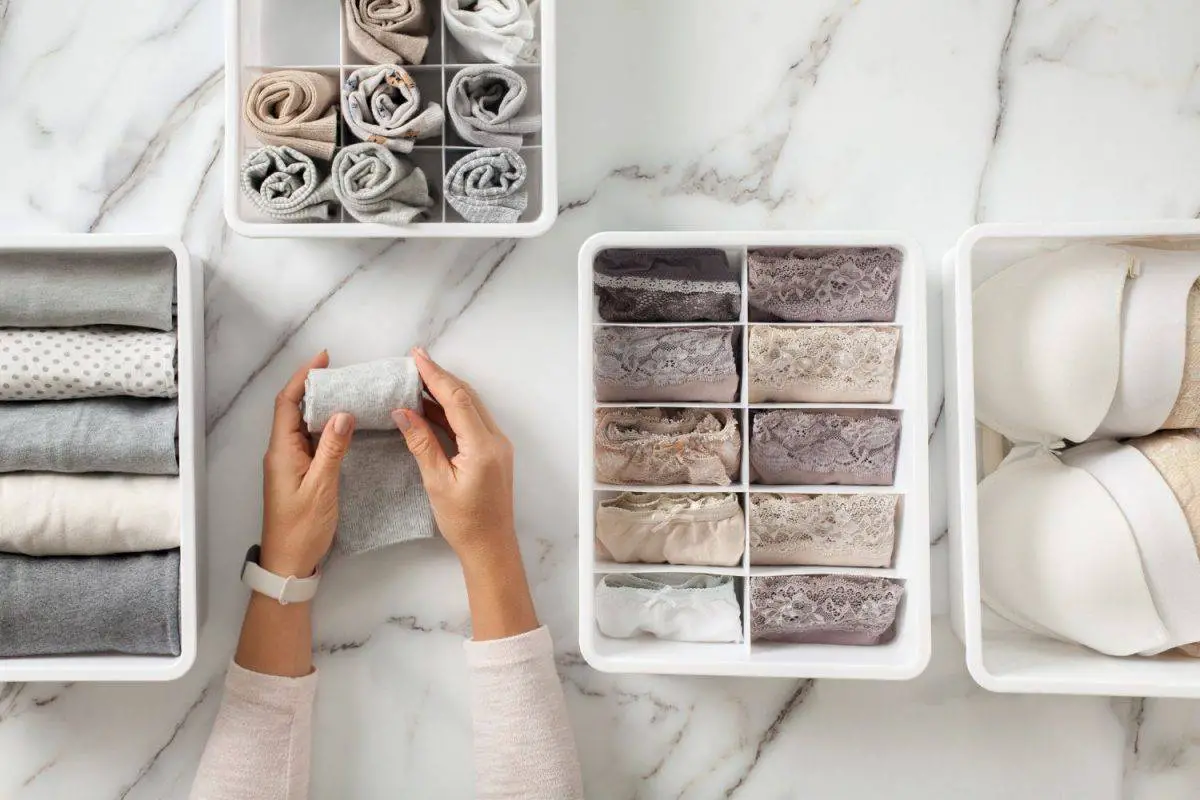 What are the minimal storage containers that I may keep on hand?
I like to repurpose shoe boxes and iPhone boxes. They make great drawer organizers particularly if you're using the KonMari Method™. One of my specialties is paperwork organizing, so I do like to keep a file box with some binder clips, paper clips, file folders, and other paper organizers. 
That way I have some method for corralling all that paper as I'm organizing. And I find that a collection of Ziploc bags of various sizes can act as temporary or sometimes permanent low-cost storage containers. 
Storage containers surprisingly play a small role in my organizing business because of my niche in decluttering, downsizing, and lowering consumerism, but they may play a larger role in yours depending on the niche you pursue in your business. 
If you are a new or aspiring professional organizer, you'll find lots of guidance for developing your practice here on my YouTube Channel.
ARE YOU INTERESTED IN BECOMING A PROFESSIONAL ORGANIZER?
If you're someone who LOVES organizing, consider starting your own organizing business.
Get a copy of my free guide "Professional Organizer's Launch Guide" HERE.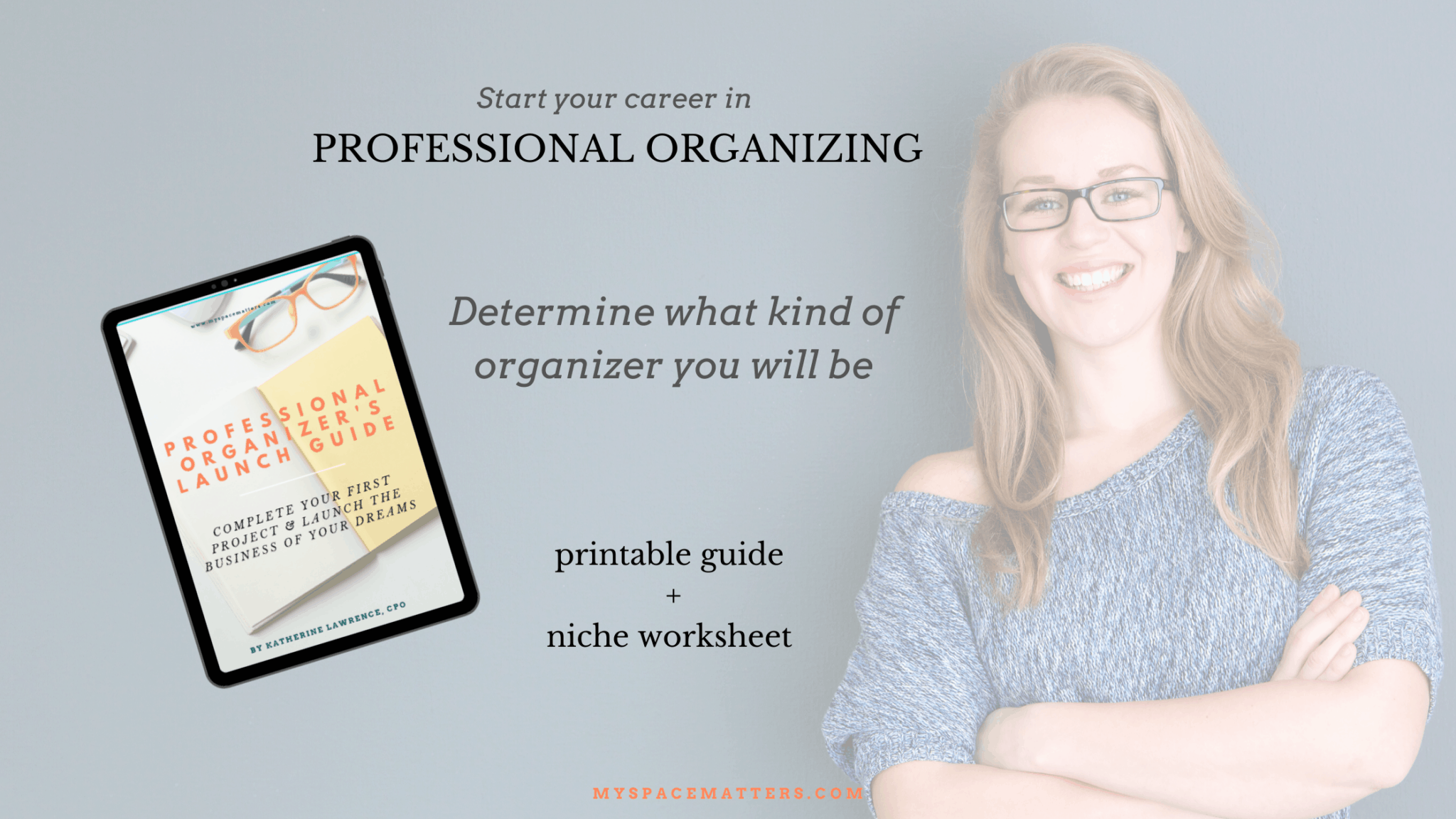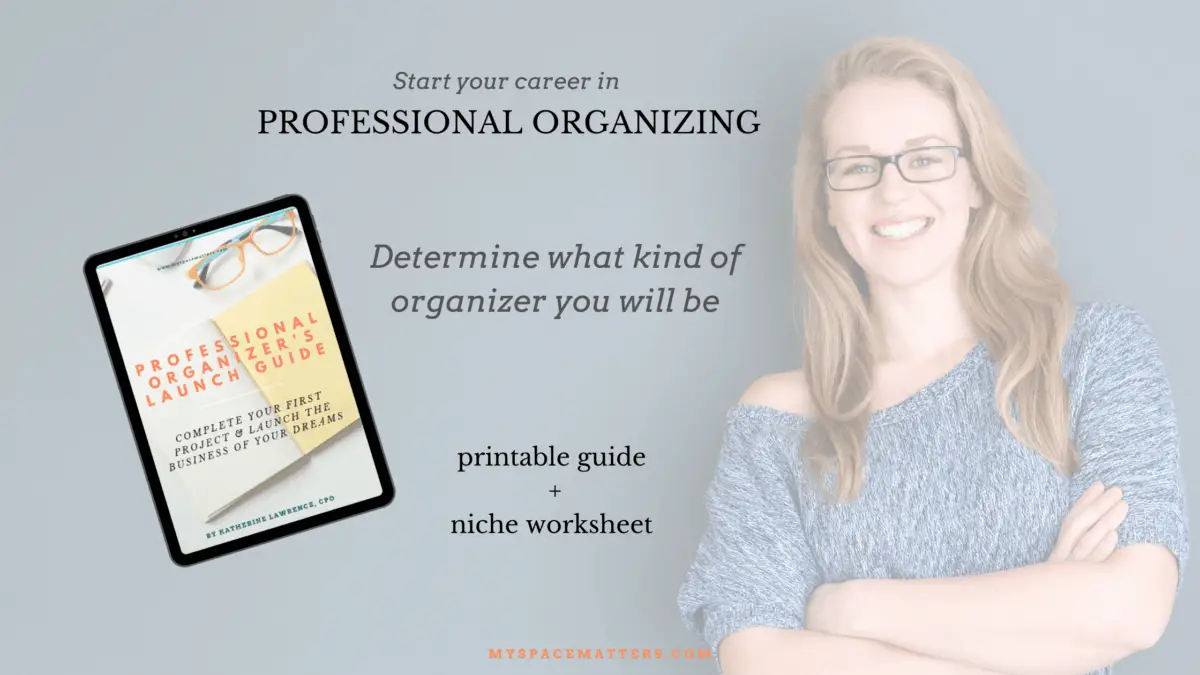 There are many things to consider when starting an organizing business including:
When will I name my business?
Where will I find clients?
How do I become an organizer?
Do I need to be certified to get started?
How will I structure my business?
You have come to the right place!
When you are ready to start your own professional organizing business, check out all my courses on working as a home organizer. My course bundle has the best prices on courses so that you can create and market your organizing business and design a system of organization that will work with all your clients no matter how small or large their volume of clutter is! Check out the course bundle here: Online Boot-Camp for Organizing Bosses
You can also check out my other blogs on how to start a home organizing business:
Happy Organizing!