Would you like to expand your decluttering business to take on larger jobs but think you might get overwhelmed by the sheer volume of clutter in your client's home?
What if you need to eliminate bulky things or large quantities of items in a whole home downsizing, preparing your client for a move, or staging a house to sell?  
Here I'll show you how to partner with your local hauling company so you have the confidence to expand your professional organizing business to take on large downsizing and decluttering jobs even if you are the only employee in your decluttering business or just starting out. 
Junk Haulers can provide labor for your organizing business, without having employees
Let's say you have been working with your client to organize their kitchen, closet, or home office. This work was not too physically demanding and you've been able to work with your client one-on-one. But now you find your client needs help decluttering the attic, basement, garage, or shed. On closer examination you realize that there are several large bulky items like furniture or exercise equipment that you're client no longer wants. That's great news! But before you round up a group of teenagers or college students who are not insured or professional, consider calling in your local hauling company. 
In my market a typical hauling service may have prices like this:
         $600 Full Truck
         $300 ½ Truck
         $125 Minimum Pick-Up fee
Labor is included in straight forward pick-up jobs, where items to haul have been decided on and sorted into categories. Extra labor fees may be charged for dismantling furniture, sorting items, heavy clean outs that take more than an hour, and additional trip charges.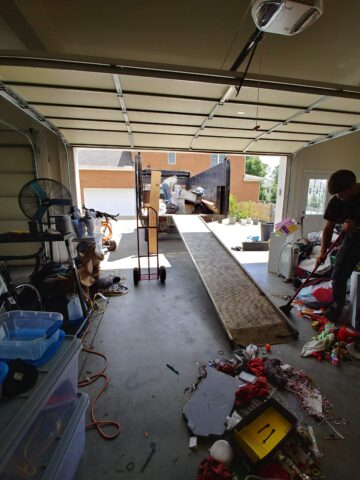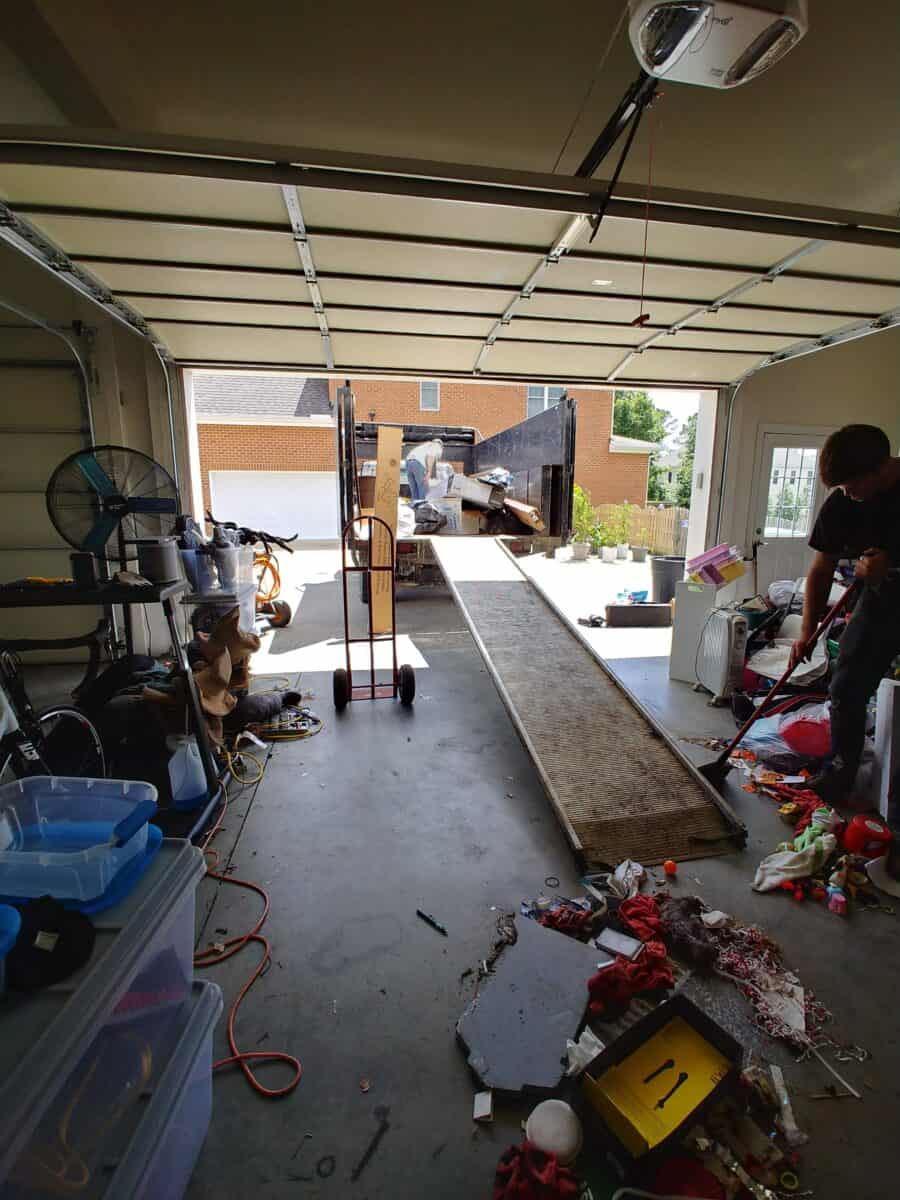 Determining Rates for Your Clients
Junk removal companies' rates are typically based on how much space you fill in the truck and they may even offer an hourly labor rate if you just need an extra set of hands for a few hours. This means less physical labor for the organizer. When I'm working on a big decluttering job, I stage the donations and trash in the room I'm working in and then have the haulers move the items out instead of me or the client carrying things down the stairs or out to the car.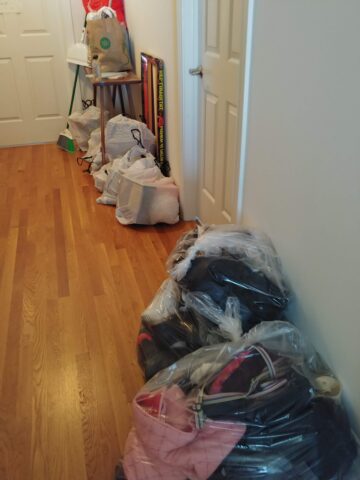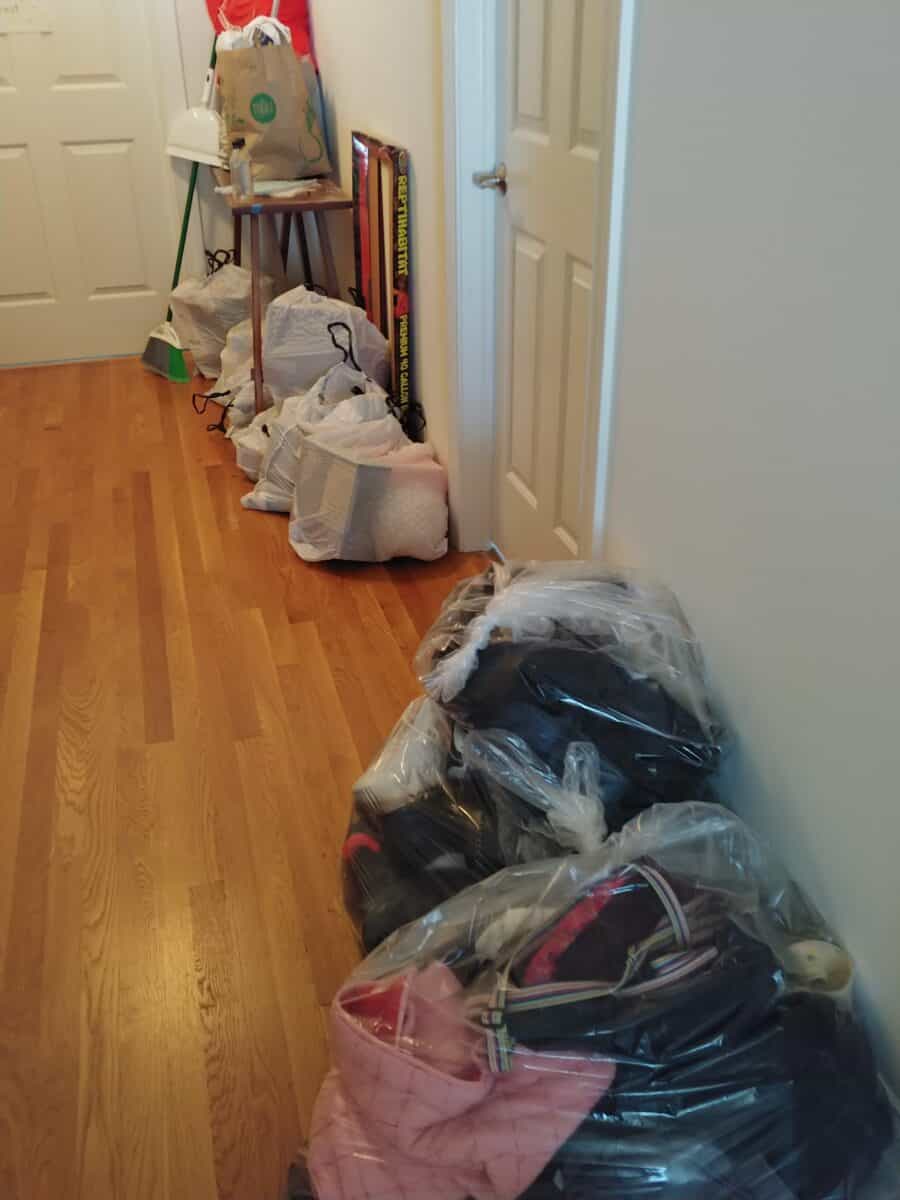 I can identify donatable items by placing them in clear bags or using my painter's tape, two items I keep in my organizer's workbag. Trash is either labeled or put in garbage bags. Recycle goes in paper bags or cardboard boxes.
The job of the organizer is to sort and identify with the client things they wish to keep or eliminate. Haulers can also help you remove boxes and packing materials after a relocation job.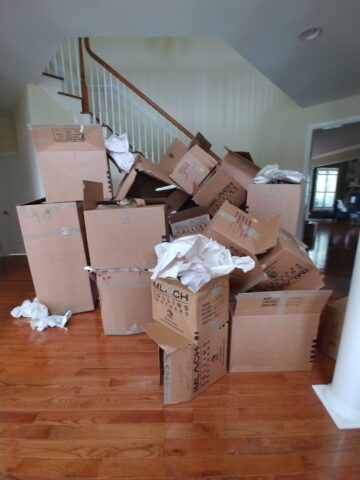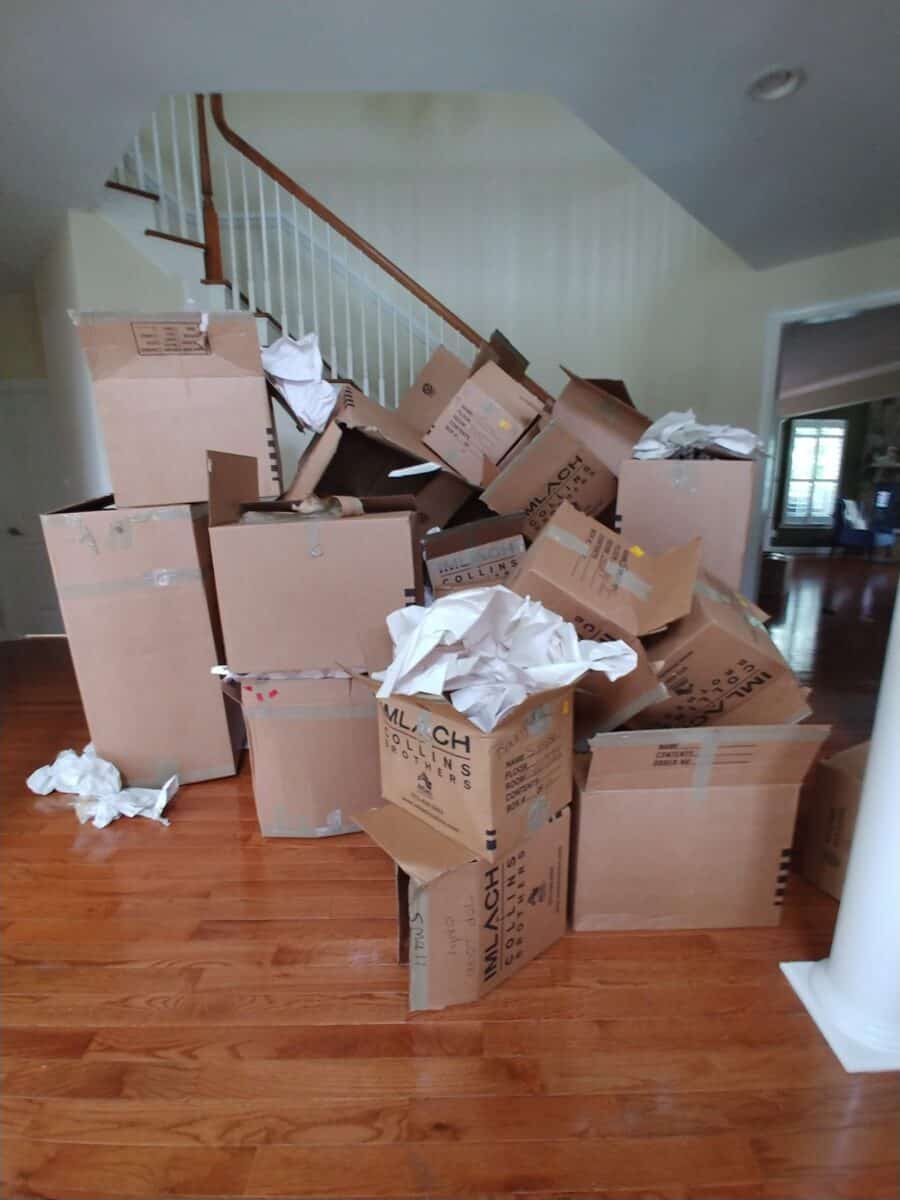 Here are a few additional tips for selecting a hauling company to work with:
Ask ahead of time what clutter they will not remove from your client's home
There are some items like paint, chemicals, propane tanks, petroleum-based products, and other liquid or flammable items that are too messy or dangerous to mix in with other household clutter. As a professional organizer, I recommend you speak with the hauler in advance before you promise to eliminate these items for your client especially when organizing garages, sheds, and basements.  You do not want to promise solutions that you are unable to provide for these hazardous materials and there may be additional environmental considerations in your local area.
The thing I've learned from this business is that my team and I have to continue to practice cognitive empathy. We are dealing with customers who are emotionally attached to their items and having empathy is critical throughout the whole junk removal process. 

William Pierce of Get My Junk Hauling Service in Richmond, Virginia
Ask if they charge extra fees for certain items
Used tires, old tube televisions that contain lead and mercury, electronic waste, and commercial recyclables may have a drop-off location in your community. But if there are fees associated with these services, the hauling company may pass those on to your client.   
I like to give my client a ballpark estimate of the hauling charge before the truck shows up at their home. My clients understand that the price increases as more items are identified for removal, but they may not know about the difficulty of disposing of certain items. When you have a list ahead of time, you are better prepared to estimate the cost of clutter removal.
Find out if they will make separate trips to multiple locations
You may have some items your client wants to be dropped off to different charities, some things may need to go to the landfill while other items go into storage or to a specialty recycle center. Will the junk removal company make these extra trips with or without a fee? This service is of great value to your clients wanting to organize in an eco-friendly way. Just consult with your team ahead of time to review these additional costs.
Do they have eco-friendly practices in place?
I like to work with hauling companies who dispose of things in eco-friendly ways, like recycling, e-cycling, and donating, not just dumping everything in the landfill. The job of the organizer is to presort items into these categories beforehand, and I like to know the disposal policies of the haulers ahead of the project. 
On a typical job, I like to work a few hours in the space before the hauling truck arrives. Then I spend on average an additional hour of my organizing session making sure that everything is loaded and removed according to my client's wishes. It is essential to label your staging areas for trash, donations, and recyclables so your carefully sorted bags and boxes do not get mixed up! I never put donations in black trash bags (I prefer clear lawn and leaf bags) so my client's donations don't end up in the landfill!  
Find local businesses to work with, not franchises. 
Both local and franchise companies can be insured and professional, which is great since you don't want to recommend just anyone working in your client's home, moving bulky items down steps and around corners.
You want a company that is conscientious, careful, and trained not to cause damage. I like the local companies because they are easier to schedule with, I can just text the owner instead of calling a 1-800 number or going online.
Also, when you call or book online, often the franchises want a full list of items ahead of time, but I really like the haulers to come at the end of the day after I have sorted the space, so I don't always have a detailed, itemized list days or weeks in advance. 
Can they help find clients for your home organizing business?
As part of your marketing plan for your organizing business, you want to have local businesses refer their clients to you. Networking with local companies to offer decluttering services, like junk haulers, closet installers, and kitchen designers, ensures that your business gets referred when their client's need additional help sorting, making decisions, and putting items away. Share your social links, business cards, flyers, and other marketing materials with local businesses, including junk-removal services, so that your business gets buzz within your local community.
Where do you find your local junk removal company?
Run a Google search for "junk haulers near me" and contact ones that look like they would be a good fit with your services and customers.
There may be a hauling company that is a member of your local NAPO chapter. NAPO stands for, the National Association of Productivity and Organizing Professionals and was formerly called the National Association of Professional Organizers. If you are outside the US, find a trade association for professional organizers active in your area, like POC in Canada.
Ask NAPO members who specialize in working with hoarders or extreme clutter if there is a hauling company they recommend. You can meet other NAPO members at local chapter meetings, virtual meetings, and regional and national conferences.
Looking for a local hauler in Central Virginia? Contact Get My Junk at (804-789-JUNK) for Veteran Owned & Operated professional junk removal.
Ask other local organizers who they are using.
If there no trade associations for professional organizers in your area, run a Google search for "organizing businesses near me." You can also search on LinkedIn and see if you or your peers are connected to any local decluttering experts. Ask for a professional recommendation or if they have experience with a local junk removal company.
Wondering how to start your own decluttering business?
There are many things to consider when starting an organizing business like:
What will I name my business?
Where will I find clients?
How do I become an organizer?
Do I need to be certified?
How will I structure my business?
You have come to the right place! Check out my other blogs on starting a decluttering business:
Get a copy of my free guide "Professional Organizer's Launch Guide" HERE
When you are ready to start your own decluttering business, check out all my courses on working as a professional organizer in my course bundle for the best price on courses to create and market your organizing business and design a system of organization that will work with all your clients no matter how small or large their volume of clutter!
Happy Organizing!