If you want to become a professional organizer for a living but are unsure how to get started, this article will give you the top five steps to get started. I also provide plenty of free resources to help you get started with your new dream job as a home organizer.
Whenever I tell someone I've been working as a professional organizer for over 15 years, I often get asked how it's possible to become a professional organizer for a living. In recent years, thanks to the popularity of Marie Kondo and various Netflix shows on organizing, more and more people are wanting to start their own professional organizing business.
If this sounds like you and you enjoy organizing your own home and want to do it for a living, this post talks about five steps to take when starting out as a new Professional Organizer.
If you prefer to watch my YouTube video on how to become a professional organizer, check that out below. Otherwise, keep scrolling to read on!
1. Get Professional Organizer Training
One of the main differences between someone who is good at organizing their own home and organizing others' homes is training and credentialing. Organizing your own home is much different than entering a stranger's home and getting them organized.
In addition to reading organizing books and/or getting a coach or mentor in the Professional Organizing field, there are three associations you should check out for in-depth training and certification:
These professional organizing certification programs require that you first work with organizing clients. To better understand the client process from start to finish, enroll in my Introduction to Professional Organizing. You will learn how to pre-screen clients, create action plans, book consultations, and break projects down into paid work sessions.
I also offer plenty of free resources to help you get started. Here are some of my most FREE popular resources:
2. Start a Partnership or Business
The second thing you need to do to become a professional organizer is to start a partnership with another organizer or start your own organizing business. You can do this in a few different ways:
Contact other Professional Organizers and see if they are hiring or need part-time help (you may find that many organizers in your area are solopreneurs)
Start your own service business like a Sole Proprietorship or Limited Liability Corporation
Consult an insurance agent, attorney, accountant for advice on setting up a business
Connect with a SCORE Mentor at www.score.org. They are a network of volunteer experts and are dedicated to helping small businesses launch.  
When I got started as a professional organizer, I started an LLC under the name Space Matters. This way, all of the business legally goes through my LLC and not me as an individual. This is great because I can get help from professionals such as lawyers and accountants to make sure everything is done legally and I am insured.
This also helps my business grow because people see me as a business entity and not someone working as a hobby.
3. Define your niche
What type of organizer do you want to be? If you've never thought about this question, check out my post What Type of Professional Organizer Should You Be? This will help narrow it down for you so that you can have some clarity.
Why is this important?
Well, Professional Organizers work with a wide range of clientele from seniors to moms to business owners. Within these clientele options are tons of niches including:
Residential organizing (that is the type of organizing that I do)
Staging houses
Working in offices
Closet organizing
Unpacking
Productivity
Time management coaching
Paper management
Hoarding cleanouts
You really want to find out what YOU are good at and what YOU want to do so that you can market specifically to your clientele.
To figure this out, ask yourself the following questions:
What are you good at?
Do you have skills from previous jobs that can you bring to your new career?
What do people say you are good at or ask for your help doing?
Some skills will help you with more technical organizing such as setting up banking systems, scanning documents, or paper organization. From there, you can gain more experience and figure out what it is that you love organizing.
Knowing your niche helps you market to the right people.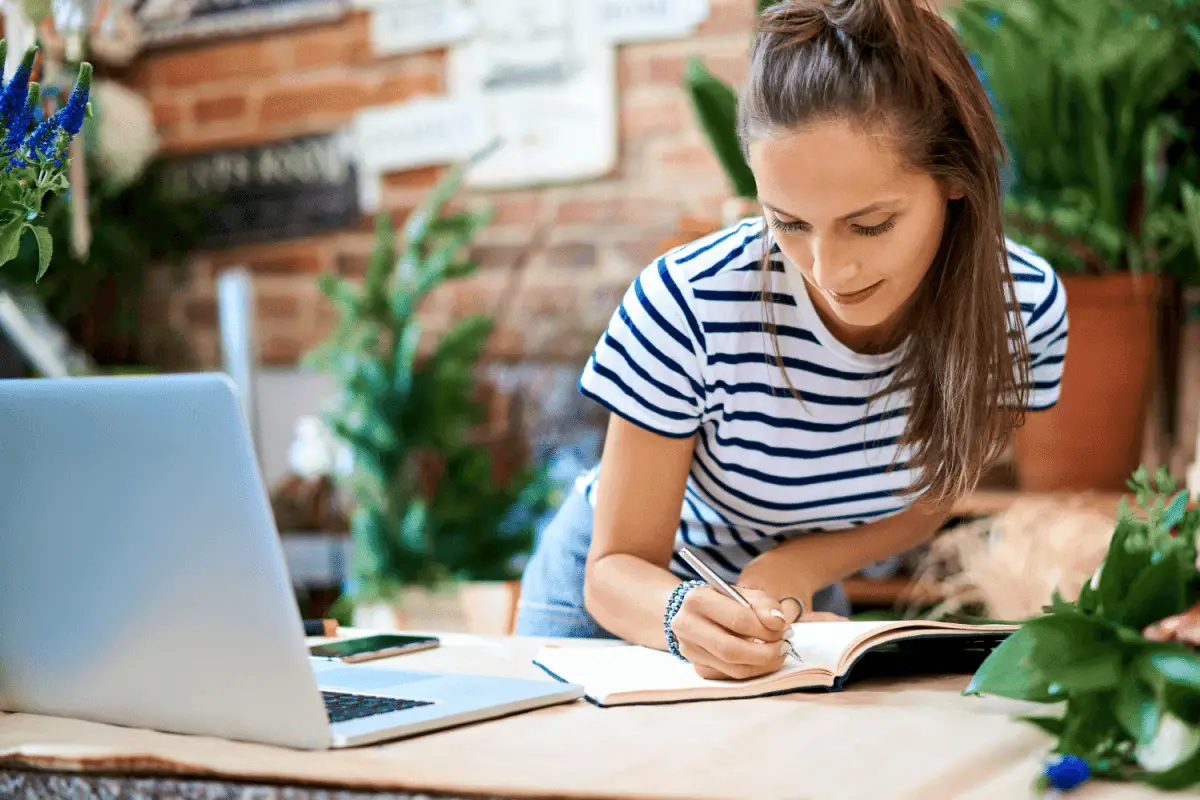 4. Market Yourself as a Professional Organizer
To become a professional organizer, you WILL have to know something about marketing. If you don't know anything right now, you will definitely need to learn.
No matter how good you are at organizing kitchens, playrooms, and craft rooms, if you can't market your services, it will be very difficult to find people to hire you.
To get started with some basic marketing techniques, I recommend doing the following:
Get a business card — there are tons of free design templates at www.canva.com
Get a website — This post goes in-depth about what all you need for a Professional Organizer's website
Set up social media accounts in your business name
Network

Start with your current social circle and any groups you are in like civil associations, mom groups, or other hobbies
Visit professional networking groups like a chamber of commerce or BNI (www.bni.com)

Get Referral Partners

Form relationships with related businesses that service the same clients (other Professional Organizers, closet companies, interior designers, senior living coordinators, real estate agents, social workers, etc.)
EVERYONE needs to know what you do!
5. Follow a System
Organizing for a living is very different than organizing for yourself. One of the main differences is that you are expected to take your client from A to Z in a concise time period.
When you're at home, you can move at whatever pace you want to and you can go in whatever order you want. When working for a client, you only have a specific amount of time and you need to be methodical.
To help your clients achieve success as efficiently as possible, consider the following:
Estimate or set time constraints for organizing their things
Be efficient
Create an action plan
Lead your client through a process
If that seems overwhelming, don't fret!
You can download my Free Professional Organizer's Launch Guide HERE which outlines my GDP method (Gather & Sort, Make Decisions, Put Away) that gives you a starting point for every cluttered space in your client's homes.
ARE YOU INTERESTED IN BECOMING A PROFESSIONAL ORGANIZER?
If you're someone who LOVES organizing, consider starting your own organizing business
Get a copy of my free guide "Professional Organizer's Launch Guide" HERE.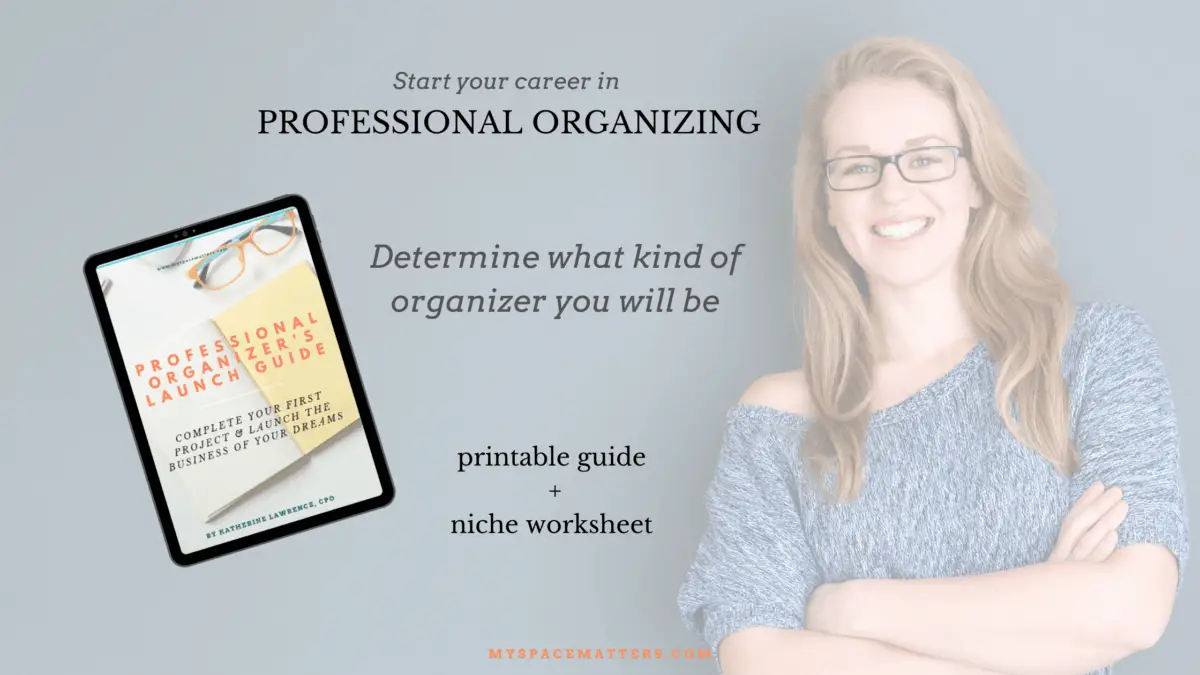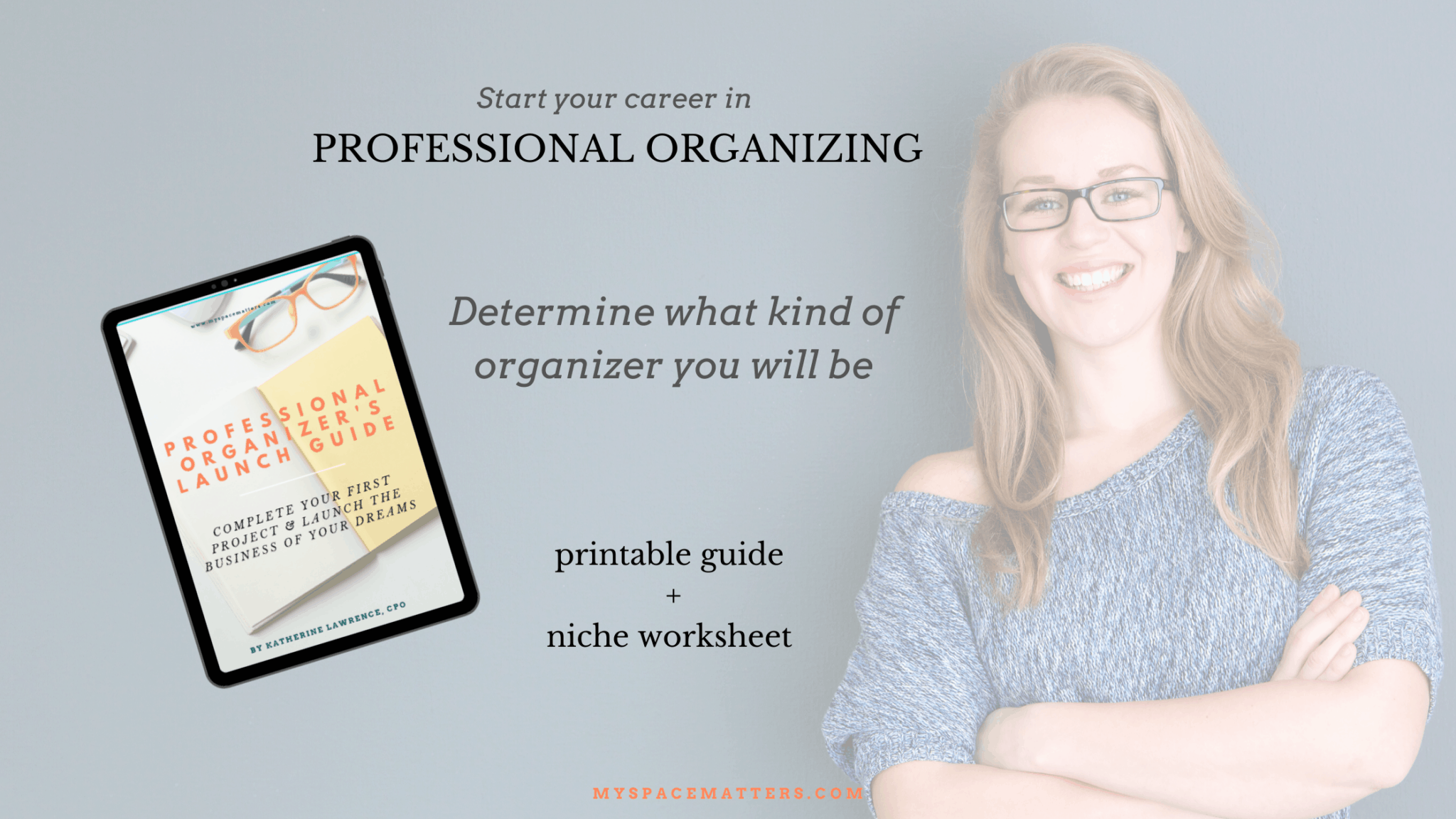 There are many things to consider when starting an organizing business including:
When will I name my business?
Where will I find clients?
How do I become an organizer?
Do I need to be certified to get started?
How will I structure my business?
You have come to the right place!
When you are ready to start your own professional organizing business, check out all my courses on working as a home organizer. My course bundle has the best prices on courses so that you can create and market your organizing business and design a system of organization that will work with all your clients no matter how small or large their volume of clutter is! Check out the course bundle here: Online Boot-Camp for Organizing Bosses
You can also check out my other blogs on how to start a home organizing business:
Happy Organizing!