What type of Professional Organizer should you become? What skills do you already have that could help you start a career as a professional organizer?
When I'm coaching organizing start-ups this is one of the first questions I ask. Here, we will look at deciding what type of organizer you could be and six ways to make your services more visible. 
Marketing your services
So why is it important to know what type of organizer you will be when starting out? Well, in order to appeal to potential leads in your market or get referrals from other businesses, they need to know if you are the right organizer. Will you be a good fit or are you qualified to take on the project? 
It's better to be known as a specialist than a generalist. Think of a time you needed to go to a doctor. If you have a heart condition you want to go to a cardiologist, or foot issues, a podiatrist. You don't go to a general practitioner for everything.
If you create a website that says you are a home organizer and work with everyone on all types of projects, potential leads may not trust you and referral sources in your community will not know what type of jobs are a good fit for you. 
What is a Professional Organizer?
According to NAPO (the National Association of Productivity and Organizing Professionals, formerly the National Association of Professional Organizers):
Professional Organizers support evaluation, decision-making, and action around objects, space, and data; helping clients achieve desired outcomes regarding function, order, and clarity.
Productivity Consultants support evaluation, decision-making, and action around time, energy, and resources; helping clients achieve desired outcomes regarding goals, effectiveness, and priorities.
That's really vague, right? You can't go to a networking event and say: "I support evaluation, decision-making, and action around objects … "
It's easier to find clients as an expert in a specific area of organizing or productivity
Instead, practice describing your services like this: 
I work with seniors to downsize their homes so they can transition to a more manageable lifestyle.  
I work with overwhelmed moms to create a system of organization to help them get through the day and have more quality time with their family.
I work with entrepreneurs and work from home employees to create organized, productive, and creative home offices.  
By the way these are samples of things to add to your elevator pitch, or ways to quickly introduce yourself at meetings.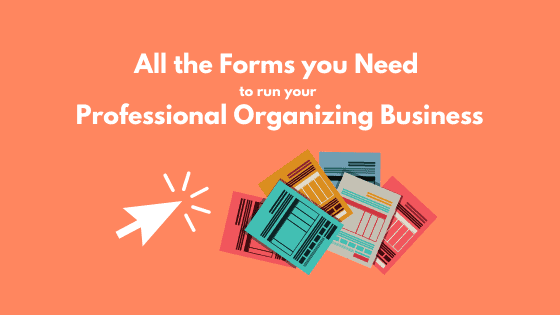 List of Types of Professional Organizers 
Here is a list of the many types of organizers from the NAPO website. You can see this is a mix of populations to work with and types of projects. I've also added KonMari to the list as it does not yet appear as a specialty on the NAPO site yet, but they probably should add that as it is a fast-growing specialty within the organizing community. 
ADHD
Children/Students
Chronic Disorganization
Closets/Closet Design
Clutter Control
Coaching
Digital Organizing
Downsizing
Eco-Organizing
Estate Management
Estate Sales
Feng Shui
Financial Management/Bookkeeping/Bill Paying
Garage/Attic/Basement
Garage Sales
General Home Organizing
Hoarding Behavior
Home Inventories      
Home Offices
Home Staging
Household Management
Kitchens
Move Management
Online Sales
Packing for a move
Unpacking from a move
Paper Management
People with Disabilities
Photography/memorabilia/collections
Seniors
Space Planning and Design
Speaking & Training
Storage Units
Task and Time Management
Virtual Organizing and Productivity
KonMari
You can also see a list like this on my Niche Worksheet that is included in my free Professional Organizer's Launch Guide and my workbook, The Professional Organizer's Blueprint.
How to Find Your Professional Organizing Niche
Determining what type of organizer you want to be comes down to a combination of your previous experience plus the population and environment you want to work for and with. 
When I decided to leave my corporate job I wanted to work in homes with people who had the time and motivation to examine the things in their lives and downsize their belongings to create a simpler, more manageable lifestyle. Ultimately that meant working with mainly empty nesters, retirees, and stay at home moms. And eventually led to my work in extreme clutter environments and my certification as a KonMari Consultant.
In my Niche Worksheet I'll take you through an exercise that asks questions like – 
What skills from a previous career could help you as a
Professional Organizer?
And
Do you have experience working with specific populations?
How can Niche Marketing help get clients for your business?
To market your business you will need to get the right message in front of the right audience. 
You would not present senior downsizing tips to a group of first time homeowners, or tips on organizing kid's playrooms to single folks who have not yet started a family, or installing high-end closets to apartment dwellers not looking to make a $5000 investment in property they do not own. 
You have to know the type of client who is looking for the services you provide, and then figure out a way to connect with them as part of your marketing plan. 
How will clients find you? How does a potential client know that you are the right organizer for them? How will other organizers or businesses know to refer to you? It comes down to, do enough people in your community know about and understand the valuable services you provide?
Here are 6 ways to increase the visibility of your business –
Write content for your website and social media with tips and articles showcasing your knowledge. 
Attend networking events and talk about specific examples of how your services helped someone get organized. 
Give workshops in your community that showcase your skills and provide tips to a particular demographic. 
Get featured in local media with organizing advice, photos from a project you completed, or a testimonial from someone you helped. 
Connect with and share business with organizers that do not specialize in the same niche. 
List your business and specialties on referral sites (NAPO, Find my Organizer, Thumbtack, Angie's List… ) 
When I'm working with a new organizer to launch their business, I ask them to imagine being in a room with 50 other professional organizers and one potential client walks in and describes the type of help they need, like unpacking after a move, clearing out a hoarder's house, or designing a high-end closet. Your goal is to be so well known in your community that the other 49 organizers in that room turn to you and know that you are the expert who is the perfect fit for that client. 
Build your professional organizers resumé
When creating your professional organizer's resumé, keep the following tips in mind:
Review past experiences and add relevant job and life know-how to your resume
Ask friends, family, and coworkers to identify your skills
Write content (social media posts, articles, tip sheets) with organizing strategies that have worked in your own home 
Turn this content into video or live presentations, thereby establishing yourself as an expert on this topic
Take before and after pictures in your own space or spaces you have organized for "practice" clients
Get testimonials to post on your website, Google, or Facebook reviews
Take courses on project management, productivity, and home or office organizing 
Work with a Professional Organizer coach or mentor
So what type of organizer would you like to be? Determine your niche, create a marketing plan, and launch your business with The Professional Organizer's Blueprint workbook. Get your copy HERE.