I have complete and total faith that you can learn to be more organized. I'm guessing if you are struggling to keep your home and your life straight, you may not have mastered one of these characteristics. But don't fret! By focusing on a few simple changes and creating some good habits, you too can be super organized!
So here they are, the five Characteristics of Highly Organized People.
What do Organized People have in Common?
A calendar tool for time tracking and management
A system for managing tasks and getting things done
Everything they own has a place
After they use something, they put it away
They let go of things with ease
#1 Organized people have some kind of calendar tool for time tracking and management.
It matters less if you use a paper planner, the calendar on your phone, or a custom app. The important thing is that you have a single tool for tracking what you are doing with your time. Calendars are not just for writing down doctors appointments. You can block off time to work towards larger goals like personal development or household organizing. Have one calendar that you keep with you at all times. I use Google Calendar on my phone because I can share events with my spouse and work colleagues and I always have my phone, tablet, or laptop handy to see my schedule.
Still like Pen and Paper? Pick a Paper Planner:
Bestseller No. 1
2022-2024 Pocket Planner/Calendar - 3 Year Monthly Planner from Jan 2022 - Dec 2024, 6.3" × 3.8", Monthly Planner with 61 Notes Pages and Inner Pocket, Pen Loop, Elastic Closure, 2 Book Markers
📔3 YEAR MONTHLY PLANNER - The pocket planner covers 36 months from Jan 2022 - Dec 2024 , which is perfect for long-term planning. The mini pocket calendar measures at 6.3" × 3.8". It is very portable to make you keep track of important dates anywhere.
📔MONTHLY OVERVIEW - Each month covers two full pages and the unruled daily blocks offer ample space for daily schedule. The two months of previous and next monthly reference calendar make it easier to look back on the past and plan for the future. The highlighted holidays remind you of every important date. Moreover, the note section can write down your to do list, ideas and more.
📔FUNCTIONAL FEATURES - Monthly Pocket Planner 2022-2024 | 6.3" × 3.8" Pages | High-end Hardcover | Premium Thick Paper | 2 Book Markers | Inner pocket | Elastic Closure | Pen Loop | Round Corner | 2022-2025 Yearly Overview | 2022-2025 Holidays | 4 Contacts Pages | 61 Note Pages |
📔PREMIUM THICK PAPER - Our premium thick papers offer smooth writing experiences and it can plan your schedule without any fear of ink feathering and seepage. Our improved, acid-free paper is designed for seepage proofing, reduces fraying and shading, which keeps your 3 years plans neat and legible.
📔IDEAL ORGANIZER - An excellent person will always do well in long-term planning and make everything organized. This 2022-2024 monthly pocket planner can help you make your monthly planning better and achieve your long-term goal. It is also perfect to use at work, school or home. Just take this ideal organizer and start planning your next 3 years in advance!
Sale
Bestseller No. 2
2021-2022 Monthly Planner - 18-Month Planner with Tabs, Pocket, Label, Contacts and Passwords, 8.5" x 11", Jul. 2021 - Dec. 2022, Twin-Wire Binding - Teal by Artfan
★ MONTHLY OVERVIEW – 18 MONTHLY PLANNER Jul 2021 - Dec 2022, featuring 18 months of monthly pages with Julian Dates and holidays marked. Various colors are available.
★ TABS, POCKET, LABEL - Each month is separated with tabs. Two sided inner pocket for stashing loose items. The 2021-2022 monthly planner comes with a label for the cover that allows for clear labeling and archiving.
★ PROFESSIONAL DESIGN - Twin-Wire binding allows 360 degree folding over. 2021 - 2023 yearly overview/Important contacts/8 contact pages/4 password pages/12 notes pages/Holidays.
★ FUNCTIONAL, STYLISH - Ruled daily blocks for open scheduling and notes columns for your spontaneous and important events. Past, present and 4 future monthly referencing in the monthly planning pages.
★ QUALITY - Thicker and white paper, the planner is resistant to the most passionate artist.
Sale
Bestseller No. 3
2021-2022 Planner – Weekly & Monthly Planner, Jul 2021- Jun 2022 Academic Planner with Flexible Hardcover, 8.46" x 6.37", Strong Twin - Wire Binding, 12 Monthly Tabs, Inner Pocket, Elastic Closure
🌴 PLANNER OVERVIEW – 2021-2022 weekly & monthly planner with colorful, eye-catching hardcover is from Jul 2021- Jun 2022. The size of this 2021-2022 planner is: 8.46" x 6.37" which is comfortable to carry and use.
🌴 PLAN YOUR MONTH - Monthly view pages of this planner give a reference of the previous and next month calendars for a simple past reviewing and future planning. And the note section on the right side can write down your monthly ideas, thoughts and more.
🌴 PLAN YOUR WEEKS & DAYS - Weekly view pages of this 2021-2022 academic planner contain ample lined writing space for your detailed daily planning, appointments, activities and more.
🌴 SPECIALTIES - 8.46" x 6.37" Planning Pages | Thicker Paper | Flexible Hardcover | Contacts | Quick Reference Information | Yearly Overview | Reference Calendar | Holidays | Monthly Tabs | States, Capitals & Time Zones | Strong Twin-Wire Binding | Inner Pocket | Elastic Closure
🌴 UNIQUE DESIGN - The high - quality hardcover of this 2021-2022 planner has soft tactility, and the strong metal and lay-flat spiral binding gives this planner a vibrant look to light up your day. Moreover, the back pocket can keep your loose items like plane tickets, cards, papers and more.
#2 Organized people have a system for managing tasks and getting things done
This can be as simple as a list you make every day of things you want to get done or writing each task on a post-it note or index card. I use  Trello because I can easily shift incompleted tasks to the next day or break projects down into a checklist and track my progress.
#3 Being organized means creating a place for everything you own
A place for everything and everything in its place is the organized person's mantra. Think of the utensil drawer in your kitchen with the little slots for folks, knives, and spoons, now expand this concept to all the items you own. All your paperwork should live in a file cabinet or digital files in the cloud. Clothes, office supplies, crafts, and tools each have their own containers and are neatly tucked away into closets and drawers. A good test that this is working well in your home is that you never lose things.
#4 If they take it out, they put it away
This is how you maintain organization once you create it in your home or office. If you never put anything away it's only a matter of time before things are in disarray. To keep clutter to a minimum, make it a habit to spend 15 minutes at the end of each day and an hour at the end of each week to put things back in their designated homes.
#5 Organized people let go of things with ease
There is an abundance of useless objects that I find in my clients' home and they often fall under the category of sentimental items. Things from their childhood or things their kids have outgrown or don't play with anymore. Clothes that don't fit, greeting cards, scraps of paper, and other mementos. It's no big deal to keep a few things, but if you are struggling to get organized and have a house full of clutter, do a little assessment to determine how many of these things are from the past and are not serving any purpose TODAY.
What new habits can you adopt this week to start living a more organized life?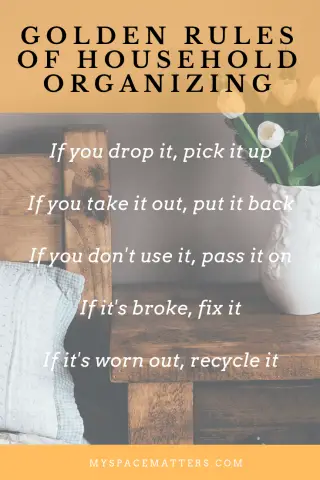 Need help starting your own productivity and organizing business?
There are many things to consider when starting an organizing business like:
What will I name my business?
Where will I find clients?
How do I become an organizer?
Do I need to be certified?
How will I structure my business?
You have come to the right place! Check out my other blogs on starting a decluttering business:
Get a copy of my free guide "Professional Organizer's Launch Guide" HERE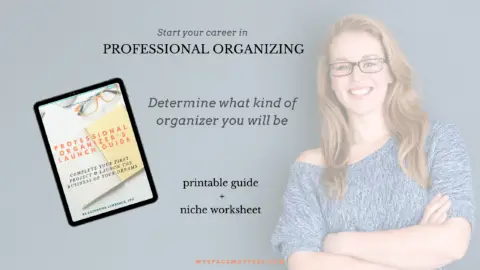 When you are ready to start your own decluttering business, check out all my courses on working as a professional organizer in my course bundle for the best price on courses to create and market your organizing business and design a system of organization that will work with all your clients no matter how small or large their volume of clutter!
Happy Organizing!