Have you ever found yourself pondering over the idea of launching your own organizing business or elevating your existing one? If so, you're in the right place. This blog post is designed to not only guide you through the essential aspects of building a successful organizing business but also to help you self-assess and rate where you currently stand in three key areas of success. By the end of this read, you'll have a clearer understanding of your strengths, areas of improvement, and the steps you need to take next.
Let's Examine the 3 areas you'll need to be proficient in to run a successful organizing business –
Your Client Process
Business Legitimacy
Your Ability to Get Enough Clients
1. Evaluating Your Client Process
Every successful business thrives on a robust client process. It's the journey your client embarks on, right from that initial conversation to the completion of a project. 
Ask Yourself: On a scale of 1 to 10, how confident are you in delivering a consistent and effective process for every decluttering and organizing task, regardless of size and scale?
Here's a breakdown of my method for paid organizing jobs:
Initial Phone Consultation:

Purpose: Establish trust and mutual understanding.
Outcome: Familiarize myself with expectations and aspirations for the space.

In-Home Consultation:

Purpose: Detailed assessment and planning.
Activities:

Evaluate the space.
Recommend tailored organizing products.
Strategize on space maximization and clutter reduction.

Outcome: Set clear goals and timelines for the project.

Project Sessions:

Purpose: Implementation of the organizing plan.
Activities:

Focus on specific rooms or categories.
Declutter and organize to align with the client's vision.

Maintenance Sessions:

Purpose: Ensure long-term functionality and efficiency.
Activities:

Conduct touch-ups.
Reorganize frequently used spaces or categories as needed.

Outcome: Maintain the harmony and order of the organized space.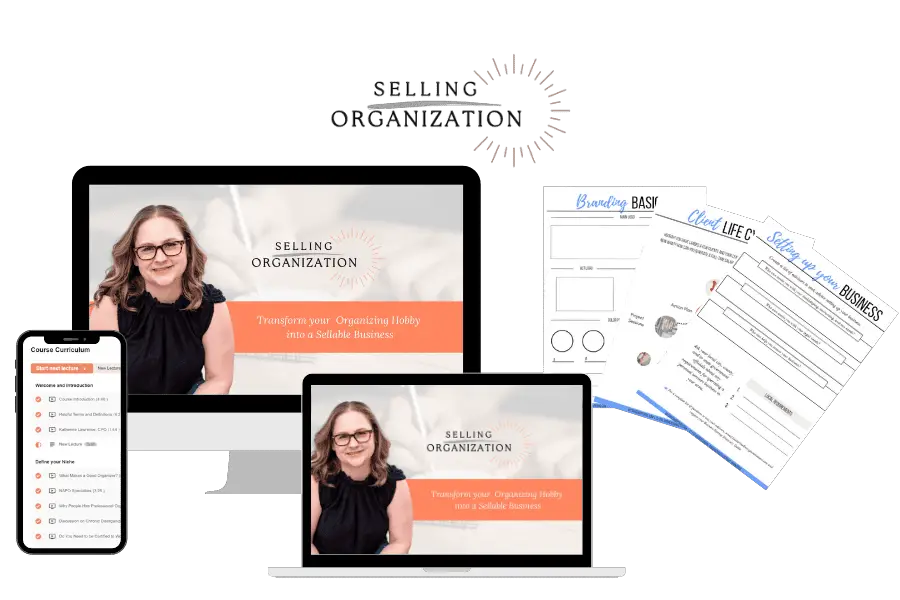 2. Setting Up Your Business
Setting up your business might seem daunting, but it's a one-time effort that pays off in the long run. This includes naming your business, processing payments, tracking finances, and ensuring you're legally protected.
Ask Yourself: On a scale of 1 to 10, how legitimate does your business feel?
A well-established business not only attracts clients but also establishes trust. It's essential to have a clear brand identity, efficient payment systems, and a transparent financial tracking mechanism. Moreover, understanding the legalities of your business can save you from potential pitfalls in the future.
More Resources –
3. Mastering Marketing and Client Retention
Marketing isn't just about attracting clients; it's about retaining them too. A successful organizer doesn't just rely on new clients but ensures repeat business.
Ask Yourself: On a scale of 1 to 10, how content are you with your client inflow? Do you have a marketing strategy in place?
In the world of organizing, word of mouth is gold. Happy clients not only come back but also bring in referrals. However, in this digital age, having an online presence, be it through social media or a website, can significantly boost your reach. Regularly updating your strategies based on feedback and market trends can keep you ahead of the curve.
How Well Did You Rate?
Mastering the trifecta of a solid client process, a legitimate business setup, and an effective marketing plan is your ticket to building the organizing business you've always dreamt of. 
If you need help with perfecting your client process, setting up your business, or getting clients for your organizing business I'm here to help with my course SELLING ORGANIZATION and One-on-One coaching program.
Thank you for joining us on this journey. Until next time, keep organizing and keep growing!