How To Declutter Books With The KonMari Method
[video_player type="youtube" style="1″ dimensions="560×315″ width="560″ height="315″ align="center" margin_top="0″ margin_bottom="20″ ipad_color="black"]aHR0cHM6Ly95b3V0dS5iZS9Qd2k4WTBsenFHQQ==[/video_player]
[optin_box style="12″ alignment="center" email_field="email" email_default="Enter your email address" email_order="0″ integration_type="aweber" double_optin="Y" gdpr_consent="disabled" consent_1_enabled="no" consent_2_enabled="no" consent_notes_field="missing_integration_type" thank_you_page=" https://myspacematters.com/thank-you/" list="5264224″ name_field="name" name_default="Enter your first name" name_order="0″ name_required="Y" opm_packages=""][optin_box_field name="headline"]Get Your Free KonMari Checklist for Organizing Books [/optin_box_field][optin_box_field name="paragraph"]PHA+U3Vic2NyaWJlIGZvciBtb3JlIHRpcHMgYW5kIHJlc291cmNlcyBmcm9tIFByb2Zlc3Npb25hbCBPcmdhbml6ZXIgS2F0aGVyaW5lIExhd3JlbmNlLsKgPC9wPgo=[/optin_box_field][optin_box_field name="privacy"]We value your privacy and will never share your information. [/optin_box_field][optin_box_field name="consent_1_label"][/optin_box_field][optin_box_field name="consent_2_label"][/optin_box_field][optin_box_field name="top_color"]undefined[/optin_box_field][optin_box_button type="0″ button_below="Y"]Yes Please! [/optin_box_button] [/optin_box]
Are your books a cluttered mess stored on overflowing shelves or piled on the floor? Do you really think you will re-read any of them or are they just taking up space? Would you like to learn the KonMari method for organizing books?
I love a good read as much as anyone and nothing gives me more pleasure than flipping through a beautiful cookbook imagining all the great things I could be eating. Some of you have even told me your books are like good friends.
In this video, I'll walk you through the steps of uncluttering your books using the KonMari method created by Marie Kondo. I'm organizing my own book collection and arranging them in a joyful way so they are accessible and loved.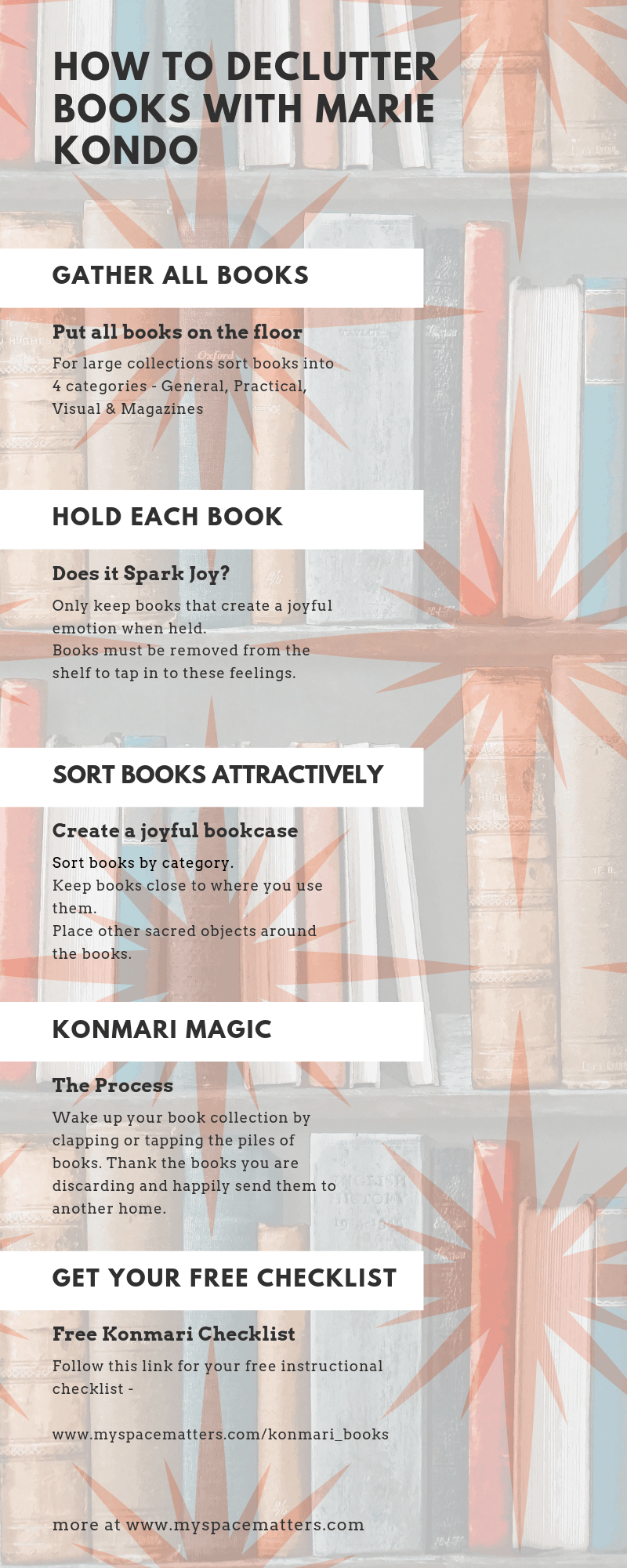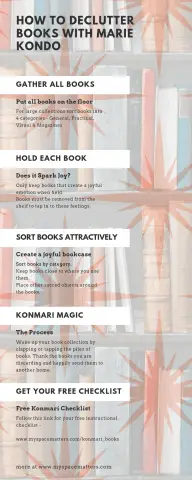 And don't forget to download my FREE KonMari Checklist for tidying your books with ease.
[optin_box style="12″ alignment="center" email_field="email" email_default="Enter your email address" email_order="0″ integration_type="aweber" double_optin="Y" gdpr_consent="disabled" consent_1_enabled="no" consent_2_enabled="no" consent_notes_field="missing_integration_type" thank_you_page=" https://myspacematters.com/thank-you/" list="5264224″ name_field="name" name_default="Enter your first name" name_order="0″ name_required="Y" opm_packages=""][optin_box_field name="headline"]Get Your Free KonMari Checklist for Organizing Books [/optin_box_field][optin_box_field name="paragraph"]PHA+U3Vic2NyaWJlIGZvciBtb3JlIHRpcHMgYW5kIHJlc291cmNlcyBmcm9tIFByb2Zlc3Npb25hbCBPcmdhbml6ZXIgS2F0aGVyaW5lIExhd3JlbmNlLsKgPC9wPgo=[/optin_box_field][optin_box_field name="privacy"]We value your privacy and will never share your information. [/optin_box_field][optin_box_field name="consent_1_label"][/optin_box_field][optin_box_field name="consent_2_label"][/optin_box_field][optin_box_field name="top_color"]undefined[/optin_box_field][optin_box_button type="0″ button_below="Y"]Yes Please! [/optin_box_button] [/optin_box]
For lifestyle tips from Marie Kondo, connect with her BLOG. Watch my review of Tidying Up with Marie Kondo on Netflix.
#konmari #books #organizing #declutter #marie #kondo #checklist #tips