Overwhelmed by Clutter? Transform your home in 90 days.
Let's work together to get you Organized for Life!
I want you to live without clutter.
Do you ever feel like you have lost control over your house? Clutter robs you of your time, money, and motivation. You don't know where to start, what to keep, or how to dispose of stuff once you decide you don't need it. Would you like to know how to keep things out of the landfill or pass things along to those in need? Imagine feeling relaxed and confident in your home. Everything has a purpose and everything is in its place. Now you can with Organized for Life Coaching and the opportunity to work with experienced Organizing Consultant and Clutter coach Katherine Lawrence.
Organized for Life Coaching gives you:
A custom starting point

Together we will identify your unique priorities as the launch pad to your organizing strategy

Your blue print

I'll help you tackle the clutter in your home and teach you organizing skills to keep you organized for life!

Your Plan

We will design a custom plan that supports your best life by identifying and eliminating clutter.
| | | |
| --- | --- | --- |
| | Included in your Organized for Life Coaching Package | |
8 1x1 Coaching Calls
Anytime Support via Private Facebook Group
Custom help setting priorities, planning your space, and purchasing the right organizing products
Invitations to Live Virtual "Ask the Organizer" Events
Bonus #1 eBook, "You Don't Need this Crap!"
Bonus #2 Organized for Life Workbooks
Get Instant Access to these 2 bonus products when you sign up today!
Bonus #1: Free eBook with the Organized for Life Coaching Package
You will receive a free copy of my eBook, "You Don't Need This Crap, Kick out Clutter and Create a Space that Truly Matters". This book will reinforce the philosophy of living with less clutter and having only those things that support you in living your best life. There are meditations to help you with the emotional struggles of letting go of clutter. The stories here will teach you the skills needed to go from messy to minimalist.
Bonus #2: Free Workbook with the Organized for Life Coaching Package
You will receive a free copy of my workbook, "Organized for Life, A Guide to Eliminate Clutter and Create Space for What Truly Matters". This guide builds on the philosophy of "You Don't Need this Crap". There are printable worksheets to help you through each Organized for Life lesson. Use the shopping guide to chose the right organizing product. A tool list is provided for each of the three organizing steps. This guide will help reinforce the basic space planning strategies you will learn during your one on one coaching calls.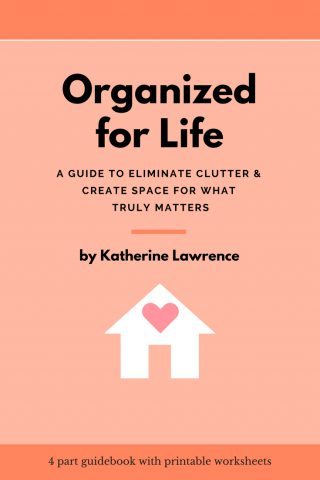 #
3 Months of Coaching Calls and email support
---
Instant Access to ebook
---
Free Organized for Life workbooks
---
Access to Facebook Support Group